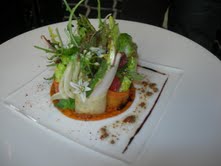 "The difference between French and English diners is discretion. If a French client doesn't like a dish he makes a fuss immediately; an English client will write a letter the next day!" This is the observation of Thomas Bizouard, director of salle at Frédéric Simonin's eponymous shiny black and white contemporary restaurant.
Simonin is a talent who was nurtured by Joel Robuchon. But you've probably never met him nor will you probably meet him even at his new address.  Simonin is focused on one thing and it's his kitchen. When you eat there, you'll see what I mean. Simonin's beavered with the best and launched L'Atelier de Joel Robuchon, London, which is where he met the canny Bizouard; they vowed to work together one day, along with Vincenzo. When he returned to Paris, Simonin took a big leap at a difficult time and took over Bath's, in the 17th, when Monsieur Bath decided to retire. Restaurant Frédéric Simonin opened on 9th April and the chef toasted the event with his favourite champagne, produced by his friend Jacques Copinet (www.champagne-copinet.com).
The space that's designed to be edgy contemporary black, white and silver décor has been divided into three rooms by Maud Lesur, stylist and scenographe, ex-fashion editor at Madame Figaro. She was also artistic director at The Hotel Metropole in Monte Carlo. "But this is my first restaurant and I'm very excited", she said just before the opening. Sit around the "virtual fireplace" in the "living" area and study the menu. "You're a guest in a private home", explained Ms Lesur, who ripped out Monsieur Bath's parquet flooring and replaced it with graphic black and white carpet. You won't recognise the place.
Seven starters include La Feve, variation on a theme of broad beans, velouté, baby peas and whipped egg whites. Les Legumes confites and craquantes for the ladies who do, Le Tourteau, Le Jambon "Iberico de Bellota", Les Asparagus Vertes, Les Ecrivisses, Le Foie Gras. Four fish mains and four for the carnivores: A trencherman-size baked veal chop fills the elegant plate, served with petits pois and jus au macis (ground mace). Quail from the Dombes region (near Lyon) is stuffed with foie gras. And Black Angus beef is served with a fragrant broth perfumed with lemon leaves. Excellent wines are available by the bottle or glass from Le Cave de Joel Robuchon (www.restaurants-joel-robuchon.com). And don't ignore the hommage to Robo—La pomme purée. Five desserts include a feather-light souffle. Simonin does not want to impose three courses and suggests you come by for just one dish and a glass of wine.
Restaurant Frédéric Simonin
25 rue Bayen, 17th
Metro: Ternes
T: 01 45 74 74 74
Lunch 38€ for 3 courses + wine or A La Carte
Dinner from 47€-110€
Shut Sunday-Monday
Valet parking
Diary Dates: Alert readers will know that le 114 Faubourg located in the hotel Le Bristol launched last September. The chic neo-brasserie plans a delicious Semaine Gastronomique Italienne orchestrated by Michelin star chef Antonio Guida of the legendary Hotel Il Pellicano, Porto Ercole, Tuscany, named after Pelican Point, California. Guida and 114 Faubourg's Eric Desbordes will be cooking "Mediterranean style" lunch and dinner together. Poulpe grillé, Ravioli au fromage de chèvre, sauce citron-menthe (25€), Turbot, pommes de terres fumées, sauce aux huitres (45€) and mouthwatering desserts with Italian accents.
17-21 May 2010
114 rue du Faubourg Saint Honoré, 8th
T: 01 53 43 44 44
Flavour mavens Emmanuel Rubin and Alexandre Cammas plus a cast of thousands are celebrating 10 years of Fooding, the cutting-edge concept combining food and feeling. Check out the parties (too late for Val d'Isere) in Paris and beachside at Nice, nice eh?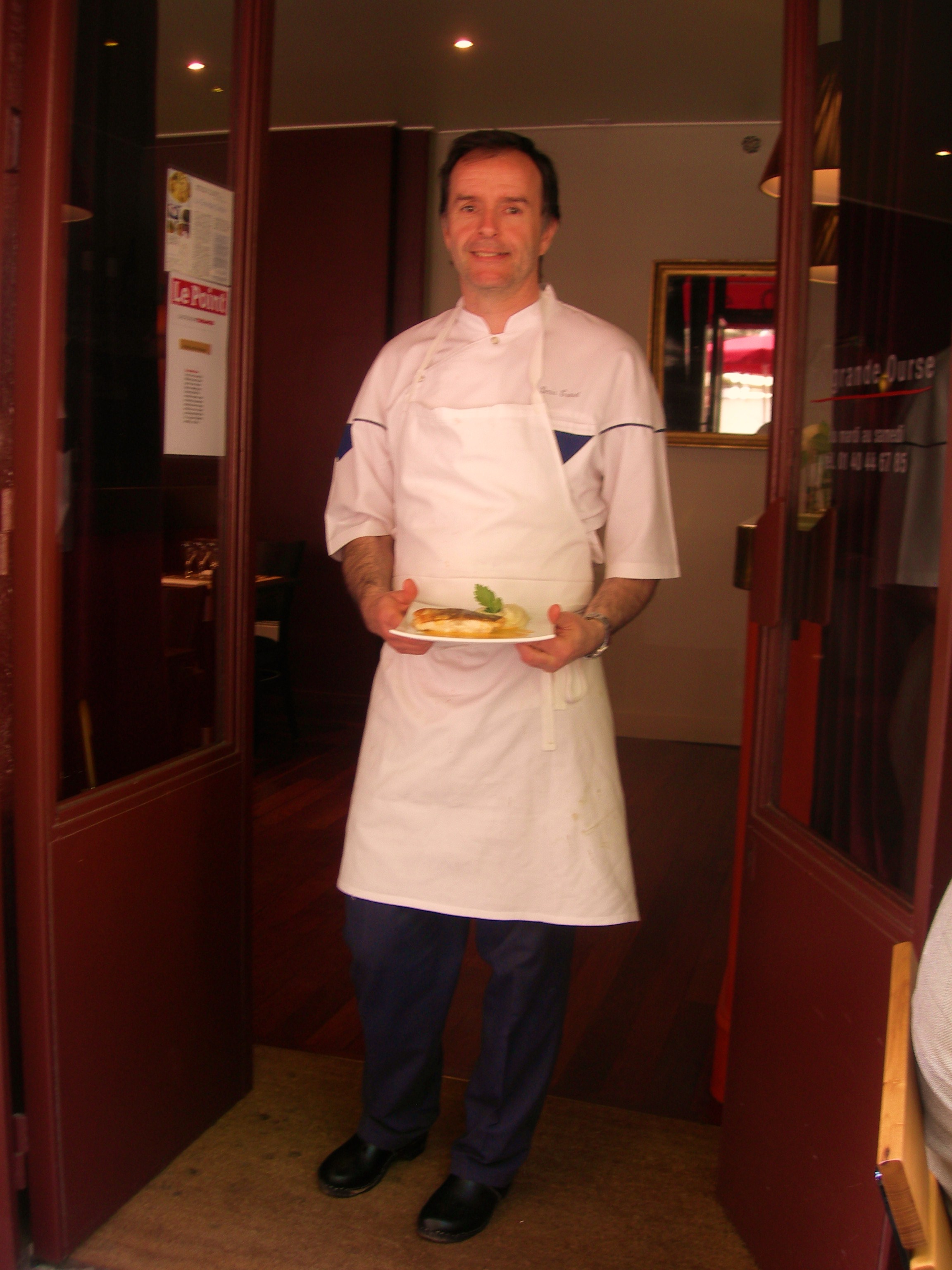 When chef Denis Croset was at Le Bellecour restaurant, Paris, it was worth crossing town to taste his Tartare de huitres à la crème de Beaufort, a divinely sensuous dish. Today Bellecour's shut and chef Croset's opened his own cute little bistro in a quiet street in the 14th. There's a constellation on the wall of La Grande Ourse (the great bear) because it reminds Denis of the Michelin stars he's earned throughout his culinary life.
In the simple salle Adeline is perfect, serving and answering questions at lunchtime, and the multi-lingual Julie Crozet sparkles, like her guy's constellation, at night. On the terrace, shaded with lime trees, clients are mostly locals who love Denis's wines, not expensive and interesting. "See you tomorrow", they chirrup, as they try to get up to leave. Get there before they drink all the Red Burgundy Vielles Vignes Pinot Noir 2007 Domaine Roblet-Monnet (29€). By the glass and carafe, between 5-17€. Ignore the wine card and choose from the blackboard, chat to Denis—it's all good. Dishes to note are: Gambas rôties, tartare of tomatoes. Parmentier croustillant de canard et sa herbe salade. Osso Buco aux legumes confites (yum). Excellent Saint-Nectaire fermier. Fine desserts include Sablé croustillant poire fondante, glace vanille, sauce caramel.
La Grande Ourse,
6 rue George Saché 14th
Metro: Alesia
T: 01 40 44 67 85
Shut Sunday-Monday
www.restaurantlagrandeourse.fr
Lunch
If you're coming to France (or for that matter anywhere) you can reserve your hotel here. To rent a car, Bonjour Paris recommends Auto Europe.
Please post your comments or questions and let them flow. Register HERE to do so if you need a Bonjour Paris user name and password.