France News Daily: Dinner in White at Louvre and Notre Dame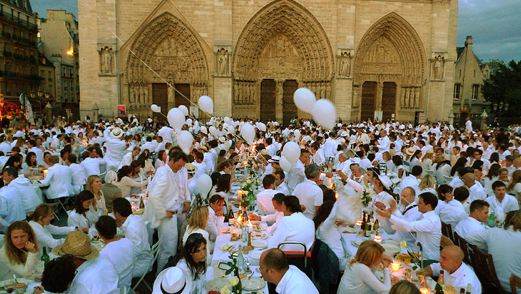 Thousands attend two "Dinners in White" in Paris at the Louvre and Notre Dame Dali WiederhoftBonjourParis France News DailyPARIS, June 18—On Thursday evening thousands of Parisians dressed in white got off buses and then scurried across Paris streets toting or wheeling everything needed to rapidly set up tables for the 20th annual Diner en blanc or Dinner in White, in English. This year thousands waited for signals from the rallieurs before setting up their tables at the Louvre and Notre Dame. As covert and well-planned as a good flash mob attack, every year "save the date" invitations are passed between friends via email, phone, SMS texts, coded twitter tweets and Facebook but the location is not announced by organizers until the last minute. The idea is to outwit authorities by gathering thousands of well-dressed partyers so quickly that authorities choose not to enforce requirements for permits and the like. The event is exclusive because invitations are strictly issued between friends and cannot be purchased. Guests know they are expected to dress themselves and their tables in their finest summer whites. With just 15 minutes notice they meet at buses organizers have chartered with no idea of their destination other than it will be a Paris landmark, it will be THE grand party of the summer for most and arrests are a possibility. Guests moved in swiftly, each loaded with folding table and chairs, tablecloth, china, candle, Champagne and gourmet food. In minutes the Louvre and Notre Dame locations looked as if the best event set-up crew had worked for hours to set up an elegant affair. Bands (one with an exuberant tuba player) played, tchin-tchins were said as Champagne flutes were raised, people danced and waved white handkerchiefs or lit sparklers. One of the organizers, identified only as "Laurent," told
Evous
how the ten organizers plan the event with a contingency plan in case the police intervene. "Everything is carefully thought! A pyramid structure is composed of 'great masters rallieurs,' 'big rallieurs' of 'rallieurs' and' invités,'" said Laurent. "We prepare the evening for three months. Obviously, we have a plan B in case of skidding with the police," said Laurent. "We are not asking permission from the police. And once we are installed, they can not do anything." "It's like Cinderella, at midnight, it's all over." In 2010 an estimated 12,000 attended Diner en blanc festivities held at the Louvre, Concorde and Champs-Elysees and estimates report even more attended this year. At the witching hour, the Louvre courtyard and Notre Dame plaza cleared as quickly as they filled and another successful event wrapped without incident. Want to go in 2012 in Paris or in another city this year? Check Facebook and you'll find pages for Diner en Blanc or Dinner in White are forming in NYC, Montreal and other cities. Video of 2011 Diner en blanc at Notre Dame by
©ygrekkavideo
Photo credits: Lady in Hat ©France 3 All other photos by
©Luc Legay
Not yet subscribed to BonjourParis? Register for your 
free subscription
so you never miss the most complete France travel guides, current French lifestyle stories, recipes and up-to-date news from France delivered to your in-box twice weekly.
SUBSCRIBE
ALREADY SUBSCRIBED?
BECOME A BONJOUR PARIS MEMBER

Gain full access to our collection of over 5,000 articles and bring the City of Light into your life. Just 60 USD per year.

Find out why you should become a member here.

Sign in

Fill in your credentials below.
Thousands attend two "Dinners in White" in Paris at the Louvre and Notre Dame
Dali Wiederhoft
BonjourParis France News Daily
PARIS, June 18—On Thursday evening thousands of Parisians dressed in white got off buses and then scurried across Paris streets toting or wheeling everything needed to rapidly set up tables for the 20th annual Diner en blanc or Dinner in White, in English. This year thousands waited for signals from the rallieurs before setting up their tables at the Louvre and Notre Dame.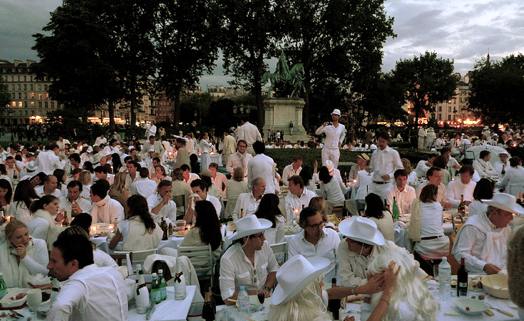 As covert and well-planned as a good flash mob attack, every year "save the date" invitations are passed between friends via email, phone, SMS texts, coded twitter tweets and Facebook but the location is not announced by organizers until the last minute. The idea is to outwit authorities by gathering thousands of well-dressed partyers so quickly that authorities choose not to enforce requirements for permits and the like.
The event is exclusive because invitations are strictly issued between friends and cannot be purchased. Guests know they are expected to dress themselves and their tables in their finest summer whites. With just 15 minutes notice they meet at buses organizers have chartered with no idea of their destination other than it will be a Paris landmark, it will be THE grand party of the summer for most and arrests are a possibility.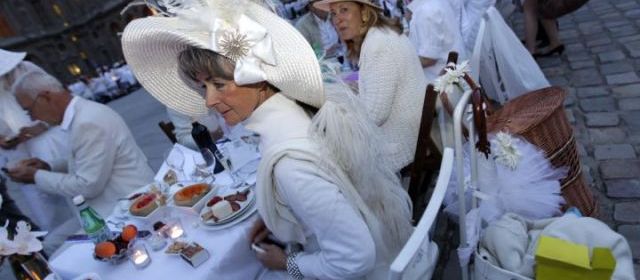 Guests moved in swiftly, each loaded with folding table and chairs, tablecloth, china, candle, Champagne and gourmet food. In minutes the Louvre and Notre Dame locations looked as if the best event set-up crew had worked for hours to set up an elegant affair. Bands (one with an exuberant tuba player) played, tchin-tchins were said as Champagne flutes were raised, people danced and waved white handkerchiefs or lit sparklers.
One of the organizers, identified only as "Laurent," told Evous how the ten organizers plan the event with a contingency plan in case the police intervene.
"Everything is carefully thought! A pyramid structure is composed of 'great masters rallieurs,' 'big rallieurs' of 'rallieurs' and' invités,'" said Laurent.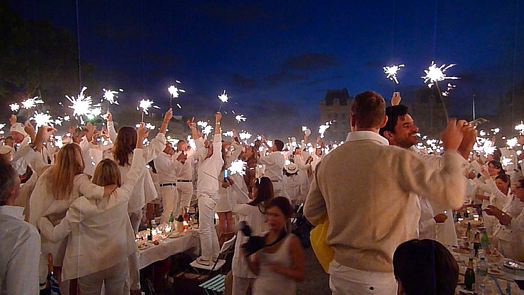 "We prepare the evening for three months. Obviously, we have a plan B in case of skidding with the police," said Laurent.
"We are not asking permission from the police. And once we are installed, they can not do anything."
"It's like Cinderella, at midnight, it's all over."
In 2010 an estimated 12,000 attended Diner en blanc festivities held at the Louvre, Concorde and Champs-Elysees and estimates report even more attended this year.
At the witching hour, the Louvre courtyard and Notre Dame plaza cleared as quickly as they filled and another successful event wrapped without incident.
Want to go in 2012 in Paris or in another city this year? Check Facebook and you'll find pages for Diner en Blanc or Dinner in White are forming in NYC, Montreal and other cities.
Video of 2011 Diner en blanc at Notre Dame by ©ygrekkavideo
Photo credits:
Lady in Hat ©France 3
All other photos by ©Luc Legay
Not yet subscribed to BonjourParis? Register for your free subscription so you never miss the most complete France travel guides, current French lifestyle stories, recipes and up-to-date news from France delivered to your in-box twice weekly.
More in diner en blanc, dinner in white, event, French news, News in France, Paris, Paris events, secret Paris
---
---