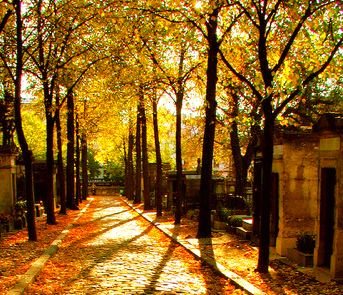 Walking in Paris is the best way for a visitor to get to know the 20 snail-wrapped Paris arrondissements. La rentrée marks the official end of summer and the cooler autumn weather makes this the ideal time to explore Paris parks.
Paris has more trees than any other capital city in Europe, most commonly the platane à feuille d'érable (Maple Leaf Plane). The French typically sculpt these treetops into squares, as you'll see along the Champs-Élysées. The city is also dotted with London plane trees, beech, sycamores, and chestnuts. These, like most trees in Europe, turn various hues of gold as the weather chills.
Over two million people annually visit the Cemetery of Père Lachaise, the largest open green space in Paris and the world's largest memorial sculpture garden. In fact, it draws more visitors than all but the top three destinations noted on the Paris Tourism Bureau's official list of Most Visited Museums and Monuments. Père Lachaise, as it's called, is also the oldest and most prestigious historically significant cemetery in Paris. There is nothing morbid about strolling its 109 acres of tree-lined cobblestone lanes and gravel-covered paths. You'll find Père Lachaise in the Paris 20th arrondissement. Much has been written about its poetic beauty and many well-known persons who immortalized it now rest there, such as: Honoré de Balzac, Guillaume Apollinaire, Frédéric Chopin, Colette, Molière, Yves Montand, Simone Signoret, Edith Piaf, Camille Pissarro and Oscar Wilde. You'll also find markers for international celebrities like Jim Morrison of The Doors, opera singer Maria Callas, jazz pianist Michel Pettuciani and dancer Isadora Duncan.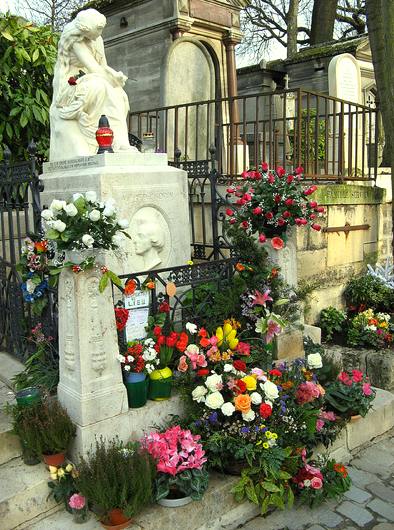 Come prepared to walk hilly, uneven pavement. Tour Père Lachaise with an exact plan of what you want to see or with no intent other than to enjoy its natural beauty. Pick up a free map at one of its two main entrances so you can follow the maze of celebrity graves and tombs shaded by the spreading chestnut trees, some of which are over 100 years old. There are nearly 70,000 graves there today, many of which date back to the early 19th century when it was initiated. Its Garden of Memories, Holocaust Memorials, War Memorials, Communards Wall and columbarium (the first in France) are worth a visit.
People are still buried there today, so expect to find a calm place that encourages quiet contemplation without being oppressive or depressing. Most visitors stroll, stopping to look at ornate or simple markers in conditions that range from decrepit to new. Some visitors sit or even read; you may encounter artists at work.
Start from the Gambetta entrance and work your way downhill to the main entrance where you'll find the Père Lachaise métro stop where you can catch a ride back into city center.
16, rue de Repos, Paris 20th
Métro: Lines 2 & 3: Père Lachaise; Line 3: Gambetta
Hours: 8:30am-6:00pm Last entry: 15 minutes before closing.
Accessibility: Stairs, paths with ruts and hills may challenge visitors with mobility issues.
Tours: The City of Paris offers tours with advance arrangement. In Paris, call: 01 4071 7560 (toll call).
In the middle of the first arrondissement, between the Seine and the Louvre, the Jardin des Tuileries is part of a wide esplanade  that extends from the Louvre all the way to La Défense and its Grande Arche. While you don't want to follow in every one of her footsteps, you might fancy yourself royal as you walk the same tree-lined paths royals like Marie Antoinette frequently strolled.
Formality aside, children will love this walk with its play park at the north end and trampoline fun for an extra €2. Hungry? Stop by the Paul Boulangerie cart up near the Arc du Carrousel du Louvre to get what you need for a picnic or sit at the crêpe and dessert stand. Like many Paris parks, you'll see many green chairs beneath the trees and surrounding the basin where children play with rented sailboats. The garden has 20-some different species of trees like Mulberry and Judas. There are numerous sculptures throughout too, with the 18 statues by French Catalan sculptor and painter Aristide Maillol being visitor favorites.
Place de la Concorde
Métro: #1 Concorde or Tuileries
Open hours: Tuileries Garden: April-September: 7.30am-9pm; Saturday-Sunday until 12:45am; October-March: 7.30am-7.30pm. The Carrousel garden is open 24hrs/24hrs.
Only open to royalty before the French Revolution, the formal Jardin du Luxembourg is now one of the most popular destinations for inner city rest and relaxation. While walking or sitting on the grass, cycling and playing ball games are officially forbidden in much of this formal garden, most ignore the signs until a park officer comes around. There are designated areas for these types of activities, plus a wonderfully shaded playground area in the southwest corner of the park available at a small charge. There are clean bathrooms, and a small concession stand for drinks and candy.
Located in the sixth arrondissement, the Luxembourg Garden is enormous and wonderfully quiet as you enter from any of its busy perimeter streets. There are innumerable spots to find a chair to read, nap, or people watch – including the working Parisians taking a break from the Ministry of Culture and Senate, which are found at its north (rue Vaugirard) end. With just a little thinking ahead, have a picnic lunch put together from things bought at the nearby Monoprix or boulangerie. Drink in the sensations of this well-established garden with its magnificent trees and perfectly designed and maintained flower beds.
rue de Médicis, rue de Vaugirard
Métro: #4 & 10 Odéon
Open: Seasonal, typically sunrise to sunset
Compared with other Parisian gardens and parks, Parc Monceau is smaller and one could say more intimate. It straddles the eight and seventeenth arrondissements and is framed by beautiful wrought iron fences painted in black and gold with ornate gates at its entrances. One of the oldest and largest species of trees in Paris is the Oriental Plane tree, found here in Parc Monceau, along with Magnolias that bloom fragrantly earlier in July.
The park is very close to the Musée Jacquemart-André, and within walking distance from the Étoile. Why not grab sandwiches, a cheese plate, or some éclairs from nearby French gourmet food company Fauchon, and enjoy a wonderful time out. Being an informal park, there are many places to plunk down on the grass and mange while enjoying the magnificence of its mature trees, the duck pond, watching joggers or just strolling casually through this peaceful gem in the midst of the energy and excitement of Paris.
Absolutely bring the young ones to Parc Monceau, as there are playgrounds, a carousel, a vendor who sells ice cream and other refreshments and sometimes there are pony rides.
boulevard de Courcelles
Métro: #2 Monceau
Open: Seasonal, typically sunrise to sunset.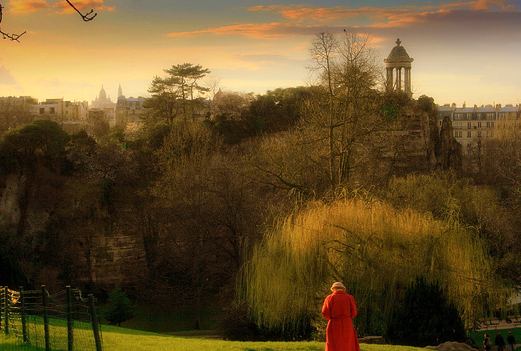 With 61 acres, Parc des Buttes Chaumont is the third largest public garden in Paris; only Jardin des Tuileries and Parc de La Villette are larger. Keep in mind the whole area is steep. If you choose to take the stairs at its métro station, you're in for a heart-pumping treat!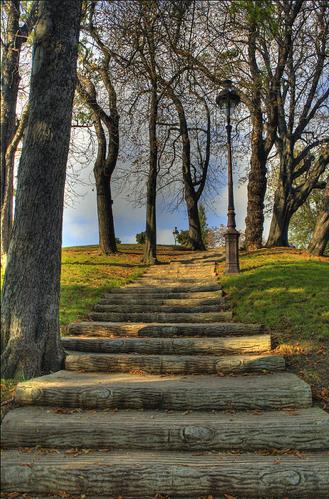 As with all the walks mentioned here, entrance to the Parc des Buttes Chaumont is free, but there is a charge for access to the island by boat. This park, in the nineteenth, has something for both the most athletic visitor and the most casual of amblers. This is one of the most unexpected of hidden treasures in Paris. Designed by Baron Haussmann and Napoleon III from what was once quarries and a deserted dump, there are hills, paths, lots of greenery and a wonderful surging waterfall. On its highest point is a lovely temple.
Parc des Buttes Chaumont is a great place to have a picnic, and there are many little food and wine shops on the streets below the park. In fact, be sure to visit the rustic tavern, Rosa Bonheur at the Buttes, with its lovely tribute to this French animalière, realist artist, and sculptor. It's also a wonderful perch to watch the sun set.
rue Manin & rue Botzaris, Paris 19th

Métro: #7bis Buttes-Chaumont or or Botzaris
Open: Seasonal, typically sunrise to sunset.
These are only five suggestions, and of course Paris is filled with wondrous parks and gardens to enjoy year round. Profitez des jardins !
PHOTO CREDITS, Creative Commons via Flickr: Intro, walk in Luxembourg Gardens ©bmiller1710; Pere Lachaise, Chopin's grave ©Olivier Bruchez; Pere Lachaise autumn lane ©Jim_Senior; Fall in Tuileries ©Daxis; Luxembourg Garden, Statue of Liberty ©gamillos; Luxembourg basin ©aaefros; Parc Monceau columns & pond ©-kj; Buttes Chaumont stairs ©nanand81; Buttes Chaumont panoramic ©loneseb; and bench and trees ©Chris Jeriko CCLicense
Janet deAcevedo Macdonald is the editor of BonjourParis and autumn walks remind her of what she misses about living full-time in Paris.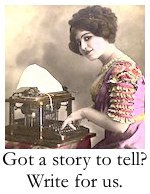 Subscribe for
FREE

weekly newsletters with subscriber-only content.
BonjourParis has been a leading France travel and French lifestyle site since 1995.
Readers' Favorites: Top 100 Books, imports & more at our Amazon store
Wander as flaneur…but not quite aimlessly…click on an image for details.
Thank you for using our link to Amazon.com…we appreciate your support of our site.