Fermes de Gally: Harvest Days at the Gally Farms by Paris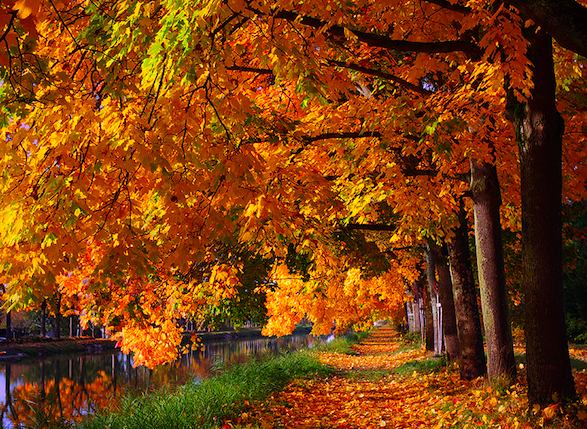 French passions for terroir and pastoral pleasures have been documented for centuries in art and literature. Queen Marie-Antoinette had her petit hameau behind the Palace of Versailles; and Parisians with means retreat to family châteaux in neighboring départements on weekends and holidays. Despite the unpredictable November weather, Paris residents who stay behind bundle up their children before taking them to city parks for a bit of fresh air. And it's not surprising US expats living in France do the same, inspired, perhaps, by stirring memories of past Thanksgiving holidays and associated thoughts of farms, autumn harvests and family time. What may be surprising is that a day on the farm is within reach of Parisians and visitors alike at either of two locations of les Fermes de Gally, or The Gally Farms.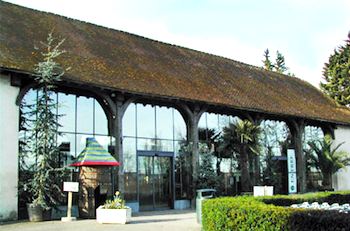 Les Fermes de Gally are two working farms with garden centers, culinary and gardening workshops, seasonal gift sections and large produce markets located just outside of Paris in Sartrouville (northwest of Paris ) and Saint-Cyr-l'École (southwest of Paris near Versailles). Experts are available to offer indoor and outdoor gardening tips with your purchases of seeds and plants. The large indoor market stocks vegetables and fruits like apples and berries of the season; and there are aisles of locally-produced honey, jellies, wine and other foods. The boutique includes decorations, books and gifts. There's even a wine section—we are in France, after all.
Guests with children can pay a modest entry fee for separate entry to the authentic farm with kid-friendly farm animals and farm machinery that delivers a full "day at the farm" experience. You can also follow marked trails through woods with fields and streams. In typical France fashion, there is also an educational element: classes will keep your brood entertained for an hour or so, perhaps while you shop. To top it all off, there are fields and fields of produce that you and your family can "harvest" (think: "pick your own") and take home for a feast. It really shouldn't be surprising that places like Les Fermes de Gally exist considering the French are very serious about both outdoor activities and their children's activities.

Friendly animals and forest walks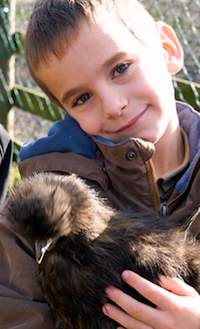 Children visiting the Gally Farms can interact with several types of farm animals. Take the "free-range children" approach and let your kids safely wander inside a small barn with penned goats, pigs and caged rabbits. Children can also enter fields and paddocks to pet roaming goats and sheep that actually follow the kids around.
Kids can also pretend to be bugs, crawling along a marked "insect trail" in a forested area while looking at things from the height of a bug. Kids love this stuff, even when the bugs they are looking for seem to have made themselves scarce.
Workshops and classes
The other approach to enjoying the day is to let your kids discover the animals and the farm through cornucopia of scheduled classes offered here.
The entire family can attend a class on animal care that occurs around 5pm feeding time every evening. Your 5-to-12-year-olds can attend a 45-minute class that teaches them to recognize animal "tracks" before they later play detective and scout around the farm looking for different animal tracks they learned about in class.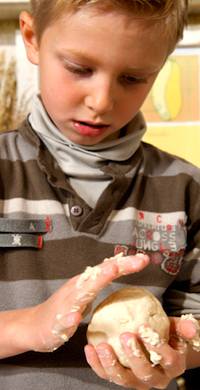 Children aged 3 to 12 can participate in a hands-on class that teaches them to make bread the old fashioned way, without the aid of a breadmaker. Children aged 5 to 12 can also use a cider press to make apple cider. Older children can learn environmental responsibility at a class about recycling paper that teaches both the history and art of papermaking.
In the fall and winter, the farm offers 5-to-12-year-olds holiday-themed workshops focused on pumpkin carving, wreath making, and Christmas decorations. The 3-to-12 age set are taught to make greeting cards.
During the summer months, 5-to-12-year-olds can attend classes that teach them to churn butter or press rapeseed oil, and there are classes about bees and beekeeping that include honey-tasting and the art of making beeswax candles. There is even a "My First Cuttings" gardening class for the wee ones.
Harvesting ("you pick")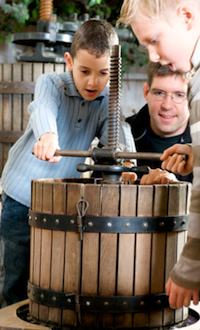 The highlight at les Fermes de Gally is the probably the simplest of the activities: harvesting fruits and vegetables. After parking, collect all the bags, boxes or even wheelbarrows that you need—they're included in the price of the produce you harvest and bring home. Then simply follow signs that direct you not only to the different fruits and veggies in season, but also to the best spots from which to pick. It's a very user-friendly natural environment and the picking itself is made as easy because strawberries, for instance, are grown on raised platforms that are just the right picking height. Kids adore everything about this, from picking the produce to wheeling each other around in the wheelbarrow. You will love the fact that not only will everyone have a great day outdoors, you also take home produce quite a bit cheaper because you picked it yourselves.
A day at les Fermes de Gally might satisfy your urge to get back to nature while in Paris, or when you're looking for a way to let your kids burn some energy for a couple of hours.
Truth be told, there is nothing better than preparing and later eating a strawberry tart made with fresh strawberries picked with love by little fingers.
PRACTICAL INFORMATION:
Les Fermes de Gally has two locations (French only)
Ferme de Sartrouville
25-minute drive northwest of Paris

Tél: 01 30 14 60 60
Rue de Chatou, 78500 Sartrouville
Ferme de Saint-Cyr-l'École
Tél: 01 30 14 60 60
roughly 40-minute drive southwest of Paris, near Versailles

Route de Bailly à Saint-Cyr-l'École (CD7), 78210 Saint-Cyr-l'École
Cost: €4 adult; €3 children 3 and up
Photo credits: Publicity photos ©Fermes de Gally; French autumn ©luckyone; Kids Playing ©Lexy Delorme.
Lexy Delorme is an expat mom of two now living in Paris. Click on her name to learn more about her and to read other stories by Lexy published by BonjourParis.
Subscribe for free and never miss a story. Search our library with 7,200+ stories and 50 original stories published monthly. BonjourParis has been a leading online France travel and French lifestyle site since 1995.

Thank you for using our direct link to Amazon.com every time you shop the world's largest online retailer.
View our Top 100 Bestselling Amazon.com Items. (Wait for Amazon.com widget to load)
Featured selections:
Paris: Everything You Ever Wanted to Know Lonely Planet's "Not for Parents" series [just for young adults] October 2011
Adam Gopnik's The Table Comes First... Oct. 25, 2011 release by author of bestseller Paris to the Moon
Fodor's Around Paris with Kids, 4th Edition
Frommer's Paris and Disneyland Resort Paris With Your Family: From Captivating Culture to the Magic of Disneyland (Frommers With Your Family Series)
Want more? View our recommended France-themed books & items. Most recent listings at last pages.

Save 10% on your return trip
PARIS SHUTTLE is a leading Paris airport transfer service. Book your airport transfers in advance online for direct to-your-door service.
Leave a reply
Your email address will not be published. Required fields are marked *
Comments