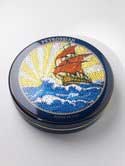 "Caviar comes from the virgin sturgeon, that's why caviar is my dish", goes the ditty, The Petrossian family are living legends, they even taste the blackstuff for breakfast. "Well we have to keep the quality control and there's so much to taste", grins Armen a fourth -generation Petrossian. No wonder he's always smiling. 
At present the family are doing "Eggxiting" ® and they are very excited. The concept is so chic, a tiny jewel of a jar (with the familiar logo) containing 12 grams of farmed Alverta caviar packed in a mini-lifebelt, with mini bottles of vodka and spoons bien sur. This is perfect for caviar afficionados to shlep around in the Kelly, think posh packed lunch, in case of severe caviar withdrawal symptoms, and it comes with a warning, "caviar is really good for your health". "Actually we created it for you to nibble in the bath, the Jacuzzi, or by the side of a lagoon", explains Arman. 
"Caviar always seems to have an elitist label, only for celebrations, we don't think you should wait for life's milestones to enjoy it", he continues. "it's sensational for breakfast". See I told you! And they've already ordered it for Nikki Beach, Saint Tropez next summer. Best book your table before Ivana and Elle read this. 
Alert readers will know Petrossian's "Le 144" is a fabulous restaurant, with chef Rougui Dia  putting the accent on new fish dishes. "We've got one that's unique to us fished from the Amazon", reveals Arman.  
The Petrossian boutique on the corner of Boulevard Latour Maubourg is an Aladdin's cave of goodies, to take home, eat there, and handsome gifts. Fresh truffles, the best smoked salmons, taramas, fish, fish eggs, foie gras, chocolate pearls, thés Petrossian you've ever tasted, and yes they gladly give tasters. And ask about Yablok, hard to get, delicious to drink. This is where to get your gifts, Xmas, Chunukah whatever, better than Harrods any day. 
Have you noticed Karl Lagerfeld's everywhere? At The Grand Palais where he presented his Chanel runway show for next  spring/summer .

Starring in Lagerfeld Confidential, Rodolphe Marconi's ducu/movie (at a Paris cinema near you). "I want to be a ghost", he says. Hmm…BUZZ felt somehow this week that he wants to be a baker. What?  
This weekl KL unveiled his Buche de Noel, at Café Lenotre, doesn't look like the Kaiser actually rolled up his sleeves and beat the eggs, flour, sugar, dried fruits and chocolate (Sao Tomé, Saint Dominique and Tanzania cherie) oh! no he left that to Lenotre master patissier Guy Krenzer (very skinny, wonder if he eats his buche?).…..No sign of Karl chez Lenotre, just a huge screen with a photo of the chef with KL. But I know where he was, obvious, he'd ponytailed it off to Petrossian for a bit of Beluga Royal, desperate to get his leather gloved mitts  on the special edition Swarovski box, looks good on the dining room table goes down a treat with a glass of chilled Petrossian vodka eh Karl? . 
Don't suppose he'll be at The 13th Salon du Chocolat  19-22nd

October , Porte de Versailles www.salonduchocolat.com, although it looks like a vintage year with 150 chocolatiers coming from far away places with strange sounding names. Sao Tomé always puts on a delicious display, "chocolate for all, all for chocolate" seems to be the word and, this year, the dancers from the Crazy Horse are strutting their stuff alongside Stella Cadente, Ines de la Fressange and their choco-runway shows. 
And, icing on the gateau, celeb chefs will be cooking up, say Tarte au chocolate en deux temps (Thierry Marx). Rougui Dia (Petrossian – see above) reveals her little "Grain de Folie". And Flora Mikula gets to grips with Foie Gras confit with chocolate epicé. Come on Karl, you know you'll love it. 
Michelin 2008 NYC has Jean George, Le Bernadin and Per Se keeping ***stars. Sorry to keep on about Gordon but he's now got **for The London in spite of nasty press at the beginning and also let's hear it for Picholine, Terence Brennan's French-Mediterranean flagship. Well done lads. www.amazon.com $11.53 
Address Book:
Petrossian
18 Boulevard Latour-Maubourg, 7th (M:Invalides)
T: 01 44 11 32 22
And New York, Las Vegas, LA, Monaco.
Valet parking 
Lenotre,
Pavillon Elysée Lenotre,
10 avenue des Champs Elysees, 8th
(Metro: Champs Elysees Clemenceau)
T: 01 42 65 85 10