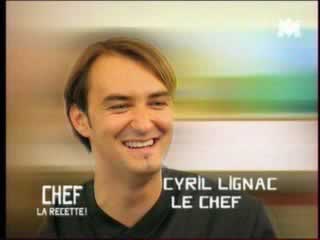 "When I arrived in Paris, not long ago, I had a suitcase, a little money and a great deal of ambition", says, Cyril Lignac (from the Aveyron region). Now he's installed in his cutting edge space in the 15th –  Le Quinzième. It's a real Prince Charming tale.  Nice One Cyril, who worked for the greats such as Passard and Robuchon, was picked for a "fly-on-the-wall documentary for M6 –  "Oui Chef". 
Cyril became the Jamie Oliver of France as he found and opened his own restaurant, training unemployed young kitchen virgins to become pro-chefs. Oui Chef! became compulsive viewing as we bit our nails waiting to see if he'd ever open on time. Reader, he did, and the great French public saw that it was good and you couldn't get a table, even on the sunny terrace on a rainy day. 
Le Quinzième is still packed every night, Cyril has less novice chefs now, although he's always around, chatting up the beautiful clientele. "Zay come 'ere before zay go to ze three stars, Zay are 'appy in my atmosphere, non". Oui chef.! 
By now you've all seen Ratatouille, it's Cyril's voice in the French version he's Remy the Rat-superstar. "Ze Pixar team came to Le Quinzieme several times", says Lignac. "Zay put ze microphones in my kitchen and recorded ze atmosphere at different times of ze day. I 'ave a chef's table wiz a direct view of ze kitchen. While zay were eating they could see us in action.". Pixar also went to Guy Savoy, Le Train Bleu, Taillevent and La Tour d'Argent. Not to mention The Catacombs (no darling that's not a restaurant it's the sewers that run under the city) and sorry to put you off your dinner Aurouze Julien – ze pest control store (deratting Paris since 1872)! And yes Nice One Cyril does feature Ratatouille on his menu, as well as an excellent Pumpkin Soup, served in mini-pumpkin shells. Chicken saté ravioli, with an emulsion of coconut milk. Red mullet on a bed of crushed potatoes with hazelnuts and basil. Brochettes of Gambas and monkfish with creamy risotto. Try the Menu Decouverte (40€) a really nice one from Cyril. 
Take a look at the Palais de Tokyo – up on the roof. There's an art installation which is a one-room hotel, with fabulous views of the skyline and The Eiffel Tower. Really! The green prefab building was hoisted into place one day last week. Hotel Everland is the creation of Swiss artists Sabrina Lang and Daniel Baumann, and it's there until the end of 2008. "It is both a museum piece and a room where people can stay overnight", says Ms Lang. There's a lounge with sofas to flop into, admire the view, neat bathroom, a record player with vinyls, but no TV. "You won't need it", promises Ms Lang. Book on-line (see below) but for one night only and, during the day, the room can be gawped at by museum visitors.. "It's important our installation is an actual hotel, as well as part of the museum", insists Ms Lang. Eat your heart out Conrad Hilton..   
Wonder what Victor Hugo would say if he knew he was a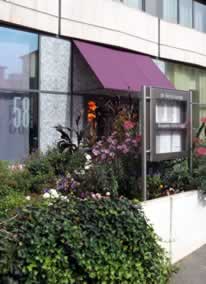 web-site? Or an avenue, a metro station or ubiquitous cafes and brasseries all over the city/hexagon? He'd probably love it, Hugo used to take daily omnibus rides, even said that the top deck inspired his writing. Apparently he even took a trip in a hot air balloon from the Tuileries Gardens. Hugo was lucky he knew Paris before and after Haussman's transformations. And, talking transformations, he could have taken a ride along Boulevard Victor Hugo to check out the wonderful new look at The Marriott Courtyard Hotel, with state-of-the-art brasserie dedicated to the old scribbler. The hotel's new décor is light, bright and airy. Think Neuilly-in-New York. 242 rooms and 69 suites, in a bucolic setting, lovely business centre, wi-fi and all the techie toys. And The Courtyard is quietly buzzing. Have a drink in  "58" the bar, something light (cornet de frits) (3€) Club Sandwich (14€) or eat chez Victor Hugo, where chef Denis Levy proposes plat du jour (14€), pastas, hamburgers, salads, grilled beef, great desserts and, if the service is slow, you can read the walls, the wallpaper's printed with extracts from "Les Miserables" (I think) something to do with cuisine and gastronomy. Looks lovely, makes you feel like an intelligent eater. In summer there's a large terrace with purple parasols, but you can't read the walls then, which is a pity. An exciting address (brunch on Sundays (34€) to be taken without moderation, not far from where Sarko has an apartment, so don't be surprised…….  
Address Book:
Le Quinzième,
14 rue Cauchy, 15th (Metro: Javel)
T: 01 45 54 43 43
Valet parking
Limousine take home service

Shut : Sat lunch & Sunday 
Marriott Courtyard Hotel,
58 Boulevard Victor Hugo,
92200 Neuillu sur SeineT: 01 55 63 64 55
Palais de Tokyo Hotel
333€ week nights
444€ weekends.