How many times have you heard people say they need to live where their children do? You'll hear that refrain again when they become grandparents. For many, that's the right (and only) route. But, for others, including me, it doesn't feel as if we're being true to ourselves. That seemingly selfish decision may evoke guilt. But, if you'd experienced what I did recently, you'd know you'd made the right decision and life goes on. It always has, I hear, and I suspect it always will. Please don't get me wrong. My son and his wife are wonderful and my granddaughters are perfect. I'm lucky and have been able to factor sufficient funds into my budget so I can return to Washington, DC, often enough that I'm not a void in my family's life. "Out of sight, out of mind" is never going to be their mantra about this woman who lives in Paris. But this August was a month I'll always remember and so will they. The entire family came to Paris and we had a ball. My daughter-in-law's sister and her family, who live in Copenhagen, joined us as well. At that point, there were going to be nine people in the apartment (five adults and four children under the age of nine) so while the Copenhagen crowd was in residence, I moved to a hotel five minutes away from the apartment. One of the caveats was that everyone except me was responsible for planning their time in Paris. I may be an "expert," but this was their trip (with only a wee input from me). I can't deny that I polled all of my friends whose grandchildren had come to Paris with them and came up with a laundry list of things and places that were must-sees. What I learned: my family didn't feel as if they needed or wanted to be tourists. They were coming to see "Gran" and where she lives. The eight-year-old had been to France when she was little, but this was the first trip for my just-turned-five-year-old. When you're traveling as an entourage, especially with children, who may not be able to overcome the effects of jet lag as quickly as some adults, don't count on getting an early start. The 9 a.m. activities we had planned were akin to pulling teeth when it came to getting up and out. Children need to stop and eat at the strangest times; for example, whenever they see a vendor selling crêpes or ice cream. Even though you may have a sack filled with sandwiches, snacks and drinks, they're simply not the same. We traveled by bus, métro and the RER. The children were troopers when it came to changing trains that required going up and down stairs. The adults' legs (OK, mine) may have felt a few aches and pains, but the children did amazingly well, except for the youngest who cajoled her father into transporting her on his shoulders when the going got tough. A friend suggested we have a stroller for such occasions, but that was nixed as a thing of the past. In retrospect, it would have come in more than handy—I wouldn't have minded a ride now and then. Amazingly enough, there were few complaints about taking public transportation except when we were in métro cars that were so packed that we all felt as if we were sardines. The children loved walking—you mean there's a pastry store so close to your house? It wasn't until nearly the last day that I heard my "baby" say something about looking forward to getting into a car. Each day, the girls were responsible for recording what they'd seen that day. My elder granddaughter wrote a lot. The younger child drew and drew some more. She'd come into the room where the paper is kept and raid pages from the ream of printer paper and kept on drawing. Our travels took us past the 
Eiffel Tower
so many times that the children became blasé after they'd seen it for the umpteenth time. That was until the night we went to the summit which, in spite of our having tickets, took an hour and a half once we were in line and was so disorganized that I wondered how people weren't lost. After complaining loudly, one of the few and far between employees commented that 30,000 people a day go up the Eiffel Tower each August and what did I expect? Knowing then what I know now, there are far better ways to see Gustave Eiffel's creation which he designed for part of the celebration of the 1889 centenary of the French Revolution and is the highest building in Paris. A far better vantage point is from the 
Paris Architectural Museum
at the Trocadero métro. If you don't have time to see the museum, buy a drink in the cafeteria and enjoy the most incredible view where the crowds aren't overwhelming. You'll also avoid being accosted by the illegal vendors, who keep the souvenirs in bags that can be picked up in a second as the police come by and tell them to scat. That lasts for all of ten minutes and these men are back in business tout de suite. Their all-time favorites:  The
Mona Lisa
, the "puffy cake," The
Sacré Coeur
,
The Pont des Arts
where the children placed their locks and the Luxembourg Garden where we spent so many wonderful hours. Even the…
SUBSCRIBE
ALREADY SUBSCRIBED?
BECOME A BONJOUR PARIS MEMBER

Gain full access to our collection of over 5,000 articles and bring the City of Light into your life. Just 60 USD per year.

Find out why you should become a member here.

Sign in

Fill in your credentials below.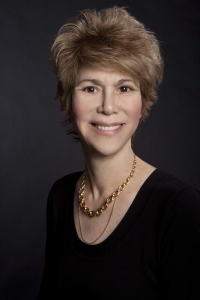 How many times have you heard people say they need to live where their children do? You'll hear that refrain again when they become grandparents.
For many, that's the right (and only) route. But, for others, including me, it doesn't feel as if we're being true to ourselves. That seemingly selfish decision may evoke guilt. But, if you'd experienced what I did recently, you'd know you'd made the right decision and life goes on. It always has, I hear, and I suspect it always will.
Please don't get me wrong. My son and his wife are wonderful and my granddaughters are perfect. I'm lucky and have been able to factor sufficient funds into my budget so I can return to Washington, DC, often enough that I'm not a void in my family's life. "Out of sight, out of mind" is never going to be their mantra about this woman who lives in Paris.
But this August was a month I'll always remember and so will they. The entire family came to Paris and we had a ball. My daughter-in-law's sister and her family, who live in Copenhagen, joined us as well. At that point, there were going to be nine people in the apartment (five adults and four children under the age of nine) so while the Copenhagen crowd was in residence, I moved to a hotel five minutes away from the apartment.
One of the caveats was that everyone except me was responsible for planning their time in Paris. I may be an "expert," but this was their trip (with only a wee input from me). I can't deny that I polled all of my friends whose grandchildren had come to Paris with them and came up with a laundry list of things and places that were must-sees.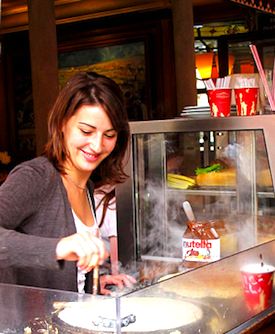 What I learned: my family didn't feel as if they needed or wanted to be tourists. They were coming to see "Gran" and where she lives. The eight-year-old had been to France when she was little, but this was the first trip for my just-turned-five-year-old.
When you're traveling as an entourage, especially with children, who may not be able to overcome the effects of jet lag as quickly as some adults, don't count on getting an early start. The 9 a.m. activities we had planned were akin to pulling teeth when it came to getting up and out.
Children need to stop and eat at the strangest times; for example, whenever they see a vendor selling crêpes or ice cream. Even though you may have a sack filled with sandwiches, snacks and drinks, they're simply not the same.
We traveled by bus, métro and the RER. The children were troopers when it came to changing trains that required going up and down stairs. The adults' legs (OK, mine) may have felt a few aches and pains, but the children did amazingly well, except for the youngest who cajoled her father into transporting her on his shoulders when the going got tough. A friend suggested we have a stroller for such occasions, but that was nixed as a thing of the past. In retrospect, it would have come in more than handy—I wouldn't have minded a ride now and then.
Amazingly enough, there were few complaints about taking public transportation except when we were in métro cars that were so packed that we all felt as if we were sardines. The children loved walking—you mean there's a pastry store so close to your house? It wasn't until nearly the last day that I heard my "baby" say something about looking forward to getting into a car.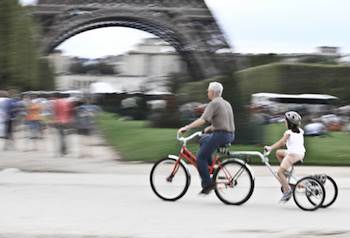 Each day, the girls were responsible for recording what they'd seen that day. My elder granddaughter wrote a lot. The younger child drew and drew some more. She'd come into the room where the paper is kept and raid pages from the ream of printer paper and kept on drawing.
Our travels took us past the Eiffel Tower so many times that the children became blasé after they'd seen it for the umpteenth time. That was until the night we went to the summit which, in spite of our having tickets, took an hour and a half once we were in line and was so disorganized that I wondered how people weren't lost. After complaining loudly, one of the few and far between employees commented that 30,000 people a day go up the Eiffel Tower each August and what did I expect?
Knowing then what I know now, there are far better ways to see Gustave Eiffel's creation which he designed for part of the celebration of the 1889 centenary of the French Revolution and is the highest building in Paris. A far better vantage point is from the Paris Architectural Museum at the Trocadero métro. If you don't have time to see the museum, buy a drink in the cafeteria and enjoy the most incredible view where the crowds aren't overwhelming.
You'll also avoid being accosted by the illegal vendors, who keep the souvenirs in bags that can be picked up in a second as the police come by and tell them to scat. That lasts for all of ten minutes and these men are back in business tout de suite.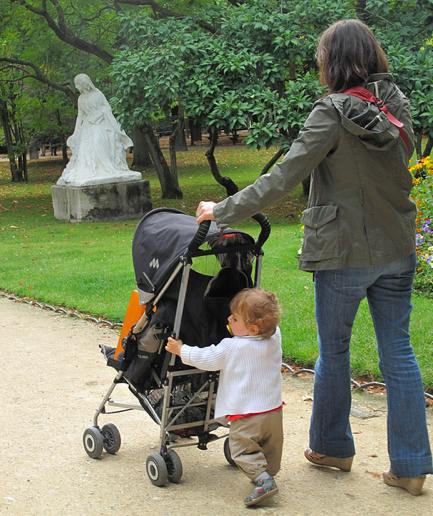 Their all-time favorites:  The Mona Lisa, the "puffy cake," The Sacré Coeur, The Pont des Arts where the children placed their locks and the Luxembourg Garden where we spent so many wonderful hours.
Even the children (and more importantly the adults) had a better time than they did at Disneyland Paris. A day at the Luxembourg Garden cost substantially less and the children loved the playground, the merry-go-round, and being able to rent their own boats that they pushed with their sticks in the pond behind the Sénat.
Don't get me wrong. We did many more things. But how I loved it when my granddaughters said, "Gran, this is your garden and we can come and play here all the time." They won't remember everything but Paris will be indelibly etched in their minds for the rest of their lives.
They really understood that my living in Paris isn't because I don't love them and they can have the best of both worlds. For an expat, that's a victory and has alleviated some of my guilt.
© Paris New Media, LLC
PHOTO CREDITS:
Crêpes in Paris ©CarinaTruyts
Paris Duo ©Mlle Bé
Mother (Luxembourg Garden) ©Ingrid.Deming
Grab your own free subscription to BonjourParis & be first to receive Wednesday & Sunday newsletters linked to 50 original stories monthly with travel tips & the latest from France. Since 1995, BonjourParis has been your most complete online France travel & Francophile lifestyle eZine. RSS feed available.
If it's at Amazon.com, you can get it at our Amazon.com Boutique with new items added weekly. Same competitive prices and speedy delivery & your purchases support costs of keeping BonjourParis your most complete online France travel resource.
Search hint: start at the back pages for the most recent stock.
Short-cut? Check out
Current Favorites
for the daily top sellers.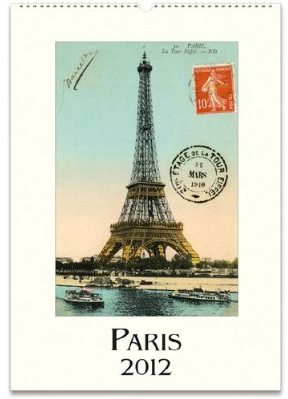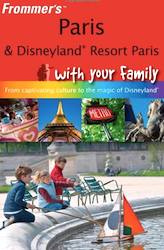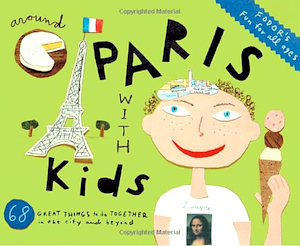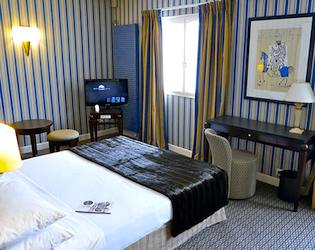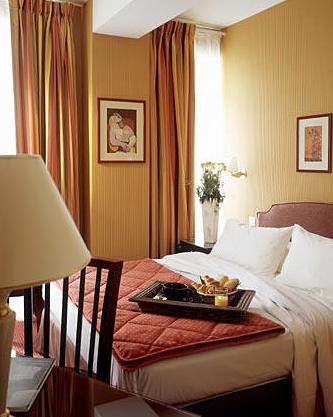 Hôtel Jardin de l'Odéon is a 3-star hotel ideally located where the Latin Quarter meets Saint-Germain-des-Prés. It's an elegant hotel, chic & contemporary style w/comforts like free Wi-Fi, AC, LCD TV & some rooms have terraces w/a view. Breakfast buffet, on-site bar, a 24-hour front desk & multilingual staff that receives many compliments in reviews from past guests. Walk 3 minutes to the Luxembourg Gardens. Métro: Odéon & RER to CDG is near—very handy to zip to/from airport! Some rooms were recently remodeled per guest review in August 2011 & satisfied guests rate this hotel 8.5 of 10 at Booking.com.
This hotel qualifies for the best-price match guarantee from Booking.com.

Be smart! Reserve your hotel at Booking.com…then keep shopping online & if you find a better rate for the same deal, contact Booking.com for your BEST PRICE MATCH GUARANTEE.
Bookmark this link & use it everytime you shop so your preferences are stored & deals are updated when you return: Booking.com.

One-stop shopping for car rental & international air travel deals:
Car rentals at competitive rates, no drop fees & a 5% discount for BonjourParis.com readers who use this link to Auto Europe Car Rental
Don't overlook Auto Europe for international flights, click Auto Europe Flights
More in American expats, bridge locks, bridge lovelocks, carousel, crepe, Dining in Paris, Disneyland Paris, Eating in Paris, Eiffel Tower, expat, Expat life in France, family, family travel, food, French food, garden, garden tours, kid, kids, Louvre, love locks, lovelocks, luxembourg garden, luxembourg gardens, merry go round, Metro, mona lisa, Paris metro, Paris parks, park, parks, playground, pont, Pont Arts, RER, sacre coeur
---
---