An Evening with Bonjour Paris Friends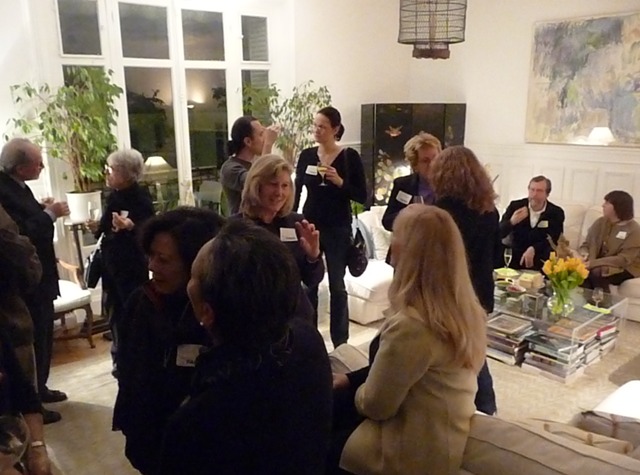 We've been to Bonjour Paris gatherings in Washington DC, New York, and Paris…guess which one we like the most? No contest, right? Like any good Francophile, it's got to be Paris! And what a fun evening it was! Kirk and I trained up from Aix en Provence in the south of France, where we were checking out some opportunities for our
Music and Markets in Provence
summer tour, in time to help with last minute party preparation. Then the doorbell began ringing around 6 pm and continued til 9 or so, as Paris-lovers from the States, Germany, London, and even right here in France met in Karen Fawcett's lovely apartment near Luxembourg Gardens. The conversation flowed as deliciously as the champagne, as we shared ideas, places, dreams and meals that we have enjoyed in La Belle France. Tasty nibbles, from sushi to foie gras, cheese gougères to crudités accompanied interesting banter of all of us who were delighted to enjoy an evening in a beautiful home – how much more intimate than gathering in a restaurant! Not something one always gets the opportunity to do when spending time in a city far from home. There was certainly never a dull moment and everyone had such a good time getting to know each other and hearing Paris stories. Karen had each of us introduce ourselves and tell how we were involved with Bonjour Paris. I was impressed that there were very few "old-timers" – about 90% of the people had never met Karen before and many had just recently found BonjourParis.com – probably as they prepared for their trip here. Some people just happened to be in town and heard about the party the previous day. Some read about it and thought "I'll be in Paris for this, I'll go". About thirty of us, the majority women, but with a few France-loving males too, talked long into the evening. We communicate so much on the internet, so what a pleasure it was for all to see those whose articles or books they've read, such as Thirza Vallois and Karen. We all enjoy the "Ask Karen" opportunities on Bonjour Paris, and relished the chance to sit down, chat, and ask our questions in person. An evening in Paris, face-to-face, will make the words on the page much more meaningful in the future.   See related article on the
BonjourParis party
.   Anne Woodyard has written about food and travel for France Today, Dream of Italy, and
BonjourParis
.  She and her husband are the founders of
Music and Markets tours
, through which they introduce others to the wonders of Europe.   Please post your comments or questions and let them flow. Register 
HERE
to do so if you need a Bonjour Paris user name and password.
SUBSCRIBE
ALREADY SUBSCRIBED?
BECOME A BONJOUR PARIS MEMBER

Gain full access to our collection of over 5,000 articles and bring the City of Light into your life. Just 60 USD per year.

Find out why you should become a member here.

Sign in

Fill in your credentials below.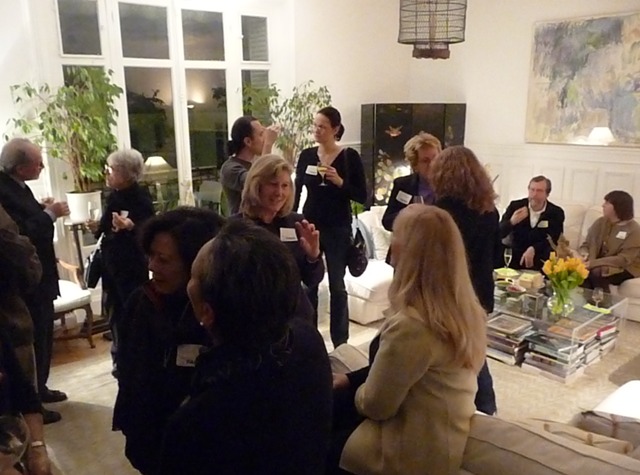 We've been to Bonjour Paris gatherings in Washington DC, New York, and Paris…guess which one we like the most? No contest, right? Like any good Francophile, it's got to be Paris!
And what a fun evening it was! Kirk and I trained up from Aix en Provence in the south of France, where we were checking out some opportunities for our Music and Markets in Provence summer tour, in time to help with last minute party preparation.
Then the doorbell began ringing around 6 pm and continued til 9 or so, as Paris-lovers from the States, Germany, London, and even right here in France met in Karen Fawcett's lovely apartment near Luxembourg Gardens.
The conversation flowed as deliciously as the champagne, as we shared ideas, places, dreams and meals that we have enjoyed in La Belle France.
Tasty nibbles, from sushi to foie gras, cheese gougères to crudités accompanied interesting banter of all of us who were delighted to enjoy an evening in a beautiful home – how much more intimate than gathering in a restaurant! Not something one always gets the opportunity to do when spending time in a city far from home.
There was certainly never a dull moment and everyone had such a good time getting to know each other and hearing Paris stories. Karen had each of us introduce ourselves and tell how we were involved with Bonjour Paris. I was impressed that there were very few "old-timers" – about 90% of the people had never met Karen before and many had just recently found BonjourParis.com – probably as they prepared for their trip here. Some people just happened to be in town and heard about the party the previous day. Some read about it and thought "I'll be in Paris for this, I'll go".
About thirty of us, the majority women, but with a few France-loving males too, talked long into the evening.
We communicate so much on the internet, so what a pleasure it was for all to see those whose articles or books they've read, such as Thirza Vallois and Karen. We all enjoy the "Ask Karen" opportunities on Bonjour Paris, and relished the chance to sit down, chat, and ask our questions in person.
An evening in Paris, face-to-face, will make the words on the page much more meaningful in the future.
See related article on the BonjourParis party.
Anne Woodyard has written about food and travel for France Today, Dream of Italy, and BonjourParis.  She and her husband are the founders of Music and Markets tours, through which they introduce others to the wonders of Europe.
Please post your comments or questions and let them flow. Register HERE to do so if you need a Bonjour Paris user name and password.
More in Bonjour Paris, Food Wine, luxembourg garden, Paris
---
---