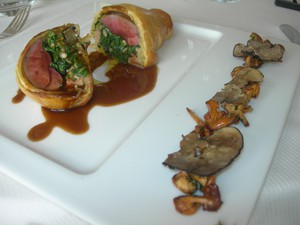 It's an Indian Summer's day, rich and mellow, perfect for a visit to Eric Maio, who has a cute provenҫal maison near Lac de St. Cassien in the Var region, 20 minutes from Cannes, close to Four Seasons Domaine de Terre Blanche, from whence come many of his regular clients.  Maio's maison may be provenҫal but his cuisine is like modern music arranged by Mark Ronson. Maio, who has Sicilian roots, has lived in the region since he was 6,  graduated from L'Ecole Hôtellerie, Menton then honed his craft at Le Palais, Biarritz, La Bonne Auberge with Jo Rostang, Marc Veyrat at Annecy, Le Savoy, Cannes, Bruno, Lorgues.
In warm weather eat in the garden under the lime, olive and acacia trees. In autumn his dishes are laden with local game, girolles, trompettes de la mort, mousserons, truffles, vegetables and herbs from the potager behind la cuisine. It's worth crossing the region to taste Maio's signature dish, pigeon désossé farci aux blettes, pignon de pin, et pâte feuilletée (pigeon in flaky pastry).  As is Soupe de chèvre revisitée, tartare d'huître Gillardeau à la truffe. Une huître virtuelle pour l'accompagner. Or how about Pomme de terre Amandine cuisinée dans un bouillon en robe de champs et truffes, un filet d'huile dans une crème emulsionnée. Desserts are equally audacious, as in Une vision différente de voir une pêche melba en 2010. Talk to Maio about cheese: all his are from local producers. There's Catherine Fleury's Tomme de Chèvre and a chevre she makes mixing goat and sheep's milk. From nearby Rocbaron comes goatie with truffles, fresh or ash-coated. Wines are a hymn to "La Provence": Château Roubine (white) "Inspire" 2009 (55€) Rosé, Domaine de la Tour du Bon (45€). Red, Château Saint-Baillon "Clos Barbaroux 2003 (47€). "All Maio needs are a few rooms", BUZZ suggests. "Well we've thought of that too", he grins. So watch this space.
Quartier Narbonne, 2169 – CD 37
83440 Montauroux
T: 04 94 47 71 65
Shut Tuesday-Wednesday
Zen Garden is an elegant sprawling restaurant, modelled on a wealthy Chinese home, just off the Champs Elysées (it launched in place of Nobu, which failed to make its mark on the Parisians for some unknown reason).  Owner Ming Chen is planning a Gastronomic Festival to showcase the cuisine of the Huai Yang region, which is "one of the eight top regional cuisines of China", according to Mr Chen who knows a thing or three about cooking. Characterised by stews, braising, and long steaming over low fire, carved vegetables and fruits are a speciality, such as melon and sea cucumber cut into butterfly shapes and cooked with secret flavourings. The dishes have a sweet side to them, cut by signature Chinkiang vinegar. Albert, my food guru, tells me that squirrel with mandarin fish is very popular, but I don't think Mr Chen will risk that; he doesn't want to end up like Nobu.
Festival de Gastronomie Chinoise
7-17 October 2010 – 39€ per person
15 rue Marbeuf, 8th
Metro: Franklin D. Roosevelt
Open 7/7 Valet Parking at night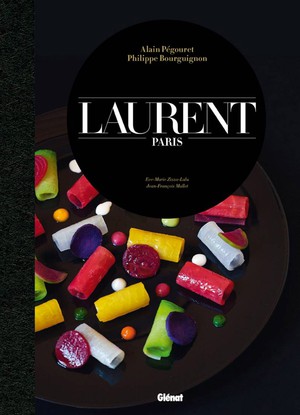 Alain Pegouret, born in Cannes, has brought sun, sex and sand from his Mediterranean roots to Laurent, the handsome pavilion once used by Louis XIV. He's been packing in le tout Paris since 2001 and claims that his wife and mistress are his products and his kitchen. Vegetables are also Pegouret's passion; he says he was initially inspired by Cannes artist Louis Pastour's paintings which dotted the family home in the South of France. Pegouret's next inspiration came from his friendship with vegetable guru Joel Thiébault. "He made me want to work with little-known or forgotten vegetables with which I make paintings on my plates". The cover of Pegouret's just-published book "Laurent Paris" says it all; a colourful dish Palette de Légumes Raves illustrates a beautiful book written with Laurent's wise and savvy director Philippe Bourguigon. It'll have your mouth watering to either make Pegouret's dishes at home or book a table in the sun. It's always shining at Laurent.
41 Avenue Gabriel, 8th
Metro: Champs Elysées Clemenceau
T: 01 42 25 00 39
Shut Sat lunch & Sunday
Menu Pavillon – 80€ served at lunch and dinner
"Laurent Paris" Editions Glénat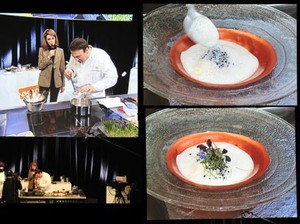 Don't miss the last leg (after Buenos Aires and Washington) of Park Hyatt Masters of Food and Wine – Tour of the World 2010. For six days top chefs and gourmets from all over the world are meeting, greeting and showcasing signature dishes.
Jean François Rouquette, Executive Chef of Park Hyatt Paris Vendôme, has invited 5 chefs from Spain (Eneko Atxa), Italy (Fabio Pisani for Aimo and Nadia Moroni), Sweden (Ola Rudin and Sebastian Persson, Belgium (Bart de Pooter) and UK (Nuno Mendes). "This event is a unique mix of multiple cultures, each chef bringing their own savoir-faire using authentic regional products", says Rouquette.
Le Pur', Le Bar and La Terrasse at Park Hyatt Paris Vendôme are the setting for each evening's events. The week's festivities begin with a private VIP dinner on Monday, October 11th, where the famous five chefs will work their magic together to create a special menu. Each evening from Tuesday 12th until Saturday 16th October, in the restaurant Pur', one of the guest chefs will produce a tasting menu using regional ingredients.
If you're coming to France (or for that matter anywhere) you can reserve your hotel here. To rent a car, Bonjour Paris recommends Auto Europe.