Elliott Erwitt Exposition in Paris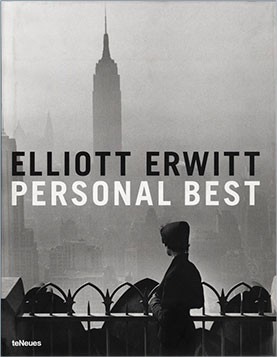 Springtime and the tourist season has come to Paris and, as is the case each year, the French capital is abound with "must-see" art exhibitions. On the top of the list is certainly the one in Paris's Petit Palais in the city center. It's devoted to the life and work of Yves Saint Laurent, France's emblematic but recently deceased king of haute couture. Close behind is "Sainte Russie" at the Louvre, which is a panorama of Russian artistic paintings and objects from the country's earliest history to the reign of Peter the Great. There is another exhibit that's off the beaten track and far less publicized, but it's absolutely worth a visit.  Even without much publicity, it is one of those word-of-mouth secrets that an increasingly large number of Parisians and tourists have discovered. It's entitled "Personal Best," will be open until April 4th and is devoted to the works that famed Magnum photographer Elliott Erwitt considers his most memorable. That's a tall order because Erwitt has had top-flight expositions of his photos all around the world, in the United States, Asia, Australia, and Europe and has published more than 20 books of his work. If you're of an age to remember Richard Nixon and Soviet leader Nikita Khrushchev's raucous, finger-poking, virtually nose-to-nose debate about the relative merits of capitalism and communism in the model kitchen of the American exhibition in Moscow in 1959, it's a good bet you'll also remember Erwitt's close-up photo of the event.  It so summed up the encounter that, without asking Erwitt's permission, Nixon used the photo during his subsequent presidential election campaign to emphasize just how tough he could be with America's adversaries in Moscow. Erwitt, who was born in France, lived in Italy as a child. At the age of 11, he emigrated with his Russian-born parents to the United States and is generally recognized as one of the best professional photographers of his generation. His subjects have included glamorous figures including Jackie Kennedy, Grace Kelly and Marilyn Monroe.  He's also photographed monumental political icons such as France's General Charles de Gaulle. However, he is renowned for his distinctive ability to spot and capture often humorous, instantaneous snatches of human and animal life on film. Often it will be only the irony or comedy of a smile, a gesture or a quizzical expression, but it is always recognizable as a moment to remember that will never return. It could be the concentration of an elderly lady playing a slot machine, oblivious to the nearby statue of a cowboy pointing a gun in her direction. Or it might be the slightly embarrassed reaction of two ladies serving as judges in a nudist contest. Or a rifle-toting American soldier marching with his patrol in a war zone but joyfully sticking his tongue out at Erwitt and his camera. Often—and this is an Erwitt specialty—his photos involve dogs. Usually they are dogs who, in the way they stand and the way they glance, wind up looking remarkably like their masters. One of Erwitt's books, not by chance, is entirely devoted to such dog photos and is entitled "Son of Bitch." Internet blog comments by visitors to the exhibition are virtually all extremely laudatory and probably account for the fact that, without much publicity, the exhibition at the "Maison Européenne de la Photographie," The European House of Photography, very near the Notre Dame cathedral on the Ile de la Cité can be extremely crowded on weekends. But, as the French guidebooks say, it's really worth the visit. "Personal Best"Photographs by Elliott Erwitt La Maison Européenne de la Photographie5-7 rue de Fourcy75004 Paris Open every day except Mondays, Tuesdays and holidays from 11 a.m. to 8 p.m. until April 4, 2010. Metro : St. Paul.   If you're coming to France (or for that matter anywhere) you can 
reserve your hotel here.
To rent a car, Bonjour Paris recommends 
Auto Europe
. Please register
HERE
if you need a free Bonjour Paris user name and password.
SUBSCRIBE
ALREADY SUBSCRIBED?
BECOME A BONJOUR PARIS MEMBER

Gain full access to our collection of over 5,000 articles and bring the City of Light into your life. Just $60 a year.

Find out why you should become a member here.

Sign in

Fill in your credentials below.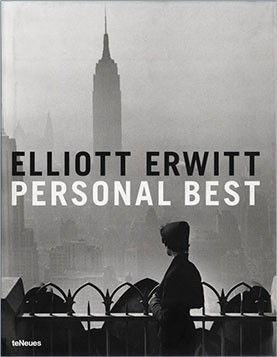 Springtime and the tourist season has come to Paris and, as is the case each year, the French capital is abound with "must-see" art exhibitions.
On the top of the list is certainly the one in Paris's Petit Palais in the city center. It's devoted to the life and work of Yves Saint Laurent, France's emblematic but recently deceased king of haute couture. Close behind is "Sainte Russie" at the Louvre, which is a panorama of Russian artistic paintings and objects from the country's earliest history to the reign of Peter the Great.
There is another exhibit that's off the beaten track and far less publicized, but it's absolutely worth a visit.  Even without much publicity, it is one of those word-of-mouth secrets that an increasingly large number of Parisians and tourists have discovered.
It's entitled "Personal Best," will be open until April 4th and is devoted to the works that famed Magnum photographer Elliott Erwitt considers his most memorable.
That's a tall order because Erwitt has had top-flight expositions of his photos all around the world, in the United States, Asia, Australia, and Europe and has published more than 20 books of his work.
If you're of an age to remember Richard Nixon and Soviet leader Nikita Khrushchev's raucous, finger-poking, virtually nose-to-nose debate about the relative merits of capitalism and communism in the model kitchen of the American exhibition in Moscow in 1959, it's a good bet you'll also remember Erwitt's close-up photo of the event. 
It so summed up the encounter that, without asking Erwitt's permission, Nixon used the photo during his subsequent presidential election campaign to emphasize just how tough he could be with America's adversaries in Moscow.
Erwitt, who was born in France, lived in Italy as a child. At the age of 11, he emigrated with his Russian-born parents to the United States and is generally recognized as one of the best professional photographers of his generation. His subjects have included glamorous figures including Jackie Kennedy, Grace Kelly and Marilyn Monroe.  He's also photographed monumental political icons such as France's General Charles de Gaulle.
However, he is renowned for his distinctive ability to spot and capture often humorous, instantaneous snatches of human and animal life on film. Often it will be only the irony or comedy of a smile, a gesture or a quizzical expression, but it is always recognizable as a moment to remember that will never return.
It could be the concentration of an elderly lady playing a slot machine, oblivious to the nearby statue of a cowboy pointing a gun in her direction. Or it might be the slightly embarrassed reaction of two ladies serving as judges in a nudist contest. Or a rifle-toting American soldier marching with his patrol in a war zone but joyfully sticking his tongue out at Erwitt and his camera.
Often—and this is an Erwitt specialty—his photos involve dogs. Usually they are dogs who, in the way they stand and the way they glance, wind up looking remarkably like their masters. One of Erwitt's books, not by chance, is entirely devoted to such dog photos and is entitled "Son of Bitch."
Internet blog comments by visitors to the exhibition are virtually all extremely laudatory and probably account for the fact that, without much publicity, the exhibition at the "Maison Européenne de la Photographie," The European House of Photography, very near the Notre Dame cathedral on the Ile de la Cité can be extremely crowded on weekends.
But, as the French guidebooks say, it's really worth the visit.
"Personal Best"
Photographs by Elliott Erwitt

La Maison Européenne de la Photographie
5-7 rue de Fourcy
75004 Paris
Open every day except Mondays, Tuesdays and holidays from 11 a.m. to 8 p.m. until April 4, 2010.
Metro : St. Paul.
If you're coming to France (or for that matter anywhere) you can reserve your hotel here. To rent a car, Bonjour Paris recommends Auto Europe.
Please register HERE if you need a free Bonjour Paris user name and password.
More in France, Museum, Neighborhood, Paris, Paris artists, Paris sightseeing, Paris tourism, Paris tourist tips, sightseeing
---
---