Book Review: Eiffel's Tower: The Thrilling Story Behind Paris's Beloved Monument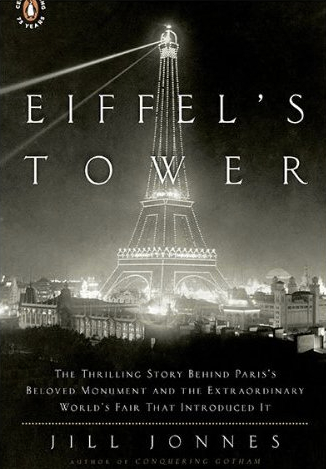 Jill Jonnes, author
Penguin Books, 368 pages
The Eiffel Tower has been an endearing symbol of Paris for such a long time that it's impossible to imagine the City of Light without its crown jewel. But there was a time before the Tower, as readers learn by reading Eiffel's Tower: The Thrilling Story Behind Paris's Beloved Monument and the Extraordinary World's Fair That Introduced It.
France wanted to show off to the world as host of the 1889 Exposition Universelle (World's Fair), and it needed a huge exclamation point of a centerpiece to do it. Enter Gustave Eiffel and his tower. Actually, the tower was not originally Eiffel's idea, but that of engineers Émile Nouguier and Maurice Koechlin plus architect Stephen Sauvestre, employees from Eiffel's consulting and construction firm, Eiffel et Cie.
However, Eiffel made the tower his own both through design changes and his steadfast championing of the project. At first, even the mere idea of La Tour en Fer de Trois Cents Mètres—as it was originally known—was loathed. The Exposition was supposed to show the world that France had arrived, that 100 years after its Revolution, it was a modern country on the cutting edge. How could this iron monstrosity be allowed as the centerpiece for such a monumental event?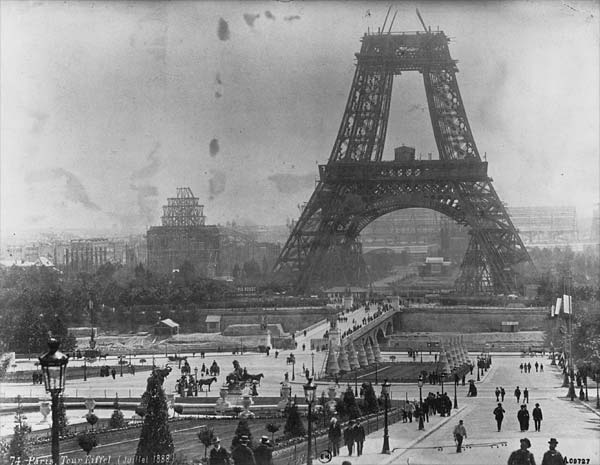 But bridge builder Gustave Eiffel had the right people on his side and plans for La Tour moved forward, though public skepticism persisted. Nothing like the Eiffel Tower had ever been built before and many doubted that it would be completed at all, let alone in time for the Exposition.
Building the tower turned into a roller coaster ride for all involved, but most especially for Monsieur Eiffel. He so believed in his tower that he funded a large part of its construction himself and stood to lose a fortune if he was unsuccessful. The Tower's elevators are one particularly dramatic and interesting aspect explored in the book. The steep incline required second-floor elevators be built at a pitch never before attempted; and many thought they would be impossible to build. American company Otis Elevator took on the project, but it was a troubled partnership from the get-go that later ended acrimoniously when Eiffel sued Otis because the elevators were not operational by the Exposition's opening day. Such drama!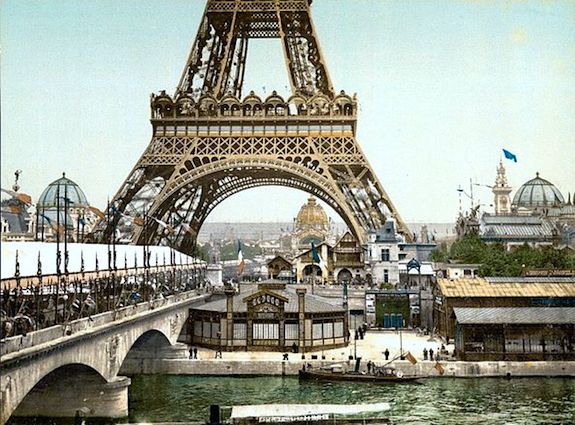 This story is as much about the Exposition Universelle as it is about the Eiffel Tower. The author's descriptions and published photos reveal the Exposition must have been quite a sight and experience. Countries from around the globe had exhibitions at the Fair—there were Javanese dancers, oriental rickshaws, Moslem minarets and Cambodian temples. There was even a "History of Human Habitation" exhibit that featured "houses" staffed by natives of Japan, China, and Russia, among many others, and each "house" featured native vegetation, designs, food and customs.
Jonnes writes much about famous Americans in the book, which may surprise some readers expecting only a French history story. But the fact is, many Americans were huge hits at the Fair and the aura of celebrity that followed the likes of Annie Oakley, Buffalo Bill Cody and even Thomas Edison would have rivaled modern media coverage of Paris Hilton or Kim Kardashian. As many as 30,000 people a day packed in for Colonel Cody's Wild West Show featuring not only the inimitable Miss Oakley, but authentic "American Indians" that most Europeans had only read about in novels. Thomas Edison garnered adoration that today would make him a rock star. Edison attended the Fair to promote his newly improved phonograph, a genius invention considered a marvel by royals and commoners alike.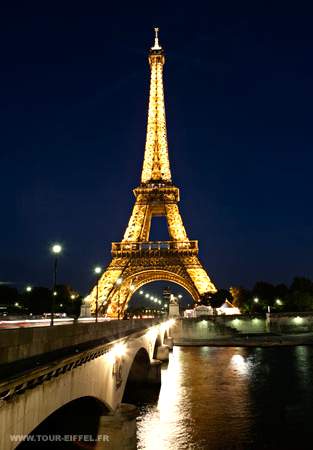 Those who love Paris and her Tour Eiffel will find this book is fascinating reading. It's fun to imagine how the city must have been during those days, watching the tower grow and grow and then culminating in the Exposition, when the entire world seemed to converge on the Parc du Champ de Mars. It's interesting to think about all those thousands and thousands of people enjoying the splendor and beauty of Paris in much the same way we do today. And after learning the story of the Eiffel Tower's journey into existence, chances are you'll love it even more than you do now.
Photo gallery of historic Eiffel Tower images
Shannon George is a writer and producer in the entertainment industry. Click on her name to read her profile or to read more stories by her published by BonjourParis.
Would you like to submit a story or share a tip with our readers? Send us your stories & ideas.
NEW:
Subscribe for free
exclusive content for subscribers in every newsletter.
Click on image for more info about these favorites.
Thank you for using our link to Amazon.com…your purchases support our free site.
Leave a reply
Your email address will not be published. Required fields are marked *