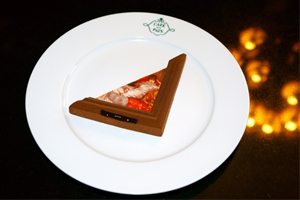 Jean Claude Jitrois creates sexy stretch leather for the likes of Beyoncé, Kate Moss, Naomi Campbell and Liz Hurley www.jitrois.com so when The Intercontinental Paris Le Grand Hotel asked the lord of leather to design a dessert to celebrate "Paris, Capitale de la Creation Fashion Pastries", he insisted "chocolate, only the finest chocolate".  
He dedicates his confection to Sarah Bernhardt, a copy of her portrait, by George Clairin, hangs in the majestic lobby of the Grand Hotel, the original in the Petit Palais. A regular diner at Café de la Paix, Jitrois is a fan of MOF chef Laurent Delarbre's cuisine. Together they planned "Sarah", presented as the corner of a painting covered in a white chocolate canvas and framed by a Mexican dark chocolate shell garnished with Venezuelan dark chocolate mousse. (See Photo) "It has a cocoa biscuit base and plaque in dark chocolate signed "Jitrois", explained Delarbre at the launch. Jitrois says his delicious dessert was also inspired by his muse and best friend the actress/model Sarah Marshall. 
Taste Sarah from 16 May-15 September (15€) fun with a glass of champagne at:
Cafe de la Paix,
Place de l'Opera, 9th
T: 01 40 07 36 36
www.paris.intercontinental.com
Let's hear it for Jérôme Gangneux's garlic free kitchen, "at the request of my regular clients", says chef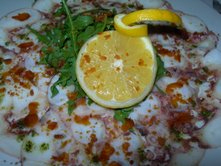 formerly with Jean-Pierre Vigato at Apicius. I was thinking about this as I absent mindedly crunched a confit clove in the dim half light of L'Ourcine last week; I know who gets my business. I'm thinking of launching a new system of restaurant ratings – 0 Zantac for Gangneux's divine garlic free cuisine 1, 2, 3 you know the rest. Watch out Michelin. 
The 6 New York, located on the avenue of the same name, has large bay windows, you watch the Eiffel Tower, conversation stopper, at night it sparkles on the hour. "We'll always have Paris", you'll mutter to Luciano as you choose from the menu.  
Gangneux comes to take the order, tell you about the specials. "I'm from Normandie, I had the best childhood, and 6 New York is my concept of a Normandie auberge, in Paris, for the 21st century", he explains. Gangneux's style is "Normand-Gourmand", using fine products from small suppliers. Joel Thibault's "forgotten" vegetables from avenue President Wilson market, inspire his menus; as in Assiette de legumes croquante du moment, "citro seche en jus". For Luciano, either Pizzaletta de langoustines vapeur or Ravioli de Homard, bouillon corsé a l'infusion de coriandre. You can try filet de bar grillé à la plancha, with topinambours puréed and roasted. Milles feuilles carambar caramel, tiramisu cafe-choco. Assiette tout choco, sorbet cacao. Drink white 2007 Les Canailles Ribiers Coteaux de Languedoc chez Regis Pichon 36€. Silky Burgundy Pinot Noir from Arnoux Pere & Fils 32€.
Le 6 New York,
6 Avenue de New York, (Metro: Pont d'Alma)
T: 01 40 70 03 30
www.paris-restaurant-6newyork.com
Closed Sat Lunch-Sun. 
Lunch 30-35€ Dinner A La Carte about 50€ 
Samesa (the table) is an Italian trattoria, décor a tad ringard, food, wine and warm Italian welcome is what you come here for. ""It's not work, it's my passion", says chef Claudio Sammarone, Abruzzo born and bred (that's near Rome about three quarters of the way down, right- hand side of the boot).  
You probably know him from his first Paris resto Le Perron, 6 rue Perronet in the 7th. It's still there, run by his partner, last November chef Claudio launched his right-bank Samesa. The menu is a delight, so is the wine list and Claudio bespokes dinners for clients who love truffles, black pasta, dishes you only find in Rome, like golden artichoke à la Judea. The Samesa concept is to serve the authentic artisanal cuisine Claudio learned to cook at his mother's knee. Epic dishes, say, carpaccio de poulpe, tomato, basil, celery, drizzle of olive oil. Scrambled eggs and boutargue (Mediterranean mullet roe) www.boutargue.org Risottos, home-made pastas and raviolis.  
"We're opening an epicerie next door to showcase the best Italian products, also some take away dishes you can say, "of course I made it", he chuckles. Have confidence in this warm and friendly maison, Claudio was once chef to the Countess de Ribes and Count Beaumont. His wines are regional Italian, he's even got Sassicaia, the more budget minded could try his Pecorino 100% Abruzzo by glass 5€, bottle 21€ or the red Paternum 2005 from Calabria 95€ 
13 rue Brey, 17th (Metro: Charles de Gaulle, Etoile)
T: 01 43 80 69 34
Lunch formula 17€ Menu 21€
Lunch & Dinner: Formula 26€ Menu:30€ 
A La Carte 
The whole world may be on hold, but you still need a break. Check out Alain Ducasse's stylish bright orange Chateaux & Hotels Collection 2009 (in English) for what Ducasse calls "remarkable tables, hotels and spas tailored to these crunchy times". Check out the gift ideas too on: