Ducasse Cookpot, Chez Catherine & Pierre Herme Passy and London BUZZ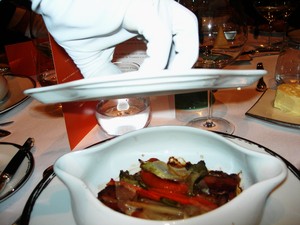 In chef's whites Alain Ducasse welcomed guests to lunch at the Plaza Athénée one day last week. "I've just arrived from The Dorchester, London ," he said. Alert readers will recall that Alain Ducasse at The Dorchester just won its third star in the Great Britain and Ireland 2010 Guide: making a grand total of 21 stars for 24 restaurants.
Showing a brief documentary, Ducasse explained his new signature "Cookpot" a stunning white porcelain oven-proof dish, made by Pillivuyt and designed by Pierre Tachon, in which he and his chefs cook vegetables, fruits, fish, meat and seafood. "It's taken me about twenty years to get to this point. When I first opened at the Louis XV I created "Cocotte de legumes" which was my way of cooking simple products to offset the majesty of the Monaco dining-room. Over the years I've continued and now all my restaurants will feature Cookpot dishes on their menus. The chefs will improvise what I call "glocal" dishes, that is they'll use local ingredients in the best possible way. Now I'm off to the kitchen, otherwise you won't get any lunch," he smiled.
Tables were named for the Ducasse restaurants, Tokyo, Paris, London, Las Vegas, Monaco, Ile Maurice, etc. White gloved waiters, well schooled by uber-restaurant director Denis Courtiade, appeared bearing the Cookpots. The symphony began with "Cookpot lutée de coquille Saint-Jacques de la bai de Seine, endive de pleine terre."  La Côte des Monts Damnés from Henri Bourgeois was as you'd expect from a family who've been making wine for ten generations. The second-course Cookpot revealed an epic aromatic, Pomme de terre Comtesse et truffe noir de Provence. The main of Cookpot de légumes d'hiver des paysans niҫois en gratin, poitrine de veau fondante, will probably feature at the Louis XV, Monaco, chef Franck Cerutti was in town and may have brought some of the veg with him from Cours Saleya market, Nice. Certainly Laurent Gauthier's Morgon 2008 Vielles Vignes, Cote de Py was a splendid match. Dessert was Cookpot de pommes Cox Orange confites, crème de Normandie, une râpée de pomme d'Api, astringent and palate cleansing with a glass of elegant Le Mesnil sur Oger Champagne by Philippe Gonet.
You can't buy Cookpots but it's early days, who knows. In the meantime treat yourself to lunch or dinner at Plaza Athénée, where there's 55 staff for 50 guests, and they make you feel like Sarah Jessica. Cookpot menus debut first in Paris, then globally.
The concept goes well with Nature, simple, sain et bon (soon in English) by Alain Ducasse and Paule Neyrat (Alain Ducasse Editions, 35€).
The Plaza Athénée
25 Avenue Montaigne, 8th
Metro: Franklin D. Roosevelt,
T: 01 53 67 65 00
Open Thurs-Fri for lunch
Mon-Fri for dinner
Jacket required
Menu Pleasure of the Table 260€ + wine.
Chez Catherine
Catherine Guerraz's cassoulet, perfect little raviolis and excellent wine list were such a hit with Paris diners at Chez Catherine that she moved her crowded house about seven years ago, overwhelmed with hungry horses. From unattractive rue de Provence in the 9th uptown to rue Berryer, minutes from the Champs Elysées.
In her open kitchen, Mme Guerraz continued to cook her delicious south-western specialities with a light modern spin. One of a handful of talented women chefs (Flora Mikula, Anne-Sophie Pic, Ghislaine Arabian) Guerraz has left Paris and is, at present, cooking at Hameau des Sources, Auron (T: 04 93 03 00 27).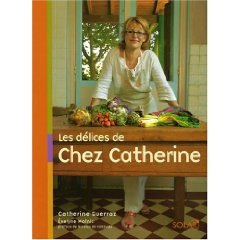 Her kitchen's in the strong and capable hands of Franck Paget. Name sounds familiar? He launched Chez Cath and then went off to work with some greats, "to add a few more leaves to my mille-feuilles," he grins. As you sit down, Stephane Depoitre the Maitre d' offers wicked dishes of warm tuiles, a welcome prelude to a three-course lunch that will blow you away. Transparence de St. Jacques, emulsion de thé matcha, light, fresh and transparent.  Follow with Lotte en croute d'herbes, purée de potimarron, sauce chataigne. A thick slice of monkfish perfectly cooked, and who doesn't love pumpkin? Drink a crisp white Viré-Clesse Cuvée Special 2008 (37€). Seasonal cheeses from Marie Quatrehomme. Gros "baba bouchon" au rhum, ananas confit, chantilly vanillée for dessert. Franck changes his menu all the time, but these are house classics, the boy's definitely got his mojo working. Book now, because you'll love it.
Chez Catherine,
3 rue Berryer, 8th
Metro: Charles de Gaulle, Etoile
T: 01 40 76 01 40
www.restaurantchezcatherine.com
Pierre Hermé launches Passy boutique, plans London locations

If you hurry you may snag the last macarons Truffe Blanche & Noisette, at Pierre Hermé's just launched Passy boutique. "The truffle season is more or less over," said the Picasso of patisserie, the Dior of desserts, welcoming le tout 16th to his new glass and chocolate-coloured dream emporium. That goes for Marron & thé vert Maicha, but there's plenty of colouful flavours to enjoy, try Envie, violet and blackberry, so pretty you could wear it. Home-made jams and cakes, chocolates, moulds, and PH's books line the walls and shelves. The latest  coffee-table tome "Macaron" will be out in English soon. And he opens in Selfridges, London, February 5th, followed by Knightsbridge in the Spring. "I've always dreamed of opening in London," he said. "When I began to experiment many years ago (he's now 47), only basic macarons were made. I decided to give them a sexy twist with new flavours". So where does he get his influence for, say, the new chocolate macaron Chuao? "By tasting everything from chips to caviar," he grins.
58 avenue Paul Doumer, 16th
Metro: Trocadero
Paris-Shuttle.com will bring you into town and for to reseve a hotel room, click here.
Leave a reply
Your email address will not be published. Required fields are marked *