Digging for Deals at Sympa Stock Shops in Paris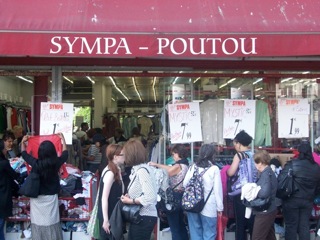 Shopping in Paris is a divine experience when you shop chic couture boutiques in the Golden Triangle on the Right Bank or Saint-Germain-des-Prés designer
shops
on the Left Bank. You've dressed for the occasion, probably worn heels, even. No worries: the shop air is perfumed, carpeting cushions your steps, the sales clerks doting and discreet professionals, and of course your bags can be delivered to your hotel or apartment, avec plaisir, madame. How clever of
Ladurée
to place their macaron salons so near your shopping excursions on Avenue George V and rue Bonaparte. At least you can regain your strength with a macaron and thé before your waiting driver helps you into your carriage. To be clear, none of that will happen when you shop at Les Magasins Sympa Grandes Marques, better known to expert deal-hunters like Suzy "
Born to Shop
" Gershman as SYMPA. You'll prepare for this adventure in different ways; let's start by managing your expectations. What's SYMPA? Olivier Magny, the expert on all matters when it comes to enlightening us about
Stuff Parisians Like
, says that when a French person says something is "sympa," they mean it's nice, but far from formidable! or super! Bargain hunters who shop at SYMPA closeout shops beg to differ: the deals at SYMPA can be incroyable! Simply put, SYMPA shops sell new clothing for centimes on the euro. Sure, we're talking last season's styles, but can you ever have too many Petit Bateau adult women's tops like those you can sometimes find at SYMPA for fewer than 10 euros? (The same goes for Petit Bateau onesies for chic babies sold for under 2 euros.) Sometimes is a keyword here: there is no guarantee that on the days you go you'll find clothing or accessories by MEXX, Benetton, Esprit, Diesel, Kookai, Naf-Naf, Sinequanone, Carling, Zara, Gianfranco Ferre, Etam, H&M, Jennyfer, Printemps, Mango, and other familiar European brands. It's entirely possible a discerning shopper will walk away sans sac—quelle horreur! And that's the frame of mind you must hold if you're a shopaholic or you could find yourself settling in desperation for something less than perfect. Preparing for a SYMPA trip Fortify (espresso, triple shot) before going, sharpen your elbows, do not wear heels, do not dress up—in fact, dress as casual as your traveling wardrobe allows. Leave the designer purse behind; if you packed your collapsible
shopping trolley
, tote it or at least carry some Monoprix shopping bags with handles you can use to carry your purchases on your return trip. Wear nothing flashy that implies you're a "tourist," including jewelry that's better than Timex. It's best to dress in layers you can shed to try on tops, jackets and maybe pants in the aisles sort of like the old days at the original Filene's and Loehmann's stores. If there's a dressing room, it's hidden. Do not go on a Saturday unless unavoidable; if you must, go early and expect to join a mob. The Paris local who guided me here said deliveries are made on Wednesdays and Saturdays. She recommended arriving on a Wednesday morning before the stores open at 10am. That's advice our interns followed when updating this story and they were warned to expect crowds. Do not be turned off to see a queue—just grab a spot near the door and wait. Bring cash and/or VISA or MasterCard (minimum purchase about 10€ to use plastic). Finding the SYMPA stores There are multiple SYMPA shops at the base of Montmartre on
rue Steinkerque
near Métro: Anvers. Brace yourself: the street and area are urban gritty, but better than the photo at the Google map suggests. Do not let that discourage you, you won't be in danger but, yes, there are pickpockets lurking and watching for the flashy tourists. City dwellers with street smarts engaged will have no problems. Look for the big red SYMPA signs above the shop doors. Arrive early enough and you might see the delivery truck dump boxes of inventory. College interns sent to snap some of the photos seen here had a good time watching the shoppers attack those boxes, but they took their photos after the crowds vanished. The SYMPA experience The shop opens and you'll find the cheapest stuff in the bins in the front of the store. We're talking overflowing heaps of clothing. The signs show prices like 1.99€ for anything from those bins and that's where the locals stack up. Skip that if the mob is too dense. Tables just inside the door hold boxes filled with some of the same items plus the nicer things still in their clear cellophane wrappers. Tags are attached, sometimes with full-retail prices marked. The store has round racks and wall racks with the "expensive" things—by "expensive," we mean bargain-priced coats priced at 40€ or so. It's a tight squeeze; wear your purse cross-shoulder, keep it shut tight in front of you at all times and be mindful of anyone who gets too close, they may be checking your pockets. The stock Most of the stock is women's apparel, but there are some garments for infants, children and men. Everything is new stock reportedly pulled from retail…
SUBSCRIBE
ALREADY SUBSCRIBED?
BECOME A BONJOUR PARIS MEMBER

Gain full access to our collection of over 5,000 articles and bring the City of Light into your life. Just 60 USD per year.

Find out why you should become a member here.

Sign in

Fill in your credentials below.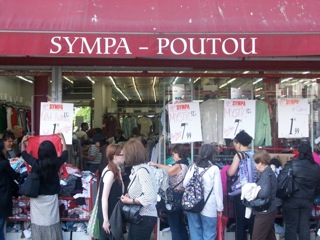 Shopping in Paris is a divine experience when you shop chic couture boutiques in the Golden Triangle on the Right Bank or Saint-Germain-des-Prés designer shops on the Left Bank. You've dressed for the occasion, probably worn heels, even. No worries: the shop air is perfumed, carpeting cushions your steps, the sales clerks doting and discreet professionals, and of course your bags can be delivered to your hotel or apartment, avec plaisir, madame. How clever of Ladurée to place their macaron salons so near your shopping excursions on Avenue George V and rue Bonaparte. At least you can regain your strength with a macaron and thé before your waiting driver helps you into your carriage.
To be clear, none of that will happen when you shop at Les Magasins Sympa Grandes Marques, better known to expert deal-hunters like Suzy "Born to Shop" Gershman as SYMPA. You'll prepare for this adventure in different ways; let's start by managing your expectations.
What's SYMPA?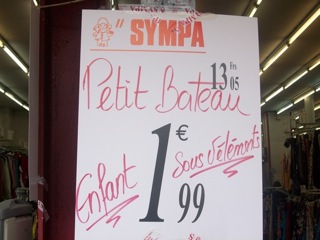 Olivier Magny, the expert on all matters when it comes to enlightening us about Stuff Parisians Like, says that when a French person says something is "sympa," they mean it's nice, but far from formidable! or super!
Bargain hunters who shop at SYMPA closeout shops beg to differ: the deals at SYMPA can be incroyable! Simply put, SYMPA shops sell new clothing for centimes on the euro. Sure, we're talking last season's styles, but can you ever have too many Petit Bateau adult women's tops like those you can sometimes find at SYMPA for fewer than 10 euros? (The same goes for Petit Bateau onesies for chic babies sold for under 2 euros.) Sometimes is a keyword here: there is no guarantee that on the days you go you'll find clothing or accessories by MEXX, Benetton, Esprit, Diesel, Kookai, Naf-Naf, Sinequanone, Carling, Zara, Gianfranco Ferre, Etam, H&M, Jennyfer, Printemps, Mango, and other familiar European brands. It's entirely possible a discerning shopper will walk away sans sac—quelle horreur! And that's the frame of mind you must hold if you're a shopaholic or you could find yourself settling in desperation for something less than perfect.

Preparing for a SYMPA trip
Fortify (espresso, triple shot) before going, sharpen your elbows, do not wear heels, do not dress up—in fact, dress as casual as your traveling wardrobe allows. Leave the designer purse behind; if you packed your collapsible shopping trolley, tote it or at least carry some Monoprix shopping bags with handles you can use to carry your purchases on your return trip. Wear nothing flashy that implies you're a "tourist," including jewelry that's better than Timex. It's best to dress in layers you can shed to try on tops, jackets and maybe pants in the aisles sort of like the old days at the original Filene's and Loehmann's stores. If there's a dressing room, it's hidden. Do not go on a Saturday unless unavoidable; if you must, go early and expect to join a mob. The Paris local who guided me here said deliveries are made on Wednesdays and Saturdays. She recommended arriving on a Wednesday morning before the stores open at 10am. That's advice our interns followed when updating this story and they were warned to expect crowds. Do not be turned off to see a queue—just grab a spot near the door and wait. Bring cash and/or VISA or MasterCard (minimum purchase about 10€ to use plastic).
Finding the SYMPA stores
There are multiple SYMPA shops at the base of Montmartre on rue Steinkerque near Métro: Anvers. Brace yourself: the street and area are urban gritty, but better than the photo at the Google map suggests. Do not let that discourage you, you won't be in danger but, yes, there are pickpockets lurking and watching for the flashy tourists. City dwellers with street smarts engaged will have no problems. Look for the big red SYMPA signs above the shop doors. Arrive early enough and you might see the delivery truck dump boxes of inventory. College interns sent to snap some of the photos seen here had a good time watching the shoppers attack those boxes, but they took their photos after the crowds vanished.
The SYMPA experience
The shop opens and you'll find the cheapest stuff in the bins in the front of the store. We're talking overflowing heaps of clothing. The signs show prices like 1.99€ for anything from those bins and that's where the locals stack up. Skip that if the mob is too dense. Tables just inside the door hold boxes filled with some of the same items plus the nicer things still in their clear cellophane wrappers. Tags are attached, sometimes with full-retail prices marked. The store has round racks and wall racks with the "expensive" things—by "expensive," we mean bargain-priced coats priced at 40€ or so. It's a tight squeeze; wear your purse cross-shoulder, keep it shut tight in front of you at all times and be mindful of anyone who gets too close, they may be checking your pockets.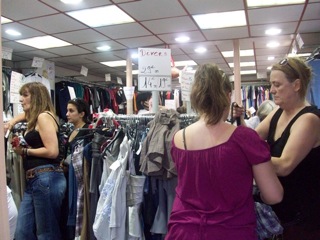 The stock
Most of the stock is women's apparel, but there are some garments for infants, children and men. Everything is new stock reportedly pulled from retail stores or catalogues. The makers' tags were not removed from items we purchased and so far everything is of acceptable quality. Some say there are factory seconds in the mix, but who knows? Inspect seams, buttons, zippers and make sure sleeve lengths are the same—a reader sent us a photo of a top with one short sleeve, one long sleeve. Oops! Sizes are a mystery; try things on even if you know your European size and go a size or two larger than you think you need. Pants, jeans and skirts were priced at 10-15€. Sweaters, pullovers, hoodies, tops and vests cost 5€ and up, raincoats and wool (blend) coats average 30-40€ and there are tables near the cashier stand sagging beneath heaps of colorful, "girly girl" lingerie priced at 1.99€ per piece.
Check out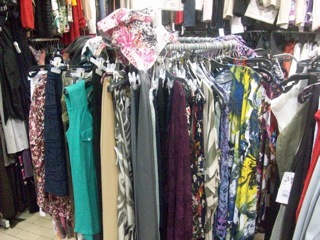 Get on queue and work your way to the overworked cashier at the back of the store, who may or may not speak English. No matter, your cash and plastic will be understood. One of our interns asked for help in French and received it; your experience may be different. The same intern requested a discount on a top that was missing a button and the clerk marked the price down to 50 centimes. So maybe it pays to be nice and ask for a discount if you're buying a lot. Check your receipt, button up your wallet and purse before leaving the counter. The clerk will give you flimsy bags: pack these in your shopping trolley or handle bags and hit the road.
There are a few SYMPA shops clustered there and more pop-up around the city. Ask the cashier if there are other new stores to discover.
How'd we do? Wouldn't you agree that 3 Carling tops and a Sinequanone vest for 20€ total is a steal? An intern bought 2 belts, a pair of earrings and that 50 centimes top for under 10€.

After unpacking your goodies, grab your designer handbag, put your jewelry back on and treat yourself to an extra macaron at your favorite Paris tea salon or Champagne bar.
Please tell us below about your favorite Paris discount shops—we need to know!
PRACTICAL INFORMATION
SYMPA (no website)
1 bis, rue Steinkerque, Paris 18th
Métro: Anvers
Hours: 10am-7pm Monday-Saturday
Other SYMPA shops in the area & in other parts of Paris.
Online route maps for Paris Métro, RER, bus, SNCF (Transilien)
Vélib' bike rental station maps
Arrondissement-by-arrondissement guide to Paris
©Dali Wiederhoft 2011

Dali Wiederhoft is the executive editor of BonjourParis. Please click on her name to read more of her stories published in BonjourParis.

Subscribe for
FREE

weekly newsletters with subscriber-only content.

BonjourParis has been a leading France travel and French lifestyle site since 1995.
Readers' Favorites: Top 100 Books, imports & more at our Amazon store
We daily update our selections, including the newest available with an Amazon.com pre-release discount of 30% or more. Find them by starting at the back of the Shopping section, then work backwards page by page in sections that interest you.
Shopping in Paris requires strategy…check out these energy- and time-saving guides.
Support our site by clicking on this banner for all your Amazon.com browsing. Merci!
More in 18th arrondissement, discount, discount shopping, Montmartre, outlet, Paris shopping, pop up shop, Shopping, stock shop, Sympa
---
---