Del Burgo, L'Auberge Bressane & Skating at the Plaza BUZZ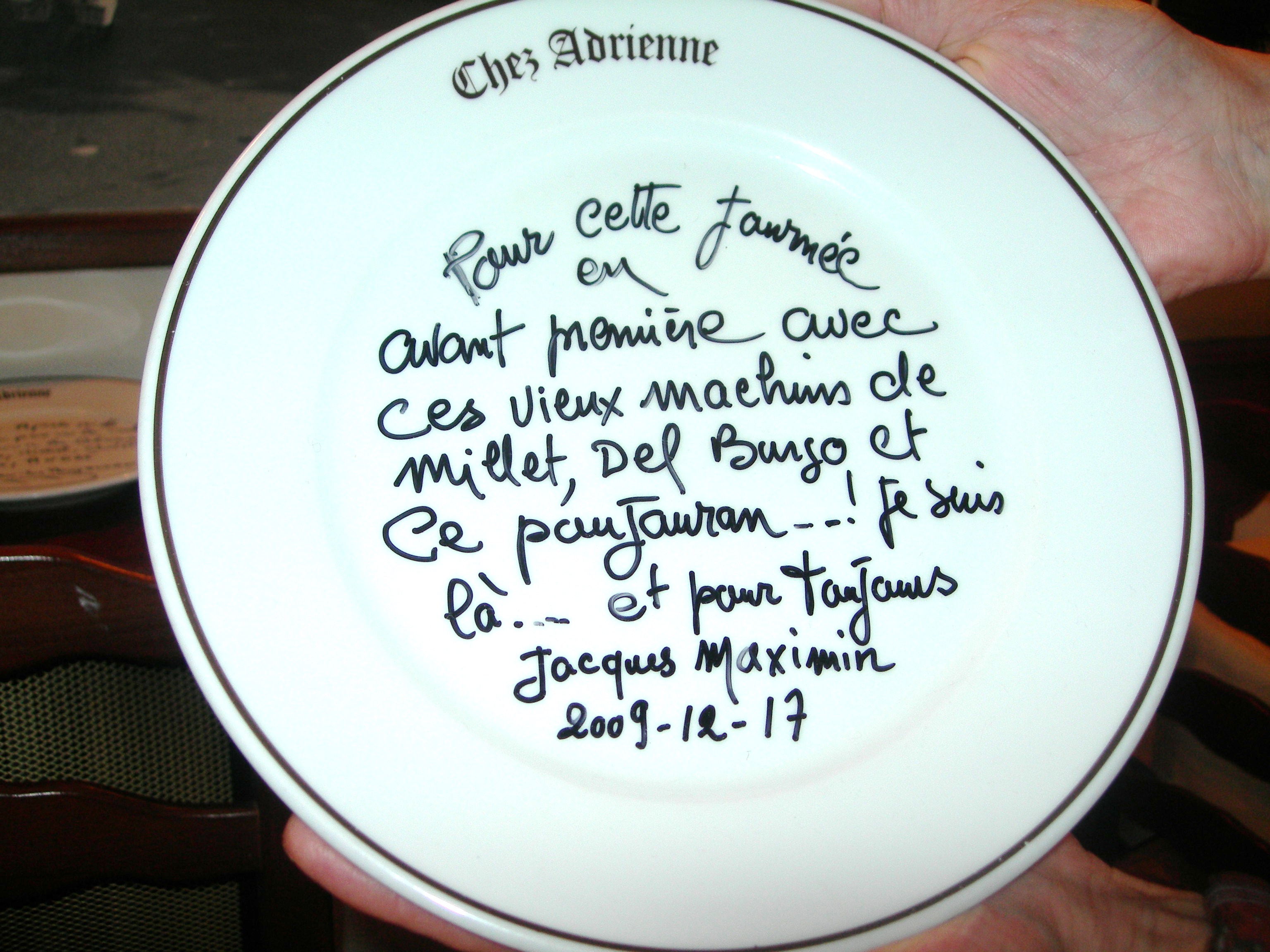 If you're wondering where talented super-chef Michel del Burgo is, he's alive, well and cooking up a storm in a picture-postcard maison dating from the 18th century, "Chez La Vielle "Adrienne".
Del Burgo, ex-Le Bristol, Taillevent (3-stars), Hotel de la Cité, Carcassonne, Le Duc, Moscow, L'Orangerie etc, is now shaking those copper pots and pans in a tiny kitchen near Les Halles. In the wood panelled dining rooms expect to see top chefs (Maximin, Poujauran, Bouchet) welcoming their talented confrere back.
The boy's been working les casseroles since he was 14, he's now 45 and has exciting plans. "I still think about Taillevent and very much miss Monsieur Vrinat, but you know the days of spending megabucks on meals are no longer relevant to our times, I'm cooking here where people will spend about 60€".
Finished the cast of thousands, del Burgo's creating his light bright cuisine helped by Marc Fontaine, "I see him as a future great, so note his name". DB's also working on the soon to launch brasserie at Opera Garnier, a project at La Villette with a potager, and La Villa, a former kosher resto on avenue Hoche.
It's exciting to sit in the rustic dining room, with bar, antique cash register and wall to wall photos of the slebs and VIP's who flocked "chez Adrienne". Upstairs there's a pretty "belle epoque" salle. "I'm changing the menu every two weeks", says chef.  By the time you read this it will have changed.
Last Tuesday from four starters: Foie Gras de canard chaud, compotée de legumes oubliés, jus de Porto, was mopped up with warm Pain Poujauran. From four mains, a tribute to his time in Moscow, Pièce de boeuf à la Strogonoff, gratin d'oignon de Roscoff . A choice of cheeses, Brie de Meaux, Tome de Brebis, confiture de cerises noires or Chevre frais au miel d'acacia, poire "Passe Crassane" . Three desserts: epic warm chocolate pecan tart, vanilla ice cream. Marie is the perfect waitress, she'll give you all the advise you need, in English. "Wow, chef has opened my eyes to so many things, I'm really into Port now", she says. Before the port consider a Pic Saint Loup Bergerie 2007 from Domaine Hortus (31€) or a crisp white Quincy 2006 Domaine Pierre Ragon (28€). Welcome back chef – bon annee 2010.
Chez La Vielle

1 rue Bailluel, 1st
Metro: Louvre-Rivoli,
T: 01 42 60 15 78
Lunch 29€ + A La Carte – Dinner 35-62€
Shut: Sat Lunch & Sunday
L'Auberge Bressane
Two hours from Paris by TGV, Bresse, near Lyon and Macon, is agricultural central. It's famous for posh plump Bresse Chickens, the only kind in the world to have the Appellation d'Origine Contrôlée (special origin) label.
On Paris's left-bank, L'Auberge Bressane showcases the bounty of Bresse and Burgundy. In 1992 the brothers Dumant, Jérome (ex-Lenôtre, Pre-Catalan) and Stéphane bought the Auberge and decorated it without spoiling the original décor, created by the Bressane equivalent of Jacques Garcia before WW 11.

At the bar, with a Cerdon du Bugey house aperitif, study the menu, this is the time of year you want soothing trencherman dishes. Begin with perfect puffed souffle of Comté cheese (12€). The Ladies Who Do will share the souffle or order a mixed green salad: don't hesitate it's perfection, you won't want to share. Pig's trotter pancake (9€) Sauteed cepe mushrooms (15€) Gratin of Crayfish Tails (12€) warm bread and Bresse butter.
Mains include Wild Boar stew, cranberry jelly (23€). Rich wild game pie with foie gras (28€). Young cabbage wrapped partridge with foie gras (25€) Bresse Chicken (28€) or Rooster stew in Julienas wine (22€). Some fish dishes feature, such as grilled turbot (32€) but come here to enjoy what the hunter bag, brought home from the hills of Bresse for chef Jean-Marie Vetier to interpret.
Chat to savvy sommeliére Adeline Fernandez about wine – Fernandez's cellar is a Tour de France of excellece (300 references) starting at 20€ to the sky's the limit, Fernandez calls them her jewels. Try the red Phélan Segur 2006 (46€) or white Cairannne JC Colombo 2003 (29€).
Saint Marcellin and Old Comté cheese with a glass of amber yellow wine (7€) and go for the classic Baba, Baked Alaska, Crèpes Suzette, Grand Marnier Souffle desserts (10€).
Who needs to schlep to Bresse?
Auberge Bressane
16 avenue de la Motte-Piquet, 7th
Metro: La Tour Maubourg
Lunch formula 15-25€
A La Carte about 45€ + wine
Shut Sat Lunch:
Brunch Dominical on Sunday (26.50€)
Valet Parking – Lunch 5€ – Dinner 8€
Skating at the Plaza Athénée

Is that Carrie and Mr Big skating at the Plaza Athénée? No, I don't think so because the now famous courtyard rink at the Plaza is really only for kids. Whatever, it could be your sprogs slip-sliding into the New Year with skates provided by the Plaza for VIC's (Very Important Children). You don't have to be in Room 625 (Carrie Bradshaw) if you're just visiting, take tea or snacks in the Galerie des Gobelins, choose from 3 formulas which give access to the ice-rink where there's a hunky Jeremy Abbot look-a-like private coach.
Le "Palet" des Enfants 28€
Le"Palet Gourmand 42€
Le "Palet" Royale 54€
All with exquisite patisserie Parisienne by uber-patissier Christophe Michalak.
From Wednesday to Sunday until 31st January.
Plaza Athénée
25 avenue Montaigne, 8th
Metro: Champs Elysées Clemenceau,
T: 01 53 67 66 07
Leave a reply
Your email address will not be published. Required fields are marked *