Critics' Negative Reviews and the Importance of What You Order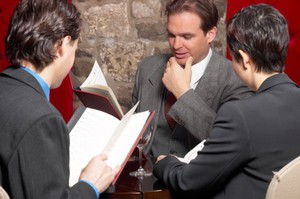 A number of comments made both on my blog and by email have set me to thinking about some issues which are more or less connected. The whole interaction between critics and those in the food business is an interesting one: we are all (as Olivier Morteau pointed out in "Food Business: La face cachée de la gastronomie française") dependent on one another; critics must have restaurants about which to critique and restaurateurs must have critics to assess their efforts. But like book authors or theatrical producers, chefs and owners fear and loathe most critics, bowing and scraping and comp'ing those who identify themselves or, as in France, whose photos are posted on the kitchen wall. As for writing negative reports, I have writer colleagues who only publish good reviews because they want to go back and eat free; I have others who couple each negative review with a positive one; and yet others who go on and on about the setting, decor and napery to the exclusion of evaluating the food, which, as Francois Simon pointed out, probably means he or she had a lousy meal. Then again, as Simon and I have pointed out, it's much easier to write a negative than a positive review, largely I think because there are so many more colorful negative adjectives and adverbs than positive ones, but also let's face it, most restaurants that open in a city like Paris or even Aspen are substandard (example, each week Paris greets five new places, of which Emmanuel Rubin finds exemplary merit in one, if he's lucky). Finally, though, it's important to have negative reports because if all one finds in the corrupt guidebooks and adulatory blogs are gushing reviews, it leads to disappointment on the part of the reader/diner and ultimately a lack of credibility about a critic's judgment. Other readers are curious about Colette's and my eating habits; for instance, why does she keep ordering gazpacho when she makes a pretty mean one herself and finds half of them wanting and why do I order Bolognese sauce in Italian restos, which will never meet the gold standard Luigi Buitoni helped us set at his Locanda della Rocca in Paciano, Perugia, Umbria. In both cases, I think we order old favorites because we know what they're like at their best (as well as ordering new items to see what will astonish us). I also want to find, say, a Bolognese sauce that's just as good as the one we made under Buitoni's tutelage. And why on earth would we order a sliced tomato or arugula salad; surely not just because Paul Bocuse said 50 years ago the first was the true test of a great chef but also because I do firmly believe that if a chef cannot both select good products as well as prepare inexpensive dishes (for example, trash fish), he or she is not fully developed. ©by John Talbott 2010 Please post your comments or questions and let them flow. Register 
HERE
to do so if you need a free Bonjour Paris user name and password. If you need a hotel room,
Booking.com
is the place to reserve.  
SUBSCRIBE
ALREADY SUBSCRIBED?
BECOME A BONJOUR PARIS MEMBER

Gain full access to our collection of over 5,000 articles and bring the City of Light into your life. Just $60 a year.

Find out why you should become a member here.

Sign in

Fill in your credentials below.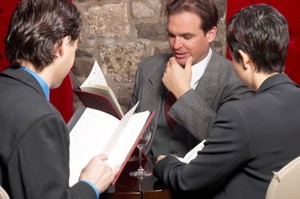 A number of comments made both on my blog and by email have set me to thinking about some issues which are more or less connected.
The whole interaction between critics and those in the food business is an interesting one: we are all (as Olivier Morteau [pseud] pointed out in "Food Business: La face cachée de la gastronomie française") dependent on one another; critics must have restaurants about which to critique and restaurateurs must have critics to assess their efforts. But like book authors or theatrical producers, chefs and owners fear and loathe most critics, bowing and scraping and comp'ing those who identify themselves or, as in France, whose photos are posted on the kitchen wall.
As for writing negative reports, I have writer colleagues who only publish good reviews because they want to go back and eat free; I have others who couple each negative review with a positive one; and yet others who go on and on about the setting, decor and napery to the exclusion of evaluating the food, which, as Francois Simon pointed out, probably means he or she had a lousy meal. Then again, as Simon and I have pointed out, it's much easier to write a negative than a positive review, largely I think because there are so many more colorful negative adjectives and adverbs than positive ones, but also let's face it, most restaurants that open in a city like Paris or even Aspen are substandard (example, each week Paris greets five new places, of which Emmanuel Rubin finds exemplary merit in one, if he's lucky). Finally, though, it's important to have negative reports because if all one finds in the corrupt guidebooks and adulatory blogs are gushing reviews, it leads to disappointment on the part of the reader/diner and ultimately a lack of credibility about a critic's judgment.
Other readers are curious about Colette's and my eating habits; for instance, why does she keep ordering gazpacho when she makes a pretty mean one herself and finds half of them wanting and why do I order Bolognese sauce in Italian restos, which will never meet the gold standard Luigi Buitoni helped us set at his Locanda della Rocca in Paciano, Perugia, Umbria. In both cases, I think we order old favorites because we know what they're like at their best (as well as ordering new items to see what will astonish us). I also want to find, say, a Bolognese sauce that's just as good as the one we made under Buitoni's tutelage. And why on earth would we order a sliced tomato or arugula salad; surely not just because Paul Bocuse said 50 years ago the first was the true test of a great chef but also because I do firmly believe that if a chef cannot both select good products as well as prepare inexpensive dishes (for example, trash fish), he or she is not fully developed.
©by John Talbott 2010
Please post your comments or questions and let them flow. Register HERE to do so if you need a free Bonjour Paris user name and password.
If you need a hotel room, Booking.com is the place to reserve.
More in Food Wine, French recipes, John Talbott Paris, Paris, Paris restaurants, Restaurant reviews
---
---