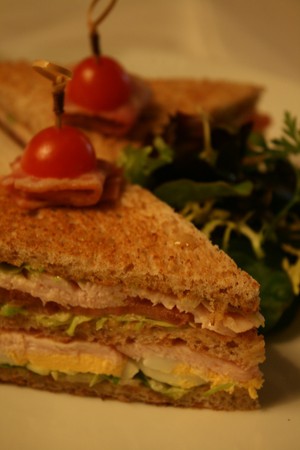 The English stole it from the Americans, the French stole it from both—join the great Club Sandwich debate, join the club darling, membership's free. The credo is "club sandwiches, not seals". And best boy boulanger Kayser bakes the world's most expensive bread.
There are as many recipes for club sandwiches as there are stars in the sky. It's one of the great sandwiches of all time, sweeping its way around the world after an American beginning. Nowadays the CS is bastardized because it's usually made as a three-decker, which is not authentic. "Whoever started that horror should be forced to eat triple deckers three times a day the rest of his life. Nowadays practically everyone uses turkey, and there's a vast difference between turkey and chicken where sandwiches are concerned", winged James Beard (1903-1985), American chef and food writer in his James Beard's American Cookery. www.jamesbeard.org
Recently Figaroscope, the Wednesday culture and gastro supplement of Le Figaro newspaper, elected the winners of "Les Meilleurs Club Sanwichs" (their spelling not ours). However, Buzz feels that the Club Sandwich is a great way to step through the hallowed halls of some Paris palaces that may not be included in your budget when you come to the city. Everyone loves a CS, it's familiar territory, so not intimidating and won't leave a dent in the Centurion.
Super-chef Yannick Alleno of L'Hotel Meurice, takes top de chez tops for his CS. He explains: "We make about 18-20 every day, served in-room, the bar and at Le Dali. There are three different choices, because we have a clientele that requires, say, veggie, traditional or saumon fumé. For the traditional I vary it according to the season; there's delicious "coeur de boeuf" tomatoes at the moment. Free range chicken is spit-roasted and has never seen the fridge! For the bread I use Harry's; I've tried them all but for me this is the best. (Are you about to argue with Alleno? Go and try it first darling—at 25€ you can't afford not to). For the salad I use lettuce hearts, cut in chunks at the last minute and then make a mayonnaise adding Savora mustard. Then comes the bacon "Iberique" to give flavour. A quick flick under the grill and it's ready". Now don't tell but Alleno does three layers—ouch! Maybe he can only do things in three since he got his third *. You also get divine frites made with Mona Lisa potatoes. Alleno says he's made sandwiches everywhere he's worked, "even when I was an apprentice. I love them and eat them often".
And the other winners are:
The Duke's Bar de l'Hotel Westminster www.warwickwestminsteropera.com (22€)
The Galerie at Plaza Athenée www.plaza-athenee-paris.com (25€)
La Société, the chic Costes restaurant www.restaurantlasociete.com (19€)
Bar de L'Hotel George V www.fourseasons.com (36€)
Mama Shelter www.mamashelter.com (17€)
Bar de L'Hotel Murano www.muranoresort.com (21€)
Le Flore www.cafedeflore.fr (19€)
Harry's New York Bar www.harrys-bar.fr (18.50€ includes glass of wine)
Bar du Fouquets www.fouquets-barriere.com (25€)
Honourable mentions go to Le Bristol. Bar Lindbergh, La Rotonde et Bar du Crillon and Bar Vendome at Le Ritz.

Paris uber-baker Eric Kayser has been commissioned by Stiletto magazine to create the most expensive bread in the world, in collaboration with jeweller Mauboussin. It's also to celebrate the bi-centenary of that phallic Column on Place Vendome, commissioned by Napoleon to celebrate victory at the Battle of Austerlitz.
Both Kayser and Mauboussin have boutiques on Place Vendome. (Kayser's on rue Danielle Casanova, just off the Place) The bread will be baked from Monday 5th until Saturday 10th July, in the Kayser bakery, Place Vendome, during the Paris haute couture collections. Pain Stiletto is made from organic yeast, fermented flour, wheat germ, roasted hazlenuts and sel de Guérande,
During the week customers can take part in a simple game and leave their names, giving them right to participate in the draw to win a white gold, diamond set 7-carat Mauboussin ring "Gueule d'amour" (Hungry for Love). See you there.
Pain Stiletto 800 grammes – 5€
Eric Kayser Vendôme,
33 rue Danielle Casanova, 1st
T: 01 42 97 59 29
Shut Sunday – Open Mon-Sat 7h-20h30
If you're coming to France (or for that matter anywhere) you can reserve your hotel here. To rent a car, Bonjour Paris recommends Auto Europe.
Please post your comments or questions and let them flow. Register HERE to do so if you need a Bonjour Paris user name and password.