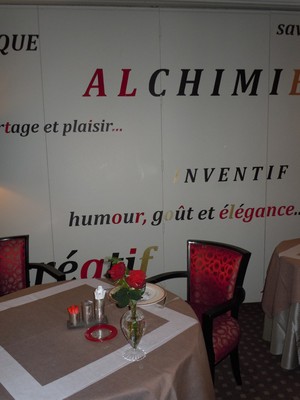 "Clovis is a prehistoric Native American culture that first appeared in the archaeological records of North America around 13,500 years ago, at the end of the last ice age". And here we are in Paris 2010 and it feels like the next ice age outside, but inside Le Clovis restaurant all's welcoming and warm as the Maître d' tucks us into our tables.
The room is large, decorated with subtle touches. Contemporary art in plexiglass cases punctuates the walls. "Clovis people were also botanists well versed in the use of plants for food and equipment". So, young chef Thomas Bruno is well at home in the kitchens of Le Clovis where warm breads are baked daily and his herb-studded menu's a showcase for seasonal French products.
Chef's also got a sense of humour and recently cooked dinner, "une expérience sensorielle" from finish to start, for a group of celeb scribblers. First he sent out Coffee and Tarte Tatin. Continued with the main of Halibut cooked in its own jus, tartare of oysters, caviar and black truffles. Then came the starter: Spaghetti Napolitaine, Parmesan and they finished with the starter!  Amuse-bouche of Caviar and Salmon Eggs. You had to be there darling.
On a normal day choose from eight starters. Cappuccino et croustillants de langoustines, spaghetti of vegetables, vinaigrette. Crème de panais (parsnip) and queue de boeuf, croutons de tomme de Savoie or entrée du Marchè which could be a chunky beef terrine.
Mains, seaside, are Lotte Bretonne rôtie en croûte d'olives Taggiasca and, in a tall glass bowl, haricots de Paimpol en ragoût et en émulsion. Read, Brittany on a plate, original and delicious. He loved the Poitrine de porc noir de Bigorre crousti-fondante, pommes Darphin de cèpes. A generous rib-sticking fragrant trencherman portion of perfectly cooked lean and tender pig.
Les plats végétariens show chef's love and understanding of veggies, risotti. Cheese is by Quatrehomme, served with a light herb salad, fig chutney, just two to choose from each day, Wednesday it was Comté or Curé Nantais, a small sticky washed rind cheese, great with the black wheat bread, a puff of herbs, a few warm hazelnuts. Drink by the glass or take a Petit Quincy "Domaine de l'Abbaye du Petit Quincy" 2005 White Burgundy (45€) or the red 2006 Côtes du Rhône Domaine Guigal (45€).
A divine dessert cart rolls by; chef first trained to be a patissier, so you can have the sorbets and ice creams or choose from his spin on the classics. Excellent.
There's a daily menu du Marché served at lunch and dinner: 3 courses including a glass of wine. If you don't want to sit at table, order from the bar; there's a separate menu which includes Comme une Tatin de Tomates confites, Pistou and crème glacée de chèvre frais. Snitch from the fruits, chocolates and goodies placed around the public areas, and even luxury teas are there for the tasting. Nice idea.
14, rue Beaujon, Paris 8th
Metro: Charles de Gaulle Etoile
T: 01 53 89 50 53
Valet parking
Shut Sat-Sun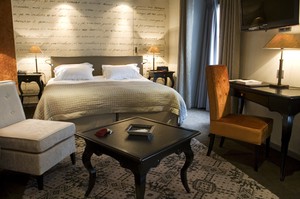 Hotel Pavillon des Lettres
The Right Bank Hotel Pavillon des Lettres is the latest project of Jérôme Chevalier, owner of the romantic Pavillon de la Reine, Place des Vosges. His new gem, located near the Elysée Palace, has edgy/classic design in crimson and copper tones by designer Didier Benderli, a Jacques Garcia boy.
The 26 rooms have a literary theme: each corresponds to a letter of the alphabet, from A for Andersen to Z for Zola via Tolstoy, Voltaire and Victor Hugo. Texts from the corresponding author's books are on the nightstand, next to the classic chocolate offerings. Two top-floor penthouse suites boast picture-postcard views of the Eiffel Tower and the Grand Palais. With Wi-Fi, plasma TVs and iPod docking stations it's worth booking in for the in-room iPads. How on earth will they stop guests "liberating" them?
No restaurant, but serious room service. The hotel library (with Honesty Bar) is stocked with the works of all 26 "Pavillon" authors. Cinnamon-flavoured tea is served by Thé des Ecrivains.
12, rue de Saussaies, Paris 8th
Tel: 01 49 24 26 26
Olivier Roellinger just opened a spice emporium in Paris. He's the chef who handed in his 3 Michelins two years ago, continues to run a magical hotel/resto/cookery school in Cancale, Brittany with his wife Jane, and travels the world seeking out new spices so we don't have to.
51, bis rue Saint-Anne, Paris 2nd
Metro: Pyramides
T: 01 42 60 46 88
See more of Paris! Here are some of our favorite tours:
Medieval Churches of Paris: Discover some of Paris's most beautiful and lesser-known churches in the company of a medievalist, a perfect theme for the holiday season.
Louvre French Masters: Escape the cold and the crowds in the Italian wing of the Louvre by learning about the evolution of French art from the late Gothic period to the monumental 19th century paintings of David and Delacroix, accompanied by an art historian.