Christmas in Paris & Some Make Merry Suggestions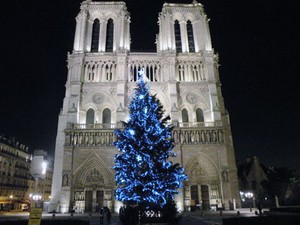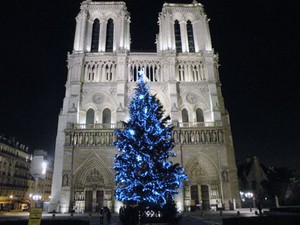 There's no place more magical than Paris during the Christmas holidays. Even if you're not a believer, when Paris is decked out and decorated to the nines, the city is incredible.  Eye Prefer Paris Tours & Cooking Classes is celebrating the holidays by launching special Christmas Tours & Cooking Classes during the month of December.
Sign up for a tour:
Richard Nahem will personally lead private Christmas tours highlighting the magical shop windows, gleaming outdoor lights, beautifully decorated trees and festive Christmas markets throughout Paris. You'll visit the department stores Galeries Lafayette & Printemps, walk on the Champs Elysees, duck into the famed gourmet shops Fauchon & Hediard on Place Madeleine, and peruse the rue St. Honoré. Because it will be cold (dress accordingly please) you'll welcome a mandatory hot chocolate stop at one of the top shops in the city.
Beginning on November 29th and ending on January 9th, 2011, Richard will be leading them seven days a week, except on December 25th, 26th & January 1st and 2nd.
Tours are three hours long from 11 AM-2 PM, or 3PM to 6PM and the cost is 225 euros for up to three people; each additional person 75 euros. Tours are private and limited and the maximum number of people is eight.
Cooking Classes: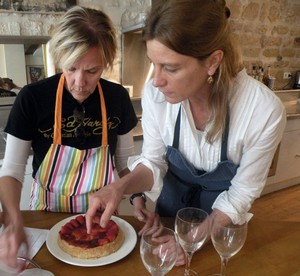 Cordon Bleu trained chef Charlotte Puckette of Eye Prefer Paris Cooking Classes, has devised a spectacular five-course Christmas menu (see below) with traditional French holiday foods.
– Sea Scallops with julienned celery root and garlic butter
– Roasted quails with a foie gras stuffing
– Roasted chestnut and potato pureé
– Seasonal cheese course
– Profiteroles with chocolate sauce
Students will be given a tour of a fresh local Parisian food market to shop for some of the ingredients and then go to Charlotte's private commercial kitchen near the Eiffel Tower. Charlotte will assist and teach students how to make this holiday feast.
At the end of class, students will dine on the menu they prepared and drink Kir Royal and wine.
Classes are offered Tuesday through Friday the month of December from 9AM to 2PM, with a minimum of two students, maximum of six. The cost is 200 euros per person.
Contact: Richard Nahem  Email: [email protected]
Tel +33 6 3112 8620
Be sure to tell Richard Bonjour Paris recommended you contact him.  The 10th and 25th people who sign up will receive a prize – it's a holiday secret!
And my favorite gift (for others and for myself!)
zChocolat: "World's Finest Chocolates by World-Champion Chocolatiers." zChocolat's selection is handmade by world-champion French chocolatiers following a 400-year-old tradition of passion and zealous adherence to purity. A single bite is an instant of pure seduction and sensory bliss one has never experienced before.
Leave a reply
Your email address will not be published. Required fields are marked *