The adorable and talented superchef Christian Willer calls himself an "Alsacien Mediterranéen". Born in the Alsace region, the South of France is his adopted home. He came south via prestigious addresses such as Maxim's, Prunier, Le Fouquet's, Cyprus, Greece and the USA. In May 1985 Willer inaugurated La Palme D'Or Restaurant, Cannes, located in the art-deco palace Hotel Martinez, named for the Film Festival's coveted award (this year's winner: The Wind That Shakes the Barley by Ken Loach). 
By 1991 Willer had notched up two Michelin-stars for his light creative cuisine, "that resets standards on La Croisette", noted Jacques Gantié's Guide. Married with two children, Willer lives within jogging distance of his state-of-the-art kitchens and Marché Forville, where he can be found daily, prodding the fish with an expert hand: and sometimes even the fishwives!
Willer works in tandem with the young and talented Christian Sinicropi, although he doesn't seem to be taking his foot off the pedal. Even on Sundays he's kibbutzing with the jet-set on the chic Martinez beach Z-plage. He's tasting the grilled gambas and brochettes cooked in a special clay oven, sipping a healthy Z-attitude cocktail, and at night he pops in to see DJ Max Leonidas spinning his eclectic electro-jazz. "It's fun", he grins.
"I spend every day in a palace, so when I eat out I want a complete change of cuisine. If I find someone is cooking like me, I lose interest. I need to relax, and appreciate the cooking of my confreres. We are probably using the same products, but in a different way. I'm not hard to please, when I go out I want to have fun; people don't laugh enough these days do they?
For my last birthday we went to celebrate at La Bonne Etape, where the family Gleize have run this former 18th century relais de la poste for four generations. Like Noves or Baumaniere,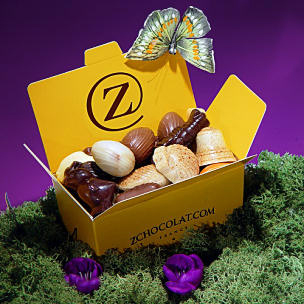 this Bonne Etape is part of the history of Provence. The perfume of the garrigue and the setting put new life into me, the spirit of Jean Giono is everywhere. The welcome is warm and dishes such as galette de socca,  caviar d'aubergines, ravioli aux blettes, spinach and cepes or  rabbit, braised in herbs, are cooked to perfection.
Near Marseilles with a port-view and the bracing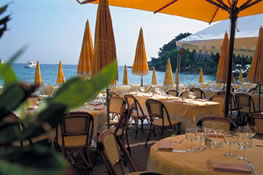 sea-air, I admire the absolute dedication of Gérard Clor at L'Escale. His cooking is what draws me time and again to taste his soupe de poissons de roche; the fish comes direct from local fishermen into his kitchen. Recently I tasted a cassoulet de la mer made with fresh coco beans, perfect with a white Aix wine from Clor's excellent cellars.
Staying by the sea, but nearer to Cannes, I go to Adrien and Etienne Sordello's Restaurant Bacon for a bon Bouillabaisse, enjoyed with a napkin clamped around my neck!. This is one of the most famous fish restaurants in the South of France, probably the world. People say it's expensive, you should be suspicious of cheap bouillabaisse because it means frozen fish is used! Bacon's quality is exceptional and there's always a lunch menu at 45€ with plenty of simple signature dishes to taste, not forgetting the feather-light millefeuille.
High above Cagnes-sur-Mer is Fleur de Sel where Philippe Loose cooks what I call "Provencal classics". There is a choice of three menus which can include wine and coffee, very practical. The dining room is a cheery place to enjoy Loose's unusual dishes such as Nicois sausage, daurade in saltimbocca of organic ham with veal and basil sauce. Scallops are fried and served with raw and cooked endive, parsley and olive oil sauce. This is good cooking with a modern spin.
In the footsteps of Coco Chanel, Scott Fitzgerald, Picasso and recently, Johnny Depp, Bono and Madonna, I enjoy the buzz at Plage Keller. I can make a meal of vegetables, a plate of white haricot beans with truffles, salads drizzled with olive oil. Fish salads, grilled fish; baby artichokes in olive oil, fresh ravioli, sea-bass cooked in a salt crust, lamb with thyme are all cooked to perfection and served with care. I decompress sitting on the beach, the water laps, the seagulls float and late night swimmers and water skiers are the cabaret.
A suberb address in Forville Market is the Cave de Forville, a modern space comprising a wine and oyster bar and a restaurant serving interesting seasonal dishes, market fresh obviously! I buy wine related gifts here and taste new discoveries proposed by chef sommelier David Kaminski.  Recently I tasted a Domaine de Jale, Cuvée Nible, 1999 with a pasta aux poulpes (octopus). However the menu changes every two days, there's often a delicious fruit crumble I find hard to resist.
When I have a free evening, I take about ¾ hour to decompress, I like to walk around my garden, breathe, rub my hands on the rosemary, sip a flute of Taittenger Comptes de Rosé champagne and think of favourite places to visit, new dishes to taste and create".
Christian Willer at La Palme d'Or,
Hotel Martinez,
73 La Croisette, Cannes
T: 04 92 98 74 14
www.hotelmartinez.com
La Bonne Etape, Chez Gleize,
Chateau Arnoux, Chemin du Lac,
Chateau-Arnoux-St-Auban,
T: 04 92 64 00 09
www.bonneetape.com
L'Escale, 
Promenade du Port,
3 Montée des Moulins
Carry-le-Rouet.
T: 04 42 45 00 47
www.carry-lerouet.com
Le Bacon,
Bd de Bacon, Antibes,
T: 04 93 61 50 02.
www.restaurantbacon.com
Fleur de Sel,
85 montée de la Bourgade,
Cagnes-sur-Mer
T: 04 93 20 33 33
www.restaurant-fleurdesel.com
Le Cesar, La Plage Keller,
Boulevard du Cap.
T: 04 93 61 33 74
www.plagekeller.com
La Cave de Forville,
3 Marché Forville, Cannes
T:04 93 39 45 09