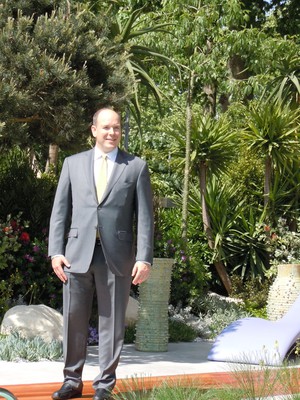 When HSH Prince Albert 11 of Monaco was approached with the idea of creating a garden at RHS Chelsea, the world's most prestigious Flower Show, he did not hesitate for one second.  It's not all bling-bling and super-mega-yachts in Monte Carlo where gardening is the new black for the 23,000 residents.
Apparently the Prince, like Prince Charles, is passionate about all things "bio", inherits green fingers from his late father, Prince Rainier, a keen rose-grower, and his mother Princess Grace. He says that the palace gardens on the rock have been part of his life forever. "Architecture and gardens are inseparable in Monaco", explains Sarah Eberle, the award-winning Hampshire-based garden designer who has worked on the project since 2008. "The Monaco Garden is 220 square meters, with a lap pool and roof terrace, about the actual size of a Monte Carlo garden," she adds. Inspiration was taken from the exciting and exotic mix of native and imported plants found in Monaco gardens where carob and cypress trees mingle happily with imported plants such as aloe, mimosa and eucalyptus. In Monaco, the exquisite Princess Grace Rose Garden, Boulingrins Gardens, Casino Gardens and the Exotic Gardens are havens of tranquility. "The concept is to show how landscape and architecture can interact to provide aesthetic and environmentially sustainable solutions to enhance high-density living," says Ms Eberle.
Strolling around his show garden, which won a coveted Gold Medal, Prince Albert, without his fiancée Charlene Wittstock, said he hoped the garden would be an "amuse-bouche," a little taste to inspire people to visit Monaco where approximately 20% of the principality's total surface area is dedicated to gardens: one of the highest garden/land ratios in the world.
The Chelsea gardens are awesome. "Best In Show Prize" third year running goes to The Daily Telegraph Garden designed by wacky Cleve West, the Heston Blumenthal of gardening, based on the Roman ruins of Libya with sculpted "classical" columns and clipped yew hedges. "It's such an amazing site, so sad what's going on there now," he comments.
Also taking Gold was the love-it-or-hate-it fantasy Irish Flying Sky Garden featuring a "floating" pink pod attached to a crane. The green machine, inspired by the film Avatar, christened the "Wonkavator" by its Irish designer Diarmuid Gavin, can take six people for a ride above ground—difficult to re-create this one at home.
More down to earth was the sparkling Laurent Perrier garden (Gold Medal) where a trio of zen-like sculptured stones, put together by Italian designer Luciano Giubbilet, united gardening, architecture and art.
Other medal winners included B&Q, the tallest ever vertical garden at RHS Chelsea. Gwyneth Paltrow made a moody guest appearance clutching her new cookery book, My Father's Daughter. Wearing impossible-to-mow-the-lawn skyscraper heels, she declared the garden "beautiful" and fled to a waiting limo. Wonder if she appreciated the diversity of the edible plants or even gave a second glance to the 30ft-high "living wall", one side of which housed a vertical allotment, and a tower of insect hotels designed by schoolchildren? Or if she realized the ground-breaking, spectacular garden showcased how everyone can grow their own food, however large or small their outdoor space, from vertical window boxes, filled with herbs, to habitats for animals. Hats off to B&Q, the largest DIY and garden centre retailer in the UK. At the end of the week all materials used to construct the B&Q gardens have been donated to Capital Growth, a partnership initiative which includes Boris Johnson, London's Mayor, to create new food growing spaces in the capital.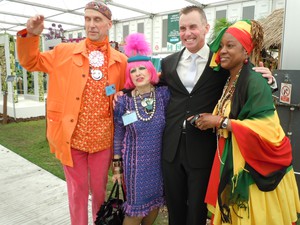 Each garden tells a story and everyone's a gardener. The list of slebs visiting the show for inspiration is endless, including Ringo Starr and Barbara Bach, John Cleese, Dame Kiri de Kanawa, Raymond Blanc. Wacky doyenne of design Zandra Rhodes met superchef Gary Rhodes for the first time. "Everyone always asks if we're related," they both grinned with pleasure in front of the fragrant hyacinths in the Grand Pavilion. HM Queen Elizabeth came by, as she always has for the past 60 years, but didn't ride the Wonkavator!
The Royal Horticultural Society
80 Vincent Square, London, SW1 2PE
T: 0044 (0) 20 7834 4333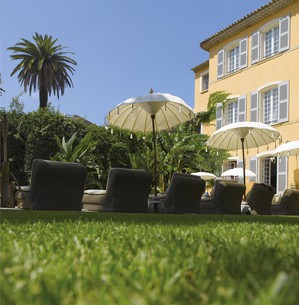 It's Déjeuner sur l'herbe (picnic on the grass) for lucky clients of Relais & Châteaux. R&C will pack a picnic with finest local products and a bottle of champagne. They'll even map out the perfect bucolic/beach location within thirty minutes of your chosen hotel, throughout June. Say, Le Pan des Palais, St. Tropez where they plan your seaside picnic on the achingly chic Plage des Salins, with hamper, a bottle of Pommery champagne and your toes in the warm Mediterranean.
Last week, nice on Cyril Lignac launched Le Chardenoux des Prés, as I told you he would, in Claude Sainlouis' former legendary Left Bank 1950s brasserie. Rush there for the stunning new décor, "pipole" watching, and some seriously good neo-bistro food including great hamburgers Cyril style. Oui chef. Like.
Le Chardenoux des Prés
27, rue du Dragon, Paris 6th
Métro: Saint Germain des Prés
T: 01 45 48 29 68
Open 7/7 Lunch & Dinner
Average Spend – 34-64€
Lunch formula – 25€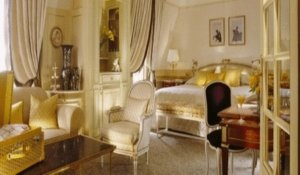 Le Meurice is an elegant 5-star Right Bank hotel preferred by our most discriminating readers. Suites are divine beyond words. Restaurant Le Meurice overlooks the Jardin des Tuileries and Bar 228 is a favorite for relaxing after a day of sightseeing, shopping or sampling the pleasures of Paris. Métro: Tuileries out the door; doormen always on-duty to summon taxi or private car. In the area you have rue St. Honoré boutiques, Place de la Concorde, the Louvre Museum, Opera Garnier, the Seine banks, Galerie Vivienne, the Champs-Elysées, etc. More about Le Meurice Hotel from our partner, Booking.com, part of Priceline.com, the world's leading online hotel reservations agency. Remember: if you find the same room for less, Booking.com guarantees to match the rate.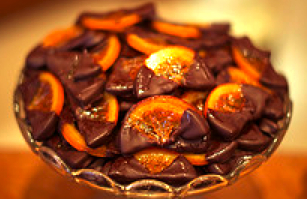 Would you like to meet some of the world's best chocolate makers and sellers? Don't squander a minute of your precious vacation, go right to the chocolate experts with our partner, Context Travel. Join their Chocolate Walk to learn the magical secrets of chocolate making at upscale Left Bank shops. Meet expert confectioners and sample their contrasting flavors of chocolate, macarons, merengues and tartes—click here to read more about this tantalizing walk lead by one of Context's professional gastronomes: Chocolate Walk by Context Travel.