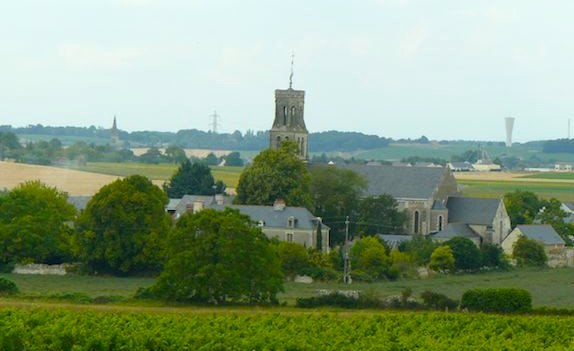 The Loire Valley is only an hour and a half by TGV from Paris and it's easy to pop down to experience la douceur Angevine. Life in Anjou is a far cry from city life and the surrounding countryside dominated by the river Loire itself is very beautiful.
A few weeks ago many growers worried that 2011 could be a difficult vintage for the Loire Valley. A lack of sunshine in July and August followed by persistent rain leading up to harvest meant that growers in the eastern appellations were dealing with difficult conditions. In Anjou the Cabernet Franc grapes are generally picked a little later, so when the weather changed and gave us a late burst of Indian summer at the beginning of October, growers were counting their lucky stars.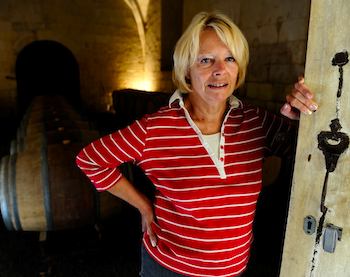 One such grower with a smile on her face is Maryse Tugendhat, who owns historic Château de Pimpéan in Grézillé, Anjou. This magnificent building is surrounded by 14 hectares of Cabernet Franc with which she makes a single wine each year called Cuvée Passion.
The Château was built in 1435 by Bertrand de Beauveau, a friend and counsellor of King René of Anjou. Maryse took over the Château 18 years ago and has been making wine herself since the year 2000. She is lucky to be on such great terroir: the local limestone here is called "tuffeau" and Cabernet Franc is at its best here because the absorbant nature of the stone is well suited to the grape variety.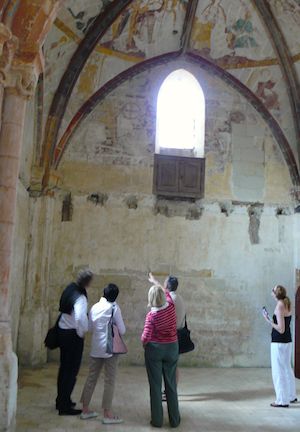 A visit to Pimpéan is not just about wine, it's about history, art, geography, tradition and of course passion. You might think this is why the wine is called Cuvée Passion but in fact the wine is so called because the Château contains a very small chapel that houses the most incredible paintings. The chapel is considered a historically important piece of art and a replica of it is exhibited in the Musée de la Patrimoine et de l'Architecture in Paris. The chapel is adorned with scenes depicting the Passion of Christ; and a series of angels carrying the instruments of Christ's passion are painted directly onto the stone, unlike frescoes. Each year Maryse chooses a different angel to represent the wine.
Maryse's story does not end there. She was a classical musicians' agent who held concerts in the tiny chapel each year before she changed careers to become a winemaker. Now she concentrates on her wine, a silky Cabernet Franc. After a year of living in the United States, she also speaks fluent English, which instantly put visitors at ease.
A visit to see the domaine always includes a tour of the Château itself, which is currently undergoing restoration. The chapel's roof was replaced earlier this year with local slate tiles excavated from the nearby mine in Angers and thousands of copper nails to protect the paintings inside from possible rain damage. The roof had to be fortified to cope with the weight: the slate tiles are nearly a centimeter thick, just as they would have been in the fifteenth century when the chapel was built.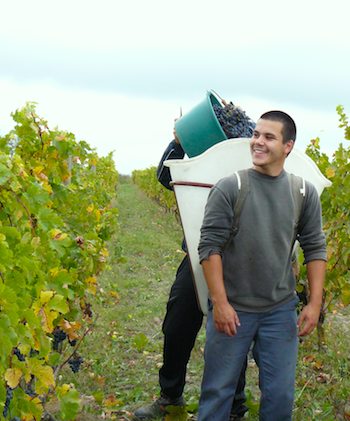 As harvest began everyone was sitting outside chatting in T-shirts speaking about the incredible weather. Only two years ago we were harvesting in temperatures below freezing. Each vintage is completely different, which is what makes wines from cool climates such as the Loire Valley so fascinating.
You won't find any pretensions here in the Loire—producers are open and welcoming and it's likely the owner, the owner's son, the grandma or the daughter who will pour the wine you taste. It's still very much a family affair and visiting small wine producers in the Loire is very rewarding.
And while you're here, don't forget to spend a little time by the river. Old fishing villages such as Le Thoureil remain untouched, peaceful and full of stories. You may want to take a trip on the river in an old toue sablière and see this pretty village from the water. Take pleasure in spotting the egrets, terns, sand martins and cormorants that make the Loire river, the last wild river in Europe, a wonderful and unpredictable place.
PRACTICAL INFORMATION:
Château de Pimpéan, 49320 Grézillé
Château & vineyard tours available (see site above)
Grézillé Official Tourist Information
Cathy Shore is an English wine professional and owner of Le Tasting Room, which offers wine tours and tastings in the Loire Valley. Please click on her name to view her entire profile and links to her business.
Would you like to submit a story or request a story topic? Your stories & ideas welcome.
NEW: exclusive content for subscribers in every newsletter. Subscribe for free.

Direct airport transfer service
PARIS SHUTTLE is a leading Paris airport transfer service. Book your airport transfers in advance online for direct to-your-door service and check the current discount available to BonjourParis readers who book using our link.