Casual Cafes in the Paris 7th: Campanella, Bistro de la Tour Eiffel & Crep ' and Tea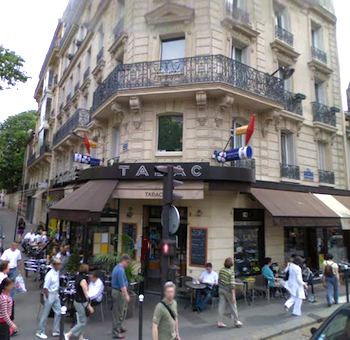 There are many excellent eateries around the Eiffel Tower in the Paris 7th arrondissement. In the Eiffel Tower itself, you have Le Jules Verne and 58 Eiffel. In the surrounding area, you have Bon Accueil, Café Constant, Les Cocottes de Christian Constant, La Fontaine de Mars (where President Obama and family dined in 2009), 7ème Sud and Le Florimond. Reviewers from BonjourParis, Zagat and travel dining guides have reviewed such restaurants and they're all excellent choices—to varying degrees—for a proper sit-down meal.
But what if you don't need the full culinary experience? What if you just want a nice café where you can stop with your mate for a light meal or even just a little hand-holding over coffee and dessert? A good spot to have a couple drinks with a friend? Or you're with the kids or grandkids and you're desperate for a kid-friendly place that will tolerate your angels dropping silverware on the floor more than twice.
Places like these are golden, but they can take a while to find. For travelers without the luxury of time, here are three cafés to visit the next time you're on the 7th side of the Eiffel Tower seeking a romantic café, a friendly place to hang out with a friend or a child-friendly place.
Romantic café in the 7th: Bistro de la Tour Eiffel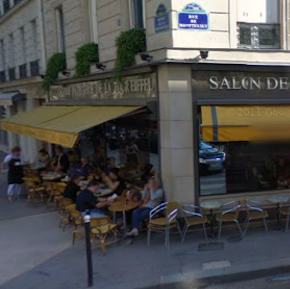 Bistro de la Tour Eiffel a nice spot for a lovers' rendez-vous for a few reasons. First, its patio has a charming view of the Eiffel Tower, but it isn't overrun by tourists. The waiters here are the quintessential good French waiters: they are experts who know the the menu which they will translate into English if you can't speak French and won't mind your bad French if you make an effort. They are also very gracious about posing for pictures. And, in grand French tradition, they have the good sense to leave you alone during a "couple's moment." The food is quite good and the meat dishes, in particular, are unusually tasty for good reason: the owner supplies both of his restaurants with meat from his own farm.
The downside of this place? It can be bloody hard to find the first time. You'll find Bistro de la Tour Eiffel located at the intersection of rue de Monttessuy and avenue de la Bourdonnais. Don't be thrown off by the name on the building, which reads Boulangerie Pâtisserie de la Tour Eiffel. If you visit, go at night, sit outside and watch the "Iron Lady" sparkle.
21, avenue de la Bourdonnais, Paris 7th
Tél: 01 45 51 90 51
Appetizer: €9-€14
Main course: €11-€30
Salad: €8-€15
Best café to hang out with a friend in the 7th: Le Campanella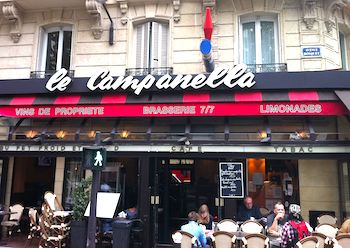 Le Campanella offers a different café experience to those willing to venture just a block or two from Champ de Mars. Entrées and plats are very good, their "Salad Campanella" is excellent, and it's always bustling because the lively and fun atmosphere makes it popular with locals. Le Campanella even has a Happy Hour from 5:30 pm to 8:30 pm when mixed drinks and beers cost €5.50. Be forewarned this café employs some fairly charming and flirty waiters in all age categories that make this an ideal environment for girlfriend time.
18, avenue Bosquet, Paris 7th
Tél: 01 45 55 73 15
Appetizer: €7-€19
Main Course: €13-€30
Salad: €10-€14
Tourist- and Kid-Friendly Café in the 7th: Crep' and Tea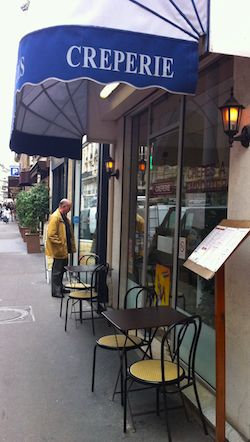 Crep' and Tea is an inconspicuous little crêperie nestled between two or three different iterations of Café Constant. It's neither glamorous nor fancy, so it is easily overlooked. That would be a shame, particularly if what you are looking for is a place to sit down and have a nice and extremely reasonably priced crêpe. It would be even more of a shame if you happen to have young ones with you, as this is a casual local eatery and family kind of place. On the food side, they have crêpes to suit just about any taste—both sweet and savory. The husband and wife who own Crep' and Tea are very fond of children and always pay special attention to them. They will continue to smile even after your toddler has knocked over water glasses and unearthed the potted plants. They understand English, but may be a bit shy about speaking it. Kids love this place because any place that offers the crêpe version of an ice cream sundae must be good. Parents love it because the ambience is low-key and allows them to relax a bit.
139, rue Saint-Dominique, Paris 7th
Tél: 01 45 51 70 78
Savory Crêpes: €4-€12
Sweet Crêpes: €4.50-€8
Salad: €4-€13
These are just three examples of café life in the Paris 7th. So why sit in a tourist trap when you can eat at cafés preferred by the locals?
Lexy Delorme is an expat mom of two now living in Paris. Click on her name to learn more about her and to read other stories by Lexy published by BonjourParis.
Subscribe for free. NEW: exclusive content for subscribers only. Search our library with 7,200+ stories. BonjourParis has been a leading online France travel and French lifestyle site since 1995.

Thank you for using our direct link to Amazon.com every time you shop the world's largest online retailer.
Want more? View our recommended France-themed books & items. Most recent listings at last pages.

Direct airport transfer service
PARIS SHUTTLE is a leading Paris airport transfer service. Book your airport transfers in advance online for direct to-your-door service and check the current discount available to BonjourParis readers who book using our link.
Leave a reply
Your email address will not be published. Required fields are marked *