Who would have thought a chance meeting in a snow storm in Vail, Colorado, would lead to a stunning Swede and a handsome American buying a Provence Chateau, and producing award winning wine? Fairytales do happen you know, even if you don't dream it you can do it!  "We were on our honeymoon, chilling out with a nice rosé, on Plage 55, when a friend decided to show us a chateau", explains the stunning Swede, Christine von Eggars Rudd. "Alan and I had no intention of buying anything, until we saw Palayson, something inside us would not let go". Huh! An impulse buy, go figure. They were, and are, happy as Larry, maybe some people thrive on aggravation.


 

Of course, many Scandinavians and Americans choose Provence but most make sure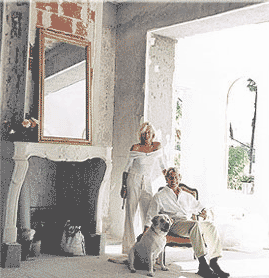 Not Christine and Alan, they bought Château Palayson in 2000 and, although they bosse 24/7, are really turned on. "We keep discovering more and more relics and remains, we've dug up two chapels and unearthed a Roman mausoleum dating back to the year 0!" Oy vay!  "I call that wall BMW", explains Christine. Yes, you got it, she could have bought one for what it cost! To-day our plucky and courageous vignerons have 17 hectares producing excellent red and rosé wines, they've renovated the vineyards big time, re-planted the formal gardens and tarted up the Chateau's interior a real treat; think Ralph Lauren meets Provence; stunning "Think going four times over budget", giggles Christine. "We've tried to respect history, we've tried to walk back into the future!"  Well not to worry dears, it's only money!


 

And it's history the Rudds are buying into. Around the year 200BC the Romans set up the Villa Palao, located along the Via Aurelia, the main road between

Rome and Arles. It was a large sprawling estate, boasting very fertile land, at the foot of the red rock of Roquebrune, close to the Argens River.  Now its' location is, between Cannes and St. Tropez, just off the A-8 motorway! Don't hesitate to pop in and taste the wine, meet the romantic Rudds, even get married in the chapel. Cool!


 

Wine has been produced here since 1054. "To-day at Chateau Palayson,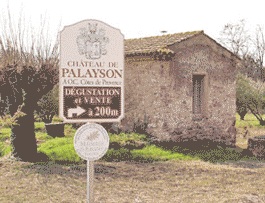 Christine and Alan Rudd,
Chateau de Palayson, AOC Cotes de Provence,
83520 Roquebrune sur Argens, Var.
T: 04 98 11 80 40
Cell: 06 63 79 63 64
Cave: 04 94 45 70 07
Email: [email protected]
Prices:
Rosé 2004 – Syrah/Cinsault/Cabernet/Grenache 8€ –
Posh stuff "Grand Cuvee" Red 2001 Syrah/Cabernet Selected by Hachette 2004, Silver Medal Independent Vine Growers: 44€
Cuvee Tatiana 2002 Syrah/Cabernet/Grenache 36€ etc.