Laurent Tarridec has it all. He divides his time between Le Moulin Rouge, Paris, where he's Executive Chef, and his restaurant Lei Mouscardins, Saint Tropez! "No, I rarely watch the show", he grins. Of course nobody believes him. The tousled hair boy from Brittany has a brilliant career that takes him from Hotel School to working with top chefs such as Michel and Jo Rostang, the late great Claude Peyrot and Michel Rochedy. Since 1998 Tarridec has been at Lei Mouscardins, where he has 2-Michelin stars, and has taken Tropézienne cuisine to the top of haute gastronomy.   "I want to forget I'm a chef when I go to a restaurant, chat with my friends such as Christopher Cussac over a plate of asparagus, or freshly caught sardines, at La Table de Robuchon." Christophe's cooking sparkles, as does the Jacques Garcia décor.  It's fun to sit on the terrace, either looking out to sea, or at the beautiful people who come to appreciate the culinary event of the year: Robuchon opening in Monte Carlo!   In Vence, Stéphane and Elena Demichelis' Auberge des Templiers, a restored post house, sits in a parkland setting of 100-year oak trees. I can relax with a good bottle of wine and a perfect marbré of asparagus, foie gras and vinaigrette of truffle oil. Afterwards, there is a refreshing dip in the pool.   Nobody is more price-conscious than a chef; too high and clients hesitate, too low and they are suspicious. At Le Sud, my friends, chefs David Millour and Bastien Gayrard-Bouzereau have a 16€ lunch menu which reflects the local
Saint-Raphael cuisine to perfection. On a hot day, cool pressed rabbit with green olives and radishes, basil ravioli with herbs and fresh goat cheese gratin, with honey and herbs, are often featured.   Gastronomy in the South of France is very distinctive from the rest of the hexagon. The Mediterranean climate favours the use of hot spices and fresh seafood. I highly recommend the young talent now happily installed in "L'Escoundudo" a delightful stone house, with a small terrace. Matthias Dandine (ex-Oasis, Chibois) and his brother Fabien roast cepes with shrimp, pair rabbit with eggplant and make a superb risotto with seafood and fresh tomatoes. Their fresh modern cuisine is a perfect match for Borme-les-Mimosas, the fragrant medieval village bursting with bright flowers.  I sometimes eat lunch in their tiny epicerie just along the road; a great address to buy local olive oils and tableware.   There's a picture of Jacques Chirac tasting the bouillabaisse at Le Maurin des Maures. I've never seen him there but I think if it's good enough for the President, it's good enough for the likes of me!  Anyway, the welcome from Dede Delmonte at his old auberge is warm, and his food reflects this region to perfection. I enjoy little fritures, Toti de Maurin (olive bread with tomatoes, basil and tapenade), not forgetting rabbit fragrant with herbs, fresh goat cheese and a glass of Reserve du Maurin des Maures, either red, white or rosé according to my mood! Book well ahead it's always very busy.   No credit cards and no cheques are accepted at La Ferne Chévrerie du Peigros in the backcountry of the Maures. Michele and Daniel Gerin built this farmhouse, with a pretty terrace, by themselves. Time stands still here, and the food hasn't travelled far; last time I was there Daniel cooked a pig, which weighed in at 600 kilos! Sensational! A taste of the real countryside, not forgetting fresh warm fruit tarts for dessert.   After working at L'Oasis , La Napoule and L'Etoile des Mers, Theoule, my friend Laurent Mouret returned to his family restaurant at Gassin. Le Verdoyante has been a popular meeting place for "le tout St. Tropez " for twenty years. Now Laurent brings a modern spin to the fine traditions laid down by his father.   Garlic, olives and olive oils are the signature of this region. But, at Saint Tropez, there are others: the bikini and Plage Tahiti, my favourite beach for lunch and dinner. I can sauna, have a zen massage, and don't really have to wear any clothes, they're optional! It's eye candy all the way. The sand is soft and, if we must talk food, try the giant camerones grilled with sauce vierge on the side. Line-caught fish arrive daily and are grilled immediately. It's like being in Tahiti, without the jet lag!"    Address Book:Laurent Tarridec,Lei Mouscardins,At the port (Tour de Portalet)St. Tropez,T: 04 94 97 29 00   La Table de Robuchon,The Metropole Palace,4 avenue de la Madone, Monaco,T: 00 377 93 15 15 15   Auberge des Templiers,39 avenue Joffre,T: 04 93 58 06 05   Le Sud,Centre Commercial du Golf Esterel,16 Boulevard Darby,Valescure, Var,T: 04 94 44 67 86   L'Escoundudo,2 ruelle du Moulin,T: 04 94 71 15 53   Le Maurin des Maures,Avenue du Touring Club, On the N 559Le Rayol-Canadel, Var,T: 04 94 05 60 11   Chévrerie du Peigros,Col du Babaou, Collobrières, Var,T: 04 94 48 03 83   La Verdoyante,866 chemin de Coste Brigade,Gassin, Var,T: 04 94 56 16 23   Plage de Tahiti,Route de Tahiti,T: 04 94 97 18 02
SUBSCRIBE
ALREADY SUBSCRIBED?
BECOME A BONJOUR PARIS MEMBER

Gain full access to our collection of over 5,000 articles and bring the City of Light into your life. Just 60 USD per year.

Find out why you should become a member here.

Sign in

Fill in your credentials below.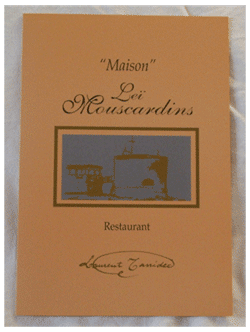 Laurent Tarridec has it all. He divides his time between Le Moulin Rouge, Paris, where he's Executive Chef, and his restaurant Lei Mouscardins, Saint Tropez! "No, I rarely watch the show", he grins. Of course nobody believes him. The tousled hair boy from Brittany has a brilliant career that takes him from Hotel School to working with top chefs such as Michel and Jo Rostang, the late great Claude Peyrot and Michel Rochedy. Since 1998 Tarridec has been at Lei Mouscardins, where he has 2-Michelin stars, and has taken Tropézienne cuisine to the top of haute gastronomy.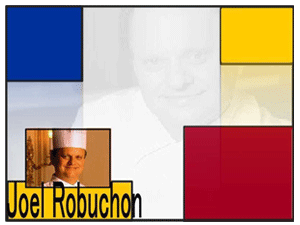 "I want to forget I'm a chef when I go to a restaurant, chat with my friends such as Christopher Cussac over a plate of asparagus, or freshly caught sardines, at La Table de Robuchon." Christophe's cooking sparkles, as does the Jacques Garcia décor.  It's fun to sit on the terrace, either looking out to sea, or at the beautiful people who come to appreciate the culinary event of the year: Robuchon opening in Monte Carlo!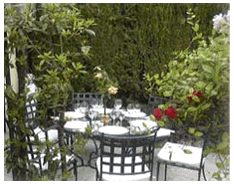 In Vence, Stéphane and Elena Demichelis' Auberge des Templiers, a restored post house, sits in a parkland setting of 100-year oak trees. I can relax with a good bottle of wine and a perfect marbré of asparagus, foie gras and vinaigrette of truffle oil. Afterwards, there is a refreshing dip in the pool.

Nobody is more price-conscious than a chef; too high and clients hesitate, too low and they are suspicious. At Le Sud, my friends, chefs David Millour and Bastien Gayrard-Bouzereau have a 16€ lunch menu which reflects the local

Saint-Raphael cuisine to perfection. On a hot day, cool pressed rabbit with green olives and radishes, basil ravioli with herbs and fresh goat cheese gratin, with honey and herbs, are often featured.

Gastronomy in the South of France is very distinctive from the rest of the hexagon. The Mediterranean climate favours the use of hot spices and fresh seafood. I highly recommend the young talent now happily installed in "L'Escoundudo" a delightful stone house, with a small terrace. Matthias Dandine (ex-Oasis, Chibois) and his brother Fabien roast cepes with shrimp, pair rabbit with eggplant and make a superb risotto with seafood and fresh tomatoes. Their fresh modern cuisine is a perfect match for Borme-les-Mimosas, the fragrant medieval village bursting with bright flowers.  I sometimes eat lunch in their tiny epicerie just along the road; a great address to buy local olive oils and tableware.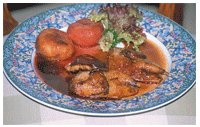 There's a picture of Jacques Chirac tasting the bouillabaisse at Le Maurin des Maures. I've never seen him there but I think if it's good enough for the President, it's good enough for the likes of me!  Anyway, the welcome from Dede Delmonte at his old auberge is warm, and his food reflects this region to perfection. I enjoy little fritures, Toti de Maurin (olive bread with tomatoes, basil and tapenade), not forgetting rabbit fragrant with herbs, fresh goat cheese and a glass of Reserve du Maurin des Maures, either red, white or rosé according to my mood! Book well ahead it's always very busy.

No credit cards and no cheques are accepted at La Ferne Chévrerie du Peigros in the backcountry of the Maures. Michele and Daniel Gerin built this farmhouse, with a pretty terrace, by themselves. Time stands still here, and the food hasn't travelled far; last time I was there Daniel cooked a pig, which weighed in at 600 kilos! Sensational! A taste of the real countryside, not forgetting fresh warm fruit tarts for dessert.

After working at L'Oasis , La Napoule and L'Etoile des Mers, Theoule, my friend Laurent Mouret returned to his family restaurant at Gassin. Le Verdoyante has been a popular meeting place for "le tout St. Tropez " for twenty years. Now Laurent brings a modern spin to the fine traditions laid down by his father.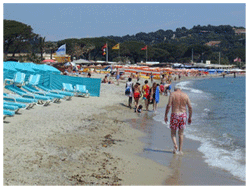 Garlic, olives and olive oils are the signature of this region. But, at Saint Tropez, there are others: the bikini and Plage Tahiti, my favourite beach for lunch and dinner. I can sauna, have a zen massage, and don't really have to wear any clothes, they're optional! It's eye candy all the way. The sand is soft and, if we must talk food, try the giant camerones grilled with sauce vierge on the side. Line-caught fish arrive daily and are grilled immediately. It's like being in Tahiti, without the jet lag!"  
 
Address Book:
Laurent Tarridec,
Lei Mouscardins,
At the port (Tour de Portalet)
St. Tropez,
T: 04 94 97 29 00

La Table de Robuchon,
The Metropole Palace,
4 avenue de la Madone, Monaco,
T: 00 377 93 15 15 15

Auberge des Templiers,
39 avenue Joffre,
T: 04 93 58 06 05

Le Sud,
Centre Commercial du Golf Esterel,
16 Boulevard Darby,
Valescure, Var,
T: 04 94 44 67 86

L'Escoundudo,
2 ruelle du Moulin,
T: 04 94 71 15 53

Le Maurin des Maures,
Avenue du Touring Club, On the N 559
Le Rayol-Canadel, Var,
T: 04 94 05 60 11

Chévrerie du Peigros,
Col du Babaou, Collobrières, Var,
T: 04 94 48 03 83

La Verdoyante,
866 chemin de Coste Brigade,
Gassin, Var,
T: 04 94 56 16 23

Plage de Tahiti,
Route de Tahiti,
T: 04 94 97 18 02
---
---