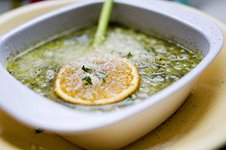 I love celery: fresh, crisp, sweet celery. It stands so on its own and yet rarely seems to have recipes dedicated to it. Rather it is one of the stalwart, underlying flavors that gives depth to broths and stocks of every kind. I'm always on the outlook for ideas or recipes that place celery center front. And the other day while rummaging through the many booklets and brochures I garnered while at the Slow Food Il Salone del Gusto in Torino last year, I came across a booklet dedicated to Italian rice put out by the Ente Nationale Riso; and in it was this very simple, light, tasty celery-parsley rice soup. 
Celery, Parsley and Rice Soup (serves 4 – 6) 
Ingredients:
140 g (2/3 cup) Italian Originario rice (a round, small pearly grain rice used in soups and sweets
that cooks al dente in about 10 – 12 minutes. Ask at your Italian deli or specialty store)
200 gr (4-5 stalks) celery stalks with leaves.
5 gr (4 sprigs) parsley
2 fresh bay leaves
6 fresh sage leaves
20 gr (1 1/2 tBsp) sweet butter
2 tBsp extra virgin olive oil
30 gr (3 tBsp) Grana Padano Parmesan cheese
1 litre (4 cups) homemade vegetaqble broth
Unrefined sea salt and freshly ground pepper to season 
Finely chop the celery and parsley in a food processor. Brown the celery-parsley mixture along with the bay and sage leaves in the olive oil. Add the vegetable broth and bring to a boil. Salt and pepper to season. Add the rice and cook until al dente. Add more broth if necessary. Stir in the butter and grated Grana Padano Parmesan. Taste for seasoning. Serve immediately garnished with chopped parsley and a sprinkle of grated Parmesan. 
Bon appetit! La Cucina di Terresa  
Please take a look at my website: LA CUCINA di TERRESA
Feel free to Subscribe to my NEWSLETTER.