Citrus Etoile, Paris 8th
There's a new toque in the kitchen of Citrus Etoile, Gilles and Elisabeth Epié's orange and lemon contemporary bistro, just off the Champs-Elysées. Although they're all too California cool to wear toques, you know what I mean. It's Gilles' son Renald, a real talent. At 29 he's already spent seven years with Ducasse at Spoon, Paris; Louis XV, L'Andana, Tuscany, Italy; Il Cortile (when Ducasse was consultant) and he's done time in the kitchens of the French Embassy, Quatar and Cape Town, South Africa.
"The boy's good," says Gilles and pats him on the back. I hate people who say, "I remember you when you were that age." But I can't resist. I tell the boy how long I've been eating chez Gilles and how I missed him when he was in California cooking for the likes of Bill Clinton, Sharon Stone, Sean Connery, Slash, Hanks, Gere, Michael Douglas and Catherine Zeta J. The boy nods, smiles, gives the boss a hug.
Today Hollywood royalty comes to Paris and heads straight to Citrus. There are new dishes, fantastic art work to discover and they've decided to stay open for the summer.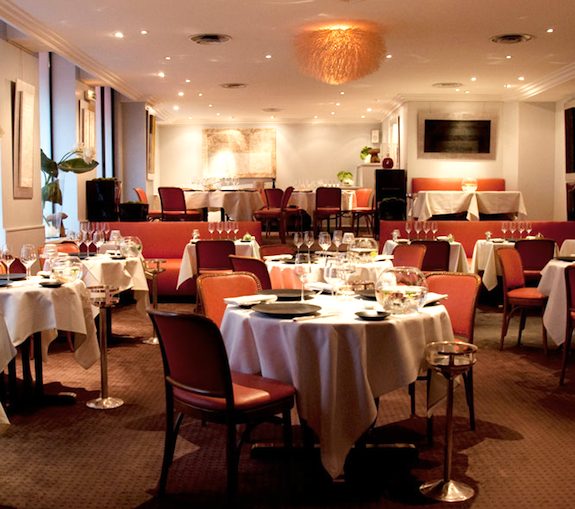 Try the Poulpe salad with Borlotti beans. "We cook the poulpe in tea, that's the secret." Warm lobster tail sits on a bed of spinach and onions, coconut milk with wasabi gives the tastebuds a workout. Beef cheeks with Taggiasche olives, truffle mousseline and baby vegetables. Saddle of rabbit, the classic thick calf's liver, chanterelle mushrooms. Great washed down with Corbières Bio Le Languedoc-Roussillon Grand Guilhem (56€) or the red 2009 Les Sorcières Le Clos des Fées (45€). Talk to sommelier David Mouriau. Desserts: lime soufflé with Limoncello sorbet and citrus chips and chocolate soufflé Java Grand Cru, with vanilla ice cream and chantilly cream. Wow! The atmosphere's California on the Champs, "Elisabeth Epié is our Marilyn," says Gilles Pudlowski.
I hate people who gastrobabble, but sometimes it does illustrate a point. I remember the first meal I had chez Epié at Miravel. It was in the company of Nicolas de Rabaudy, the revered Figaro critic (before FS), and after my first bite of Beignet de foie gras caramelisé au Porto I was hooked. The beautful restaurant on the quai beside the Seine won a Michelin star, quite right too. Now all Citrus has got are a few squiggles in the 2011 guide. Come on, Bibendum, you can do better than that. Rise up Michael Ellis, new head honcho, show some respect for a great chef.
Tél: 01 42 89 15 51
6, rue Arsene Houssaye, Paris 8th
Métro: Charles de Gaulle-Etoile
Lunch menu 49€ or A La Carte about 75€
Tasting Menu 75€
Shut Sat-Sun
Agapé Substance, Paris 6th
Novelist Paulo Coelho, author of The Pilgrimage, among other spiritual tomes, defines agapé as "love that consumes," the highest and purest form of love surpassing all other types of affection. Wonder if he's thought of visiting because, if he can get a reservation, he'll see that David Toutain (ex-Passard, Gagnaire, Ambroisie, Veyrat, New York, chez Corton) and Laurent Lapaire (ex-Arpège, etc.) create agapé at their new Left Bank address.
You know L'Agapé launched 2008 and L'Agapé bis in 2010. The new Agapé Substance, located in the former Don Carlos Flamenco bar and restaurant, opened in June. The glass space reflects the zeitgeist of today, clean décor by Zen+dCo for the long and thin room, sit at the counter or book the VIP chef's table opposite the open kitchen. Superb ventilation, you won't come away needing to wash hair, give everything to the dry cleaners, how much do you hate that? This is more information than you need, but chairs and stools are re-editions of Mies van der Rohe and you can have a massage in the Japanese-style Toto loo, assuming you push the right button!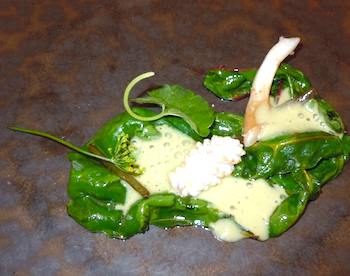 Toutain creates dishes around fresh market products that arrive daily. Vegetables from Annie Bertin, Hugo Desnoyer's beef, Eric Kayser's bread and Bernard Antony's cheeses. Dishes are riffed around wild herbs such as Berce from the Jura, brought to the table for you to sniff. Choose 3, 4 or 5 courses from a list of ingredients and Toutain and his team will interpret for you, so if you have allergies or don't like, say, veal, there's no problem. It's made to measure for you. The dishes are contemporary compositions, some don't get it; complain of mini-portions, you'll appreciate it or not. It's definitely art but depends if you prefer Donald Judd or Henri Matisse, Harrison Birtwistle or Beethoven.
Wines, on iPad, are mostly natural or organic, say, Domaine Casabianca's U Stiliccionu's robust Corse "Antica" (36€) or Les Milles Vignes from J. Guerin, Languedoc (55€).
"We like to think we're the new mercenaries of the bistronomie," says Toutain.
Tél: 01 43 29 33 83
66, rue Mazarine, Paris 6th
Métro: Odéon
Shut Sunday-Monday
Open all summer
Lunch: 3 dishes 39€; 4 dishes 51€; Carte Blanche 65€
Dinner: Carte Blanche 99€
Tous au Restaurant, September 19-25, & Emporio Armani Caffé, Paris 6th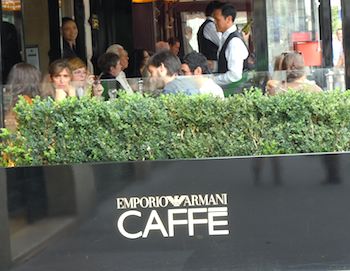 I think "Tous au Restaurant" (promotion dates September 19-25, 2011) was Alain Ducasse's idea. It must have been so successful last year they're doing it again. It's "buy one get one free," but it's lunch/dinner instead of Champagne, Smart Cars, face cream, etc. Restaurants all over France are taking part.
I was in Milano on the boulevard Saint Germain this week. Divine, darling. A plate of burrata, tomato, a bowl of Spaghetti Cavaliere Cocco aux Palourdes, a glass of red Tuscan and I'm happy as Larry. On the terrace of Emporio Armani Caffé the lovely maître d' tipped me the wink. He says Armani's three-course menu of antipasti, Risotto al Porcini and Semi-Freddo al caffé will cost 60€. The rules are no changes and you can book from September 7th.
He also told me Sunday night is Pasta Night at Emporio Armani Caffé, with organic Pasta Pomodoro, eat as much as you like for 18€. It's run by Massimo Mori of Mori Venice Bar (lovely terrace ther,e too), and he's doing Venice Bar Caviar Menu for 50€. "People don't realise the best caviar comes from the Venice region," said my maître d'.
I tarried so long watching the world go by that the next table was nabbed by some fragrant ladies-who-do; they deftly ordered afternoon tea with a nice spin. It's served from 3pm, with freshly made ice creams, stuffed with fruits, nuts and chocolate. As Figaro so nicely puts it, "chic dans les vêtements, chic dans l'assiette."
Tél: 01 45 48 62 16
149, Boulevard Saint-Germain, Paris 6th
Métro: Saint-Germain-des-Prés
Open 7/7
Menu from 29€ – A La Carte about 65€
Margaret Kemp is a Cordon Bleu graduate who spent a year traveling the world, working and watching in the kitchens of top chefs from Sydney, Australia via Bangkok, Hong Kong, California, New York and France. She reports for BonjourParis on the latest European trends, restaurants and hot spots.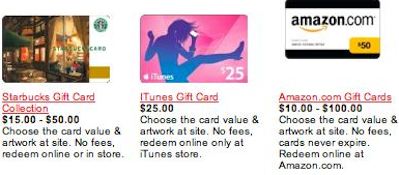 GIFT CARDS: We offer pre-paid gift cards, for Starbucks, iTunes, Amazon.com, Target, Sephora, movies and more. Some come with greeting cards you can personalize. Choose your denomination. More at our GIFT CARDS category.
If you can get it from Amazon.com, you can get it at our Amazon.com Boutique. Same competitive pricing and speedy delivery as your purchases support costs of keeping BonjourParis your most complete online France travel resource. Merci in advance for your support—we appreciate every centime. Search hint:: start at the back pages for the most recent stock.
Short-cut? Check out
Current Favorites
for the daily top sellers.
Be smart! Shop around, reserve your hotel at Booking.com…then keep shopping & if you find a better rate for the same deal, contact Booking.com to request your BEST PRICE MATCH GUARANTEE. Start here at Booking.com.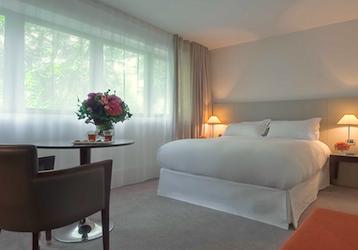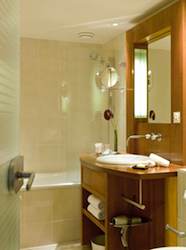 Maison Champs-Elysées is a 4-star 19th-century building w/40 "charm" rooms & 17 "couture" rooms renovated in August 2011. Pure goose-down duvets & mattress toppers, natural linen sheets, free Wi-Fi, free Mini Bar, large flat-screen TV w/free video & Mac mini in every room. Rooms overlook courtyard. Located off avenue des Champs Elysées between avenue Montaigne & the Seine–near the Grand Palais museum. On-site restaurant, Les Signatures, serves French cuisine w/summer terrace dining.
****Eligible for the best-price match guarantee from Booking.com.