A day trip from Paris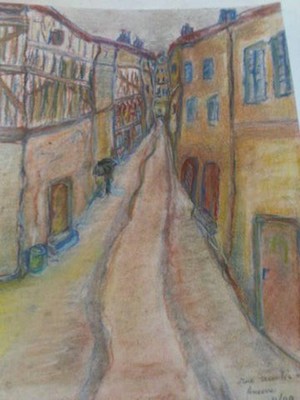 The town's three gothic cathedrals reflect impressively above the beautiful Yonne river; you aren't dreaming, you are in Burgundy. A little over an hour and a half from the Bercy Station, those looking for of a day trip or weekend excursion by train to "real France" won't be disappointed.
Listed among the French Cultural Ministry's prestigious Network of 166 "Villes d'art et d'histoire," Auxerre's history dates back to pre-roman times, but the town's brilliance lies in its medieval IX° – XII° century heritage. St Stephan's Cathedral is a jewel of gothic art and the cathedral's roman crypt with its "Christ on horseback" or St Germain Abbey with, among other relics, its "Two Bishops", offer visitors a remarkably preserved glimpse at the oldest frescos in all of France.
The winding streets are rarely flat, but the slow progress will give you time to discover the endless Burgundy, as well as Indian and Chinese restaurants, small shops including craftsmen's workshops, making and renovating such things as stained glass windows, and some of the "masterpieces" exhibited at the Compagnons du Devoir's small museum at 6, rue Saint-Pèlerine. Don't hesitate to go in. This former presbytery is on the Tourist Office's proposed walking tour list, discretely indicated by Cadet Roussel emblems on the sidewalks.
Off the usual tourist track
The town (pop. 40,000) is just the right size to allow extended walking tours of its narrow paved streets amid timbered buildings. The local Office de Tourism, 1-2 quai de la République, (tel. 03.86.52.06.19) also offers weekly year round guided visits every Sat. at 3:00 pm for €5 (children under 12 free of charge). Visits tell stories like times when Auxerre was the once walled city of Autricus, dating back to the III° century AD and beyond. But understand that all this is intended for the French. Except for guests happening in by river and canal on weeklong houseboat rentals — mostly French, German or Dutch — don't expect to find tourists or tourist buses here. Foreigners are a rare species in Auxerre.
Nonetheless, when your feet do give out, benches have been placed along inlaid brick sidewalks to sit and picnic or just to rest. You can even waive down and hop on one of the free of charge shuttle buses which circle Auxerre every fifteen minutes (Mon. – Sat. 7:45 am -12 pm and 1:30 pm -7 pm). As in Paris, the Office de Tourism rents (adult) bicycles. A €150 deposit and identity (ex. passport) are required, but the rental cost comes to only €6 for two hours.
If there are children alongside, we definitely recommend the April through October self-piloted electric boats also available through the tourist office. The boats hold four adults, or three adults and two children, and are standing by to take you up the Yonne river and through the Canal de Nivernais locks. Again a €150 deposit and identity are required, but the rental comes to less than €10 an hour and the same experience would cost some €6,000 a week by houseboat!
If, with all this, you prefer to let someone else do the "piloting" during this same season, April through October, you can step onto the Hirondelle (The Swallow), docked just across from the Tourist Office and, for a modest €10 – €15 (children 4 to 12 half price and those under 4 free of charge) the family can enjoy a one to two hour barge trip. Feel like splurging? The Hirondelle offers a three hour gourmet luncheon trip up the locks, drinks included, for a little over €50.
Tea and Email – Au 87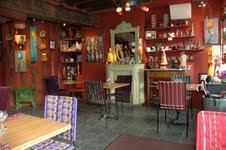 After many years of teaching here in Auxerre, my very favourite "hangout" in town is, beyond a doubt, the "Au 87" café, located at 87, rue du Pont, just off the Paul Bert Bridge.  A combination of restaurant (luncheon menu 15€-20€), café and tea room, they have over 150 brands of tea and Agnès's homemade lemon pie is to die for, but they also arbor the best ice cream menu in the world. Just between us, nothing beats two scoops of their "glace à la violette".
The owners, Agnès and Philippe, offer customers free wifi and there is always a corner table free somewhere to catch up on E-mail, even during lunchtime. The café is warmly decorated with art and crafts on deposit by local artists and it is even easier to understand the 87's warm and cosy atmosphere when you discover that, before turning cook, Philippe was a former stage decorator for both film and theatre. Faithful to the French concept of the "art of living", the café is open from 10 am to 7 pm, (6 pm on Wednesdays). Closed Sundays and Mondays.
If Auxerre tempts you, there are a number of inexpensive hotels, as well as bed and breakfasts. There is also a camp ground near the soccer stadium, but the city gives camping cars free and unlimited overnight parking directly all along the river. Situated barely an hour and 15 minutes out of Paris via the A-6 freeway southeast to Lyon, one advantage of driving to Auxerre is the abundantly rich choice of nearby visits including, for lovers of Burgundy wines, the town of Chablis, Chardonnay capital of the world. Be it by train or by car, the excursion is well worth the break from Paris.
We'll talk about some of the possible nearby stopovers such as the quirky Irancy wine bar (free tasting), cellar and bottling facilities located in a former underground quarry, the fabulous timber and stone village of Noyers/Serein, St Fargeau castle's incredible two and a half hour Sound and Light show complete with horses, ghosts, and fireworks, Sancerre (France's Sauvignon capital of the world), Guedelon (or how to build a XII° century castle by hand) and Rogny-les-sept-écluses in upcoming articles.