Buches de Noel: Paris Yule Logs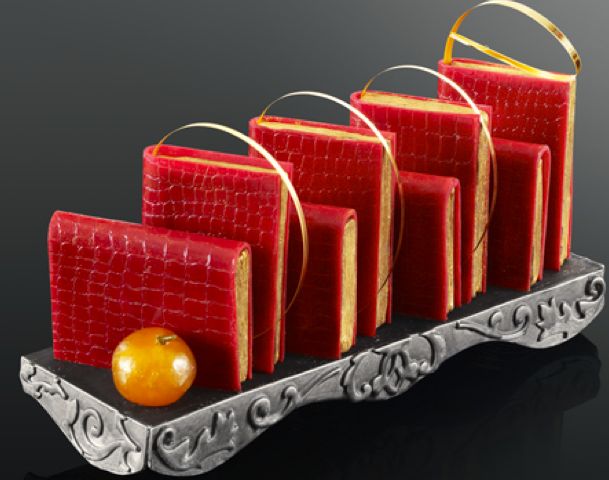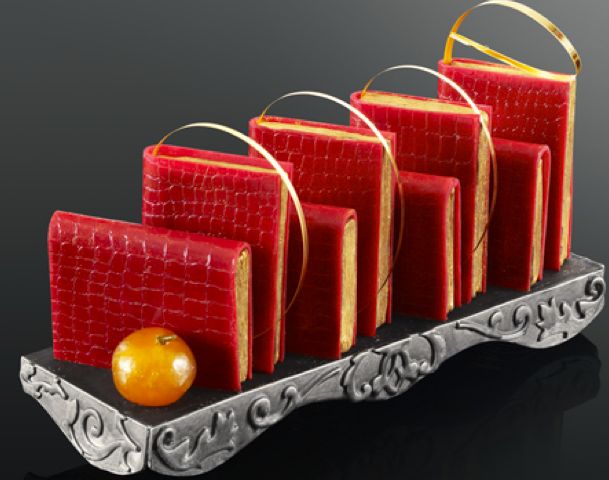 Bûche de Noël de Christophe Michalak for Plaza Athénée
Michalak is a Champion du Monde de Pâtisserie, so you know this is delicious!
Eight Christmas "story books," one for each guest
Caribbean bittersweet, chocolate ganache, almond paste, almond biscuit Valencia, tangerine marmalade, marzipan shell
Limited Edition, One Size only, €125
Order in advance from Hotel Plaza Athénée, Tél:01 5367 6497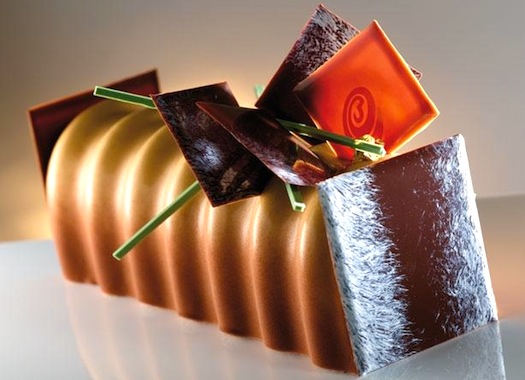 "Onduline" bûche de Noël by Stéphane Leroux, MOF
Belgian chocolate, raspberry compote and fruit, almond praline flavors
Available to restaurants who order it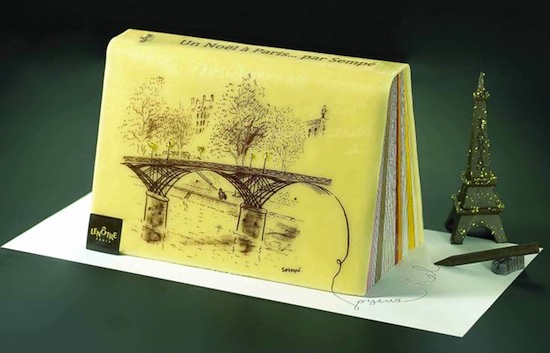 Bûche de Noël by Guy Krenzer and team for Lenôtre
"Book" inspired by artist Sempé
Dark chocolate mousse, soft almond jelly, candied raspberry, crispy praline, Peruvian chocolate cream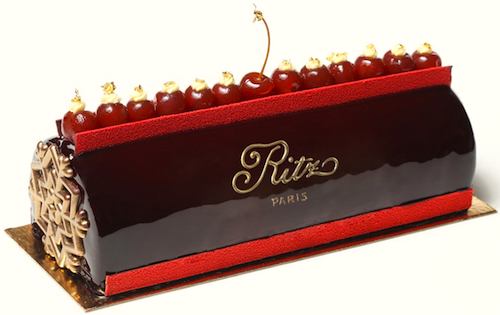 Bûche de Noël by Michel Roth for the Ritz-Paris
Dark chocolate mousse and shavings, cookies and vanilla cream, cherries
€130 for 6-8 people; order from the Ritz-Paris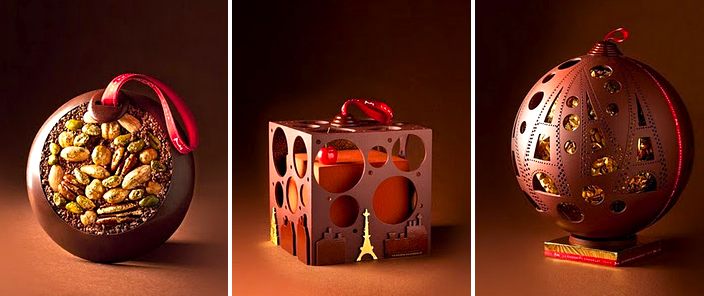 Bûches de Noël by Gilles Marchal and teams of Maison du Chocolat
Flavors, prices and available dates vary depending upon international location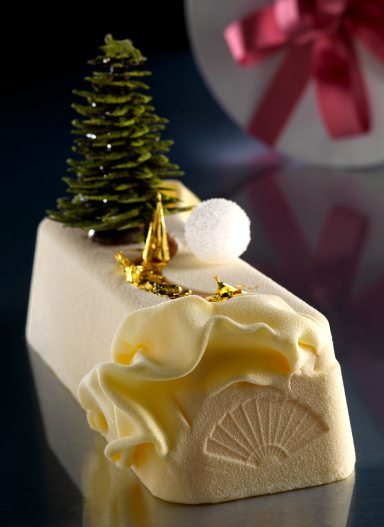 Bûche de Noël by Pierre Mathieu of the Mandarin Oriental
Pleated ivory chocolate shell, dark chocolate, maple-caramel, citrus zest
Serves 6, €88
Available from December 20-31, call 01.7098.7400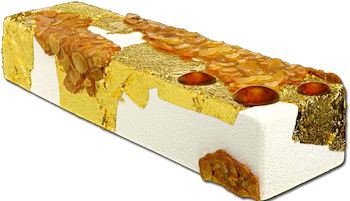 Bûche de Noël by Camille Lesecq for Le Meurice
Flavors: wines of Château d'Yquem, licorice, lemon, hazelnut and apricot
Serves 4-5 persons, €96
Order from Le Dali restaurant December 17-31
Tél: 01 4458 1044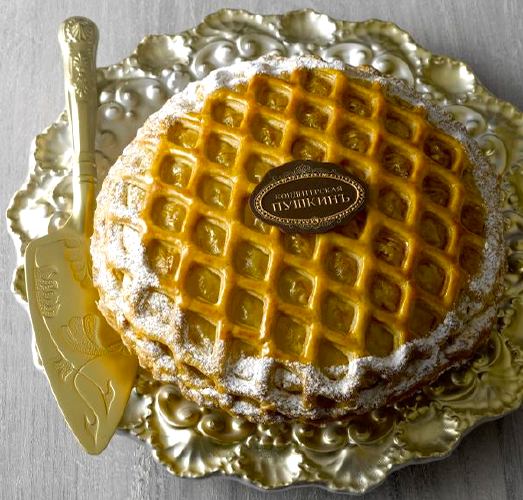 Galette des Rois Sarrasin by Andrey Dellos of Le Café Pouchkine, Printemps de la Mode
Puff pastry "galette" topped with almond cream and other flavorings
Serves 6-8 persons, €35-40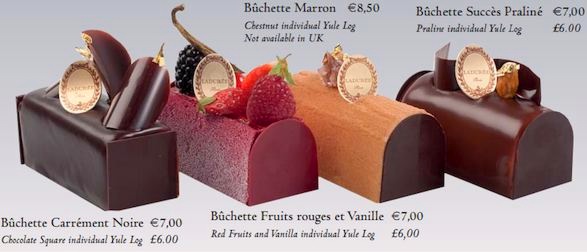 Bûches de Noël by Ladurée
Prices as noted, sold by slice or whole at Ladurée boutiques
Dali Wiederhoft is the executive editor of BonjourParis. Please click on her name to read her bio and more of her stories published in BonjourParis.
Subscribe for free and never miss a story. Weekly newsletter has bonus content for subscribers only plus search our library with 7,200+ France travel and Paris events/activities stories.
Featured selections:
Simply Truffles: Recipes and Stories That Capture the Essence of the Black Diamond by Patricia Wells. November 8, 2011. Secrets behind the legendary truffle. A charming cookbook with lush color photographs and 60 delectable recipes….
Williams-Sonoma Entertaining: Inspired menus for Cooking with Family and Friends. Packed with clever ideas, menus, delicious recipes, &gorgeous color photography, Williams-Sonoma Entertaining is the ultimate guide to a successful party. The secrets of easy entertaining are demystified with helpful sections such as planning menus, buying quality ingredients, coaxing the best flavors out of food, and stocking a bar. Organized by season, each themed menu features accessible recipes driven by fresh ingredients; an easy-to-follow work plan; and detailed how-to photos depicting styling ideas.
Ritz Paris: Haute Cuisine . October 2011 release. This celebration of the grand culinary tradition at the Ritz Paris features inspirational stories of three great men and is completed with sixty recipes.   At the age of thirteen, the young sommelier Cesar Ritz was summarily dismissed by his employer who told him he lacked the flair and talent to succeed in the hospitality business. Of course, Ritz went on to become one of history's greatest hoteliers, creating the Ritz in Paris and its world-renowned restaurant L'Espadon with the help of renowned chef Auguste Escoffier….
Essential Pepin: More Than 700 All-Time Favorites from My Life in Food & bonus DVD w/ demonstrations by Jacques Pépin October 2011. For the first time ever, legendary chef Jacques Pépin collects & updates the best recipes from his six-decade career. With a searchable DVD demonstrating every technique a cook will ever need. In his more than sixty years as a chef, Jacques Pépin has earned a reputation as a champion of simplicity. His recipes are classics. They find the shortest, surest route to flavor, avoiding complicated techniques….

Direct airport transfer service
PARIS SHUTTLE is a leading Paris airport transfer service. Book your airport transfers in advance online for direct to-your-door service and check the current discount available to BonjourParis readers who book using our link.
Leave a reply
Your email address will not be published. Required fields are marked *