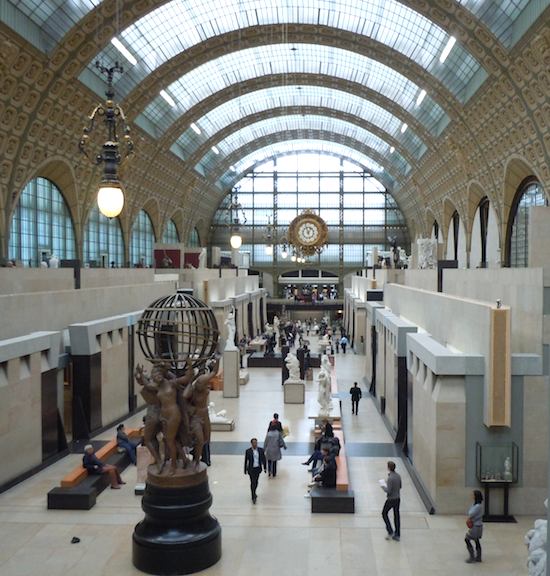 Musée d'Orsay, Café Campana, Paris 7th
The Musée d'Orsay is the talk of the town's art afficionadoes. The much-loved former railway station created in Beaux-Arts style by Victor Laloux for the Exposition Universelle 1900 has undergone major transformations over the last two years.
The former gare d'Orsay relaunched in 1986 as a museum showcasing French nineteenth-century art and sculpture, with bold interior design by architect Gae Aulenti, a perfect fusion of form and content. A super success from day one, long lines formed outside to pay homage to, say, Manet's Olympia and Déjeuner sur l'Herbe and awesome works by Rodin, Monet, Renoir, Pisarro, Van Gogh, et al.
And, talking Déjeuner sur l'Herbe, there are three watering holes for hungry artistas:
On Level 1, Café du Lion, a basement canteen for fast food.
Level 2, The Restaurant, also transforms to a tea room on Thursday from 2:45-5.30 pm.
And, on Level 5 of the new Pavilion Amont that leads from the new Impressionist Gallery, the handsome three-dimensional, 180-seater, Café Campana with futuristic décor by the Brazilian Campana Brothers, Fernando and Humberto. A provocative jumble of orange twisted coated wire fencing, sea anemone chairs by Edra and the magnificent station clock as the focal point. Note the blue aquarium effect, read: Jules Verne meets the Matrix.
But what about the food?
Perfect for the ladies who do. Carrot & coriander soup. PPP: Penne rigate, Parma Ham, Parmesan and Pesto. Croq' Monsieur. Wok-fried beef and Chinese noodles. A kir royale (12€). Then Salade Niҫoise with a glass of Château Roubine rosé Côtes de Provence (8€ or 32 a bottle). Salmonistas should get the "Tout est bon dans le saumon." Marinated, smoked, cooked, roe, blinis & tzatziki. Caesar Salad or Cheese by Quatrehomme. Desserts include Chocolat or Café Liégeois. Coupe Copacabana, tarte du jour, giant éclair and, mmmm, mini Opéra, mini Financier (no darling, cake, not Jérôme Kerviel) or a mini fig sablé.
Chef Yann Landureau says he'll create dishes to match exhibitions, but it's early days. Go there for the adventure of the new Musée d'Orsay, to get turned on by probably the best museum of its type in the world. C'est ҫa Paris—j'adore.
PRACTICAL INFORMATION:
Le Café Campana at Musée d'Orsay – museum ticket required for admission
Tél: 01 40 49 48 14
1, rue de la Légion d'Honneur, Paris 7th
Métro: Assemblée National, Solférino
RER: Line C, station: Musée d'Orsay
BUS: see map
Museum entry fee: 8€
Café Campana Open: Tuesday through Sunday, 10am-5pm; Thursdays open 10am-9pm
Average Spend: 53€ for three courses + wine
Accessibility: Wheelchair friendly; see map
Exhibition through 15th January: Beauté, morale et volupté dans l'Angleterre d'Oscar Wilde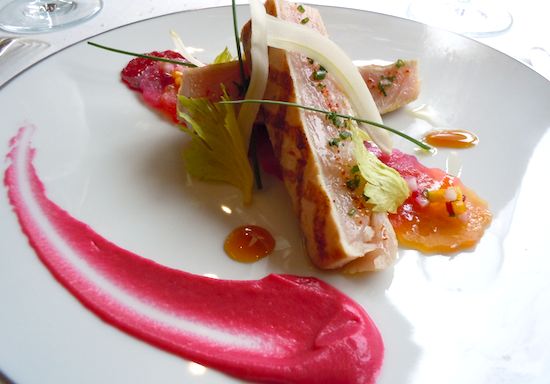 Antoine, Paris 16th
Appropriate, a fish restaurant on the quai opposite the Seine, n'est-ce pas, chérie?
"After an absence of nearly a century, Atlantic salmon have returned to France's Seine River, with hundreds swimming past the Eiffel Tower and Notre-Dame cathedral this year alone," researchers said. Salmon in the city!
In 2010 Antoine reeled in Pudlo's "Restaurant of the Year" award with special mention for the open "aquarium" kitchen, le boat-shaped bar and the "neon poisson" sculpture on the wall.
"Antoine Vigneron is the captain and founder of the restaurant, creating his own address after 15 years spent at Le Bristol, he's now the Fish King of Paris," Pudlo says.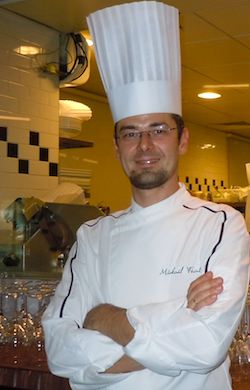 Wearing the whites is Michelin-starred Chef Mickaël Feval, enchanted with all things piscatorial, he gets up  at four in the morning to find the best in the market. Feval's is up there with Saint Peter, a fisher of men. His backstory's impressive, learning with Briffard (rigeur), the late Loiseau (joie de vivre), Antoine Westermann (creativity), Bruno Oger (imagination) and Thierry Barot (conviviality).
"The seasons decide my menus," he says. "At present it's oysters and oursins, daurade and daurade royale we're working."
Plus on the lunch menu this week: Maquereaux mi-cuit au raifort, légumes, pickles to begin. Pavé de cabillaud rôti, Carottes parisiennes aux zestes de clémentine. To finish: Velouté poire, biscuit cacao, glace fève de Tonka.
But don't ignore the signature Bouillabaisse de petite pêche, rouille au safran du Quercy de Mr Chevalier. "Bouiller" (to boil) and "abaisser" (to reduce). Starters include Tataki de Bonite Sarda-Sarda, autour des betteraves de Mr Thiebault (see photo).  Carpaccio de Maigre de ligne, Caviar Osciètre et blinis. But, be warned, portions are enormous. The Bar de ligne de Saint-Gilles-Croix-de-Vie is grilled over fennel and flamed before it comes to table with purée de Rattes du Touquet. It's enough for four and they don't do doggie bags here—it's much too raffiné, darling. Carnivores can have chicken from Les Landes or Ris de Veau Rôti, risotto aux cèpes, jus de veau à la betterave, poêlée de girolles. Goat's cheese is from Père Fabre and les Comtés from Marie Quatrehomme, great bread by Poujauran, butter by Monsieur Bordier.
Chef Pâtissier Franҫois Régien (ex-Lasserre, Ledoyen, Marius & Janette, Westermann, has a light touch with the likes of Soufflé chaud à la passion, coulis de fruit de la passion, sorbet passion and Pomme Reine des Reinettes flambée au Calvados, sorbet Granny Smith. Wines, by the glass, from 6-16€. Try the tangerine perfumed Saint-Joseph "Grand Duc" Domaine du Monteillet 2010 at 9€ or 50€ a bottle. Or the red Burgundy Monthélie from 10th generation winemaker Xavier Monnot at 9€ or a bottle at 45€. Deep, dense, fruity, hits the right spot.
At lunch Antoine is bright, with views of the Seine and the Eiffel Tower, at night it's très romantique, especially when the Iron Lady sparkles. A great place to "put a ring on it," . . . if he doesn't do it there, he'll never do it, babe. 
Tél: 01 40 70 19 28
10, avenue de New York, Paris 16th
Métro: Pont de l'Alma
Open Daily: Lunch 12-2:45pm; Dinner 7:30-10:45pm
Valet Parking
Lunch menu 35€ Starter, Main or Main & Dessert
À La Carte

Caffé Burlot, Paris 8th
When Thierry (Burlot) met Thierry (Costes) they got to chatting, as people do, and by the end of the evening had given a "high five" to launching a restaurant together, inspired by 1950s Italy.
Burlot & Costes are currently the Lennon and McCartney of the rue Colisée, their trat's buzzing with the likes of Johnny and Laetitia Hallyday, Marc Lavoine, Trish Desseigne, read: le tout Paris. Burlot (worked with Chef Feval, see above, and also at Le Crillon, his own restaurant, Le Quinze, Zebra Square, and Cristal Room, Baccarat, etc.).
The space was formerly L'Appart. "We're very happy with the design by Milan architects Emiliano Salci and Britt Moran, they've created lots of spaces, so diners can be either public or very private. The basement is great for private parties and they've given us silver loos with armchairs, what more could you want?"
The Caffé has a couture/industrial theme, soft colors and sexy lighting—well, it is Costes, what did you expect, Ikea?
Open the menu and blink, it begins with desserts. Why, Thierry, why?
"I've studied ze ladies," he admits. He's as sexy as his restaurant. "Zay alwayz look at ze dezzerts first, so I thought, put zem out of their misery."
And Thierry, if they want to begin with dessert?
"Is not a problem," he grins.
So Monica Belluci (or you and I) could order cacao soufflé tout chocolat. Fragola millefeuille croustillant, que des fraises, absolutely spectacular. Tirame'su veneziano biscuit, espresso & crème aux oeufs. Al forno figues rôties & origan frais, etc., or, is this a dessert, starter or main? Caprese glace mozzarella, basilic feuille tomate pulpe. Wines go from a Château Lafitte Rothschild 1996 at 1,520€ to a white Pouilles IGT Tomaresca Chardonnay 2010 31€ or cocktails and glasses from 9€.
As far as mains go, "à la broche" jeune agneau rôti & nepita, an herb Thierry has sent by La Poste from Corsica. Branzino loup épais sur la plancha, figues & asperges. Lasagnette fine pâte, ragu di Bologne & épinards. Mix and match starters and mains, as in Culatello di zibello D.O.P charcuterie d'exception then Spaghetti chair de tomates artisanale, basilic.
Caffé Burlot is noisy, vibrant and interesting. The two Thierrys have created a unique addy, with no rules, make your own mind up about the composition of your lunch/dinner.
They've done all the hard work, so you don't have A Hard Day's Night.
Tél: 01 53 75 42 00
9, rue du Colisée, Paris 8th
Métro: Franklin D Roosevelt
Average Spend: €61 for Starter, main, dessert + wine
Shut Sunday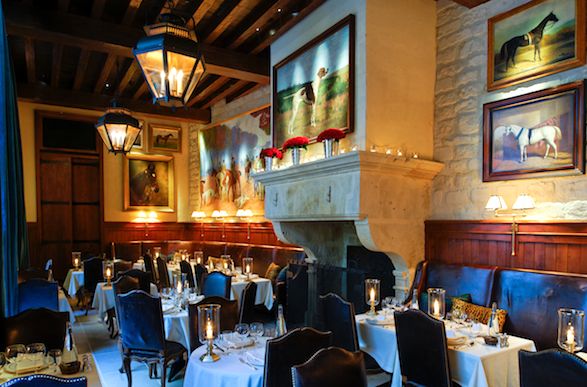 Thanksgiving menu at Le Ralph's, Paris 6th
Ralph Lauren says he doesn't design clothes, he designs dreams.
At his handsome Paris Left Bank flagship there's a Thanksgiving menu with all the bells and whistles. Begin with mulled cider and Champagne. Appetizers are: butternut squash soup or Vermont winter leaf salad. Mouthwatering mains to make you really homesick, but with a French twist to make you really glad you're here: Roasted Heirloom Turkey, Calvados gravy, all the trimmings such as smashed sweet potatoes, maple-roasted root vegetables, buttermilk biscuits with cranberry butter. Finish with Ralph's Homemade Apple Pie, Charleston Pecan Pie, Harvest Pumpkin Pie.
God Bless America and Happy Thanksgiving, dear readers. May all your dreams come true.
Tél: 01 44 77 76 00
163, boulevard Saint Germain, Paris 6th
Métro: Saint-Germain-des-Prés
Only on Thursday, November 24th
2 services: 6:30 and 9:30pm
Cost: 120€ + drinks.
Margaret Kemp is a Cordon Bleu graduate who spent a year traveling the world, working and watching in the kitchens of top chefs from Sydney, Australia via Bangkok, Hong Kong, California, New York and France. She reports for BonjourParis on the latest European trends, restaurants and hot spots. Please click on her name to see her weekly stories dating back to 2003 . . . et merci, Margaret.
Merci

, les abonnés

premium

,

nous vous apprécions

.
Would you like to write a Paris or France travel story published here? Submit an article.

Thank you for using our direct link to Amazon.com every time you shop the world's largest online retailer.
View our Top 100 Bestselling Amazon.com Items. (Wait for Amazon.com widget to load)
Featured selections:
Entertaining in the French Style. Stories and recipes from Paris to Provence to Saignon, a tiny medieval town in the Luberon Mountains. Beautiful photography illustrates the pleasure of a well-laid table, whether an intimate breakfast or a dinner party with friends. Entertaining in the French Style gives readers a glimpse into the everyday lives of French artists, farmers, chefs, and cheesemakers, of regular French couples and families, and the central roles of both food and setting in capturing the nuanced romantic notion of entertaining with French influence.
The French Way: How France Embraced and Rejected American Values and Power. November 2011 release: There are over 1,000 McDonald's on French soil. Two Disney theme parks have opened near Paris in the last two decades. And American-inspired vocabulary such as "le weekend" has been absorbed into the French language. But as former French president Jacques Chirac put it: "The U.S. finds France unbearably pretentious. And we find the U.S. unbearably hegemonic." Are the French fascinated or threatened by America? They Americanize yet are notorious for expressions of anti-Americanism. From McDonald's and Coca-Cola to free markets and foreign policy, this book looks closely at the conflicts and contradictions of France's relationship to American politics and culture. Richard Kuisel shows how the French have used America as both yardstick and foil to measure their own distinct national identity. They ask: how can we be modern like the Americans without becoming like them?
Hemingway's Boat: Everything He Loved in Life, and Lost, 1934-1961. September 2011 release; amazing reviews.
Oscar Wilde in Paris. September 2011 release: In his last years in London, Wilde's behavior can only be described as reckless. It was as if he was asking to be caught, and eventually he was caught. Yet he had begun his travels happily, visiting France for the first time as a student, then spending his honeymoon in Paris. In frequent trips to the French capital he met well-known writers, feeling at ease with them, and preparing a theatrical career with Sarah Bernhardt – then at the height of her fame. Now the pace of Herbert Lottman's book slows, allowing the reader to follow Wilde's disgrace: his indifference to indictment, his careless attitude toward witnesses who turn against him, as if he did not face a mandatory sentence of two years of hard labor. Then self-exile to France, rejection by literary society, inability to write, poverty and deadly disease…
Want more? View our recommended France-themed books & items. Most recent listings at last pages.

Premium members can save 15% on OpenSkies flights
Save 15% on business-class international flights between Paris and New York on OpenSkies, the airline for Smart Flyers. To request your discount code valid for up to 4 in your travel party, please click here for promotion details.