Bon
you will remember is that huge space, designed by Philippe Starck.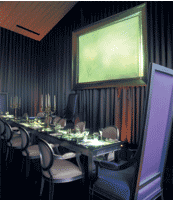 Opened in 2000 it caused a sensation, not really for the cuisine, which was always mediocre, but darling, the design, wow! Donna you'll love it, you'll rub your eyes because you'll think you're dreaming. At the time Starck, who has designed everything from lavatory brushes to swank hotels, via motor-bikes and even a line of groceries, said: "I dreamt of this project for years, but I had to find the right space and the right person to share it with". That person has now sold up and there are new hip owners, also friends of Starck, who have worked with him on the evolution of a great maison.
The space is housed in a 700 square meter art nouveau listed building now divided into a series of astonishing different dining areas. Well travelled Starckophiles will find a nod and a wink to past projects here, will get scoops on future ventures.
The first area is the giant white and silver rotating bar, ideal for a quick breakfast, lunch or afternoon tea. Think les Bon tapas with not only wonderful sushi but also chicken samosas with coriander, salmon and crab makis with fresh herbs, bocals of freshly cooked seasonal vegetables, hot soups, nems with Thai sauce, tartares, salads, organic club sandwiches. You name it.
For more leisurely eating Donna, walk past the boutique, stuffed with great gifts, and the wine cabinets with some excellent vintages on display. The first dining room is decorated with outsize sofas covered in sensuous fake fur rugs: at night the only lighting is candlelight. 
And even at lunchtime there are a couple dining, sensuously, in the intimate alcove, watched over by Lino, the resin rhino, a gift to Starck from some students in New York, nice touch eh Donna?
Starck's signature is everywhere, especially in the high-tech "Last Supper" room, adjoining the main dining area. Here guests sit a huge mirrored cross-shaped steel table, punctuated with candelabra. Don't want to be seen Donna? Opt for the mezzanine "boudoir" where you look out of large windows onto a fragrant herb garden.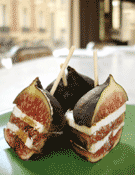 Wherever you sit Donna the menu's the same, created by the talented Bruno Brangen, and very nice too. From 10 starters choose, say, Bonbons of coquilles Saint Jacques with coriander and "ginger-orange". Five fish mains include a regal roast sea-bass with carrots, cumin and harissa maison. On a special diet Donna? Just mention it and Bruno will steam, or leave yours raw. But the rest of the table may go for a nice tranche of veal wrapped in lard with a gateau of
topinambour, or heaven forbid Donna, tartare de boeuf with mangoes and truffles! 
Salads are no problem Donna. You may even crack for a dessert, go on, go for it girl. Tiramisu en state de moka, biscotti à l'amande, or if you really must stick to that ridiculous raw regime, carpaccio d'ananas marine au fruit de la passion, and you can give the warm madeleine to me Donna.
The new owners are keen to continue the Starck philosophy of intelligent eating, they insist fish is, "intellectually beneficial and helps concentration". Also good to note, that Bon seafood is rich in zinc and iodine, and, "may be sexually stimulating". But please Donna wait til you get back to the hotel. OK.  
Bon is really very Bon. Don't hesitate, they even have some Bon vin. I do like to see Krug on a wine list, Bon's is La Grande Cuvée (250€), worth every penny. Or sip a glass of Pol Roger (12€), but it ain't the same as Krug, Donna.
Bon
Restaurantbarboutique,
25 rue de la Pompe, 16th (Metro: La Muette)
Shut Sat Lunch
Valet Parking 6€
Tapas from 3€ Lunch from 25€ Dinner about 50€ + wine
Bon Sunday Brunch 35€
New Years Eve 7-course dinner with coupe de champagne & coffee 100€ + wine
Reserve on 01 40 72 70 00 – ask for Leile Margaria.