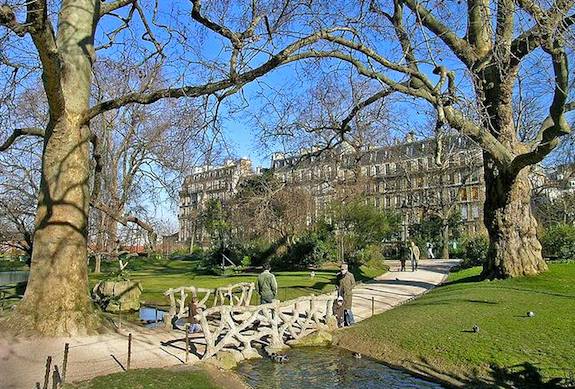 Paris is perfect for lingering long in cafes when not strolling its streets. Thankfully, it is simple to adjust one's Paris plans when weather, finances or human-created diversions intervene. Transit strikes yielded me an unexpected pleasure, providing an in-depth opportunity to explore Batignolles, a quietly alluring quartier in the Paris 17th easily reached on foot from my apartment in Clichy La Garenne, just near the Porte de Clichy.
Lovers of Paris neighborhoods will be captivated by this alluring quartier, which abounds in low-key charms. Batignolles is tucked in a triangle of sorts between boulevards de Batignolles and Clichy (both run west from Place de Clichy) and just east of the sunken railroad tracks heading west out from Gare St. Lazare. The nearest Métro stops are on the neighborhood's periphery (Brochant or Rome), and only one bus line runs along the rue des Batignolles, the quartier's main through-street, making the neighborhood accessible but not excessively urban in feel.
Indeed, Batignolles feels like a village. All the requisite components are here: a lovely leafy park, complete with gardens, streams, ponds replete with ducks and swans, well-used children's play areas and plenty of restful benches. An attractive, welcoming gate provides a sturdy center to the main square. The streets are filled with characterful boutiques, gourmet bistros, convivial wine bars and excellent food shops, along with shops serving quotidian needs. Residents congregate easily on the street to chat; merchants are friendly and unhurried. Visitors beware: you may well be drawn inexorably to the postings in the realtors windows, to check on apartment prices.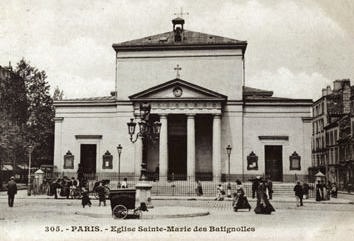 Square de Batignolles centers the surrounding village. Here sits the lovely eglise Ste.-Marie de Batignolles, built in the closing years of the 19th century to serve the spiritual needs of the newly developing quartier. As one walks around the square, other proximate choices for enjoyable exploration include the Parc de Batignolles, a variety of convivial boulangeries and cafés, quirky antique shops and irresistible boutiques specializing in home furnishings or handmade accessories. A more unusual boutique is L'Atelier de Maite, 8, rue Brochant, an artisanal doll maker and restorer.
The neighborhood's gastronomic needs are well served by a permanent covered market located between rues Brochant and Moines, as well as innumerable high-quality small, specialty shops, particularly clustered along rue des Moines. Fromagerie des Moines, 47, rue des Moines, is worth a trip to Batignolles by itself, proffering an outstanding selection of aromatic and well-ripened cheeses, all tended by an outgoing, amiable proprietaire. This fromagerie is known for its Norman cheeses but we noted several unusual chevres from Provence and tempting cheeses from around France. The shop's proprietaire is friendly and knowledgeable about his stock. He takes pains to match his customers with perfectly ripened cheeses that will delight.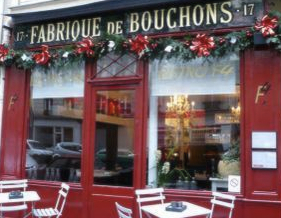 Another draw for "foodies" is the boulangerie located at 17, rue des Batignolles. I lucked into fresh bread still warm from the mid-afternoon baking one day. And on Saturday mornings, the popular Marché Biologique sets up along boulevard des Batignolles, adding to the quartier's attractions and generating an energized feeling much more like that of a true neighborhood market than the larger, see-and-be-seen Sunday Marché Biologique across town on rue Raspail.
Batignolles is compact and easy to explore. Rues Batignolles, Brochant, Legendre and des Moines are the principal shopping and dining streets, all radiating off the square. As this attractive quartier gentrifies with its increasing numbers of young, financially comfortable families the bistros, cafes and winebars keep pace.
Dining options range from sympathique French and Italian bistros to neighborhood cafés and restaurants serving inexpensive lunch menus with choices ranging from andouilettes to couscous. More upscale gourmet bistros such as Le Morosophe, 83, rue Legendre, offers abundant dining choices that are good value for the quality offered. Rue Legendre offers several tempting bistros. Walk from the Square de Batignolles towards Boulevard de Clichy to check the choices on offer. Lovers of wine bars will not be disappointed by the sweet Fabrique des Bouchons, 17, rue Brochant. Or, for a repast en plein air, the park offers a lovely green oasis for enjoying a picnic assembled from Batignolles' tempting food shops.
Batignolles rewards repeated visits. It is a quartier that captivates with its authentic feel, and its gastronomic and mercantile charms—lovely and accessible like the best of French villages—not yet overly trendy or too haute for comfort.
PRACTICAL INFORMATION:
PHOTO CREDITS: Parc des Batignolles. ©Meteorry; antique postcard of Ste-Marie des Batignolles Church, public domain.
Sally Peabody is a Paris specialist who leads Your Great Days in Paris, small group cultural and culinary tours in France, the Pays Basque, Istanbul and Turkey. Please click on her name to read about her next "France Through Eyes of Faith" tour in March, 2012 and to read her past reviews published in BonjourParis.
Subscribe for free and never miss a story. Search our library with 7,200+ stories and 50 original stories published monthly. BonjourParis has been a leading online France travel and French lifestyle site since 1995.

Thank you for using our direct link to Amazon.com, everytime you shop the world's largest online retailer.
View our Top 100 Bestselling Amazon.com Items. (Wait for Amazon.com widget to load)
Featured selections (click image above for more info or to order):
Walks Through Lost Paris: A Journey Into the Heart of Historic Paris. When he discovered that the city he lived in for many years was actually entirely rebuilt during the mid-1800s, author Leonard Pitt plunged into Paris's history and began photographing what he learned had changed. Eventually, he led tours and gave lectures on the demolition and reconstruction that changed the city forever. Walks Through Lost Paris chronicles Paris's great periods of urban reconstruction through four walking tours.
Walks Through Napoleon & Josephine's Paris. Napoleon and Josephine's passionate romance played itself out on the stage of the most beautiful city in the world. Walks through Paris trace the couple's courtship, Napoleon's student days at the École Militaire, the coronation and reign, and  the path that Napoleon's funeral cortège took nearly twenty years after his death. Itineraries for Malmaison and Fontainebleau are also included. This pocketable guide evokes a panoramic sweep of French history and describes the public grandeur as well as the daily intimacy of Napoleon and Josephine's lives.
Five Hundred Buildings of Paris. The greatest buildings, monuments, and structures of Paris come to life in these inspiring, neighborhood-by-neighborhood photographic tours. Each building is featured in a rich, fine-resolution duotone photograph. Information including the building's name, its address and location, and year of completion or renovation is included.
Want more? View our recommended France-themed books & items. Most recent listings at last pages.

Direct airport transfer service
PARIS SHUTTLE is a leading Paris airport transfer service. Book your airport transfers in advance online for direct to-your-door service and check the current discount available to BonjourParis readers who book using our link.