Basking in the Bounties of the Pays Basque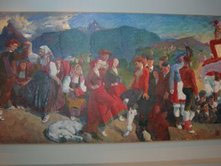 Paris is unfailingly seductively absorbing. But as Francophiles know, another great advantage of Paris is its proximity via air, train or car to wonderfully diverse places all over France. Consider the Pays Basque. Bayonne and Biarritz are about as far south and west as one can go in France. But talk about a trip within l'hexagon that is vaut le voyage! This beguiling region offers all those things so easy to love about France in an almost embarrassing abundance. There are stunning natural landscapes, sandy beaches and dramatic seascapes, moody mountainsides cradling charming rural villages and vineyards, deliciously distinctive regional cuisine, wines of definitive terroir, compelling history, and people with genuine passion and pride in their culture. Indeed, the allure of the Pays Basque is even deeper, offering visitors ample pursuits ranging from the energetically sportif (golf, hiking, surfing, sailing, swimming, rugby) to the contemplative. The fortunate denizens of this felicitous region are in the main genuinely welcoming and refreshingly unpretentious with zesty joie de vivre. A sunny late-March Saturday in Bayonne brought this undeniable Basque-uniqueness home to me as I rambled happily around the charming historic center of this riverside city filled with centuries-old buildings, many half-timbered and painted in white, greens and reds, all traditional Basque colors. Earlier in the morning I had been intrigued by the collections in the notable Musée Basque, portraying the art, rural lifestyles and distinctive culture of this remarkable people whose contemporary Basque-land lies in both France and in Spain. I had considered visiting the fine-art collections of the Musée Bonnat but lunch-time was near and the lively town center alongside the Ardour and Nive rivers proved irresistible. The central covered market was bustling, market stalls overflowed into the surrounding streets, the regional foods were tempting and every available café and bistro was utterly packed. Conversations hummed along with that easy European café-conviviality. Celebration was in the air. Bayonne was playing Biarritz in a rugby match that afternoon. Following a delectable lunch of utterly fresh grilled swordfish and crisp white Irrouleguy wine, I set out to explore Bayonne's splendid medieval cathedral that has served centuries of the faithful on and along the ancient Santiago de Compostela pilgrimage routes. While walking in the cloister, I heard a loud but lovely chorus of song well up from what sounded like one very big choir. Not placing the music, dignified, almost sacral, but definitely not coming from the cathedral, I was intrigued. Seeing my interest, a young woman told me the singing was from the packed rugby stadium nearby. Everyone is there who can be there she said. But the music? From a sporting event? Well, it starts softly…. and then shortly thereafter morphs into energized, more typical sounding sport-event song to spur the beloved home-team to victory. Bayonne lost its match that particular day. There are a few decisions to make when thinking about a sojourn in France's far southwest. How much time does one have and is including a stay in the Spanish Pays Basque essential? Consider an introductory visit of three to four days to the high points of this beguiling French region. That will surely whet one's appetite for sustained and repeat visits. Base yourself in seaside Biarritz in one of the many comfortable small hotels, such as the Edouard VII or even in the splendid seaside Hotel du Palais (built by Napoleon the Third for his beloved Eugenie). Or, choose river-side Bayonne. Bayonne is charming, an easily explored, historic city sporting an animated market, a gorgeous cathedral, a rugby team, great little bistros, good shopping for Basque linens, espadrilles and berets, and with famed purveyors of jambon de Bayonne and good chocolate. An interesting historical footnote is that Bayonne was the city where chocolate was first made for the French populace by Jewish chocolatiers who settled there after fleeing persecution in Spain and Portugal. Since no trip to France can really be separated from the culinary delights of a given region, rest assured there is much else that is good to eat and drink in the French Pays Basque. In addition to charcuterie and chocolate, culinary treasures of this region with its enviably diverse natural larder includes delicious cheese, notably Ossau Iraty, made in the verdant mountain valleys from ewes or cows milk. To drink: hearty and tasty red, rosé and white Irrouleguy wines grown high in the hills and making a perfect match for the flavorful, subtly spicy local cuisine. Lovers of peppers will know to search for the jars of powdered red Espelette pepper whose subtle heat and warm spicy taste are elemental to Basque cuisine. Espelette peppers are so treasured they have their own AOC status assuring their quality. They can only be grown in a particular area around the village of Espelette and must meet exacting quality standards. When fresh and green, those self-same peppers are stuffed with seafood mousse, cod puree, scrambled into piperade and all manner of good things. In late spring and early summer the hillier villages in the region produce enviably delicious cherries. Buy a jar or three of the deep dark-cherry jam that is the classic accompaniment to local fromage. The queen of local patisserie is the butter-rich Gateau Basque, available plain, with custard filling, or black-cherry filling. The rivers and the sea yield abundant and delicious…
SUBSCRIBE
ALREADY SUBSCRIBED?
BECOME A BONJOUR PARIS MEMBER

Gain full access to our collection of over 5,000 articles and bring the City of Light into your life. Just $60 a year.

Find out why you should become a member here.

Sign in

Fill in your credentials below.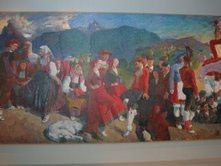 Paris is unfailingly seductively absorbing. But as Francophiles know, another great advantage of Paris is its proximity via air, train or car to wonderfully diverse places all over France. Consider the Pays Basque. Bayonne and Biarritz are about as far south and west as one can go in France. But talk about a trip within l'hexagon that is vaut le voyage!
This beguiling region offers all those things so easy to love about France in an almost embarrassing abundance. There are stunning natural landscapes, sandy beaches and dramatic seascapes, moody mountainsides cradling charming rural villages and vineyards, deliciously distinctive regional cuisine, wines of definitive terroir, compelling history, and people with genuine passion and pride in their culture. Indeed, the allure of the Pays Basque is even deeper, offering visitors ample pursuits ranging from the energetically sportif (golf, hiking, surfing, sailing, swimming, rugby) to the contemplative. The fortunate denizens of this felicitous region are in the main genuinely welcoming and refreshingly unpretentious with zesty joie de vivre.
A sunny late-March Saturday in Bayonne brought this undeniable Basque-uniqueness home to me as I rambled happily around the charming historic center of this riverside city filled with centuries-old buildings, many half-timbered and painted in white, greens and reds, all traditional Basque colors. Earlier in the morning I had been intrigued by the collections in the notable Musée Basque, portraying the art, rural lifestyles and distinctive culture of this remarkable people whose contemporary Basque-land lies in both France and in Spain. I had considered visiting the fine-art collections of the Musée Bonnat but lunch-time was near and the lively town center alongside the Ardour and Nive rivers proved irresistible. The central covered market was bustling, market stalls overflowed into the surrounding streets, the regional foods were tempting and every available café and bistro was utterly packed. Conversations hummed along with that easy European café-conviviality. Celebration was in the air. Bayonne was playing Biarritz in a rugby match that afternoon.
Following a delectable lunch of utterly fresh grilled swordfish and crisp white Irrouleguy wine, I set out to explore Bayonne's splendid medieval cathedral that has served centuries of the faithful on and along the ancient Santiago de Compostela pilgrimage routes. While walking in the cloister, I heard a loud but lovely chorus of song well up from what sounded like one very big choir. Not placing the music, dignified, almost sacral, but definitely not coming from the cathedral, I was intrigued. Seeing my interest, a young woman told me the singing was from the packed rugby stadium nearby. Everyone is there who can be there she said. But the music? From a sporting event? Well, it starts softly…. and then shortly thereafter morphs into energized, more typical sounding sport-event song to spur the beloved home-team to victory. Bayonne lost its match that particular day.
There are a few decisions to make when thinking about a sojourn in France's far southwest. How much time does one have and is including a stay in the Spanish Pays Basque essential? Consider an introductory visit of three to four days to the high points of this beguiling French region. That will surely whet one's appetite for sustained and repeat visits.
Base yourself in seaside Biarritz in one of the many comfortable small hotels, such as the Edouard VII or even in the splendid seaside Hotel du Palais (built by Napoleon the Third for his beloved Eugenie). Or, choose river-side Bayonne. Bayonne is charming, an easily explored, historic city sporting an animated market, a gorgeous cathedral, a rugby team, great little bistros, good shopping for Basque linens, espadrilles and berets, and with famed purveyors of jambon de Bayonne and good chocolate. An interesting historical footnote is that Bayonne was the city where chocolate was first made for the French populace by Jewish chocolatiers who settled there after fleeing persecution in Spain and Portugal.
Since no trip to France can really be separated from the culinary delights of a given region, rest assured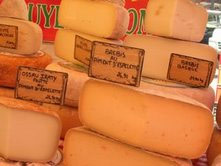 there is much else that is good to eat and drink in the French Pays Basque. In addition to charcuterie and chocolate, culinary treasures of this region with its enviably diverse natural larder includes delicious cheese, notably Ossau Iraty, made in the verdant mountain valleys from ewes or cows milk. To drink: hearty and tasty red, rosé and white Irrouleguy wines grown high in the hills and making a perfect match for the flavorful, subtly spicy local cuisine.
Lovers of peppers will know to search for the jars of powdered red Espelette pepper whose subtle heat and warm spicy taste are elemental to Basque cuisine. Espelette peppers are so treasured they have their own AOC status assuring their quality. They can only be grown in a particular area around the village of Espelette and must meet exacting quality standards. When fresh and green, those self-same peppers are stuffed with seafood mousse, cod puree, scrambled into piperade and all manner of good things.
In late spring and early summer the hillier villages in the region produce enviably delicious cherries. Buy a jar or three of the deep dark-cherry jam that is the classic accompaniment to local fromage. The queen of local patisserie is the butter-rich Gateau Basque, available plain, with custard filling, or black-cherry filling. The rivers and the sea yield abundant and delicious fresh fish and shellfish. And this being the French southwest, rich duck confits, rillettes and patés are abundantly available. You get the message. This is a terrific region for those who love to dine well on fresh foods of superb quality. It is also a region with some notable chefs and dining for those whose budgets can or cannot ramp up a notch or two.
Once in Biarritz or Bayonne, each well worth a couple of days in their own right, add on day trips down the coast or into the countryside. One excellent day trip takes one inland to St. Jean Pied de Port (in the mountains at the base of a pass where pilgrims on the walk to Santiago de Compostela have passed for centuries and where they journey in good numbers today). St. Jean Pied du Port has a good market, many shops, ancient churches and an attractive riverside location. One can also visit the attractive little mountain village of Espelette, home of those famous peppers and also visit a chocolate maker there who incorporates the peppers in his chocolates. Further inland, numerous charming small villages beckon where wine grapes are grown or farmers produce all manner of crops. Often in these villages Romanesque chapels and churches stand side by side with the village Pelota fronton, the love of things-spiritual and of sport keeping close company.
Head a half-hour south towards Spain following the beautiful coast, and visit St. Jean de Luz. This sweet, small, resorty fishing town is home to a terrific market, nice food shops, loads of good restaurants and shopping options, and a good beach. In the historic center near the market is a church where Louis the IX was married to Marie Therese of Spain. Still going strong, services spoken in Basque (with lovely antiphonal singing) are packed on Sunday mornings. Note the scale-model of the wooden sailing ship suspended from the rafters. All Basque churches have a ship modeled after a whaling ship that is suspended from the ceiling and tucked somewhere within the sanctuary in homage to the historic role that fishing and seafaring have played in Basque culture.
There are numerous accommodation options ranging from luxury hotels to family run, small hotels, to gites for rent by the week. Bayonne is easily reached by air from Paris Orly to Bayonne/Biarritz airport in a little over an hour, or, by fast train from Paris to Bordeaux, then onwards with a transfer at Dax to Bayonne. From Bayonne, it is easy to continue by train to Hendaye and the Spanish border, passing through the heart of seaside St. Jean de Luz. Trains continue into Spain and on to San Sebastian. Vaut le voyage? Absolutely.
Sally Peabody is a Paris Specialist who advises travelers on great trips to Paris and who leads small-group culinary tours in spring and fall. Her recent trip to the Pays Basque will yield a new culinary tour in 2009 that will visit both the French and Spanish Pays Basque. Questions? visit http://www.yourgreatdaysinparis.com or email Sally at [email protected]
---
---