Helene Darroze Takes London Buzz
If you sat near Hélène Darroze on Eurostar and wondered, as you do, what the cutie with the "blondie" looks does for a living, you'd probably guess, fashion as the day job, member of an indie rock band by night. Wrong! You'd be looking at one of the world's top woman chefs. Hélène Darroze has 2-Michelin stars, two Paris restaurants, and, age 41, just signed a ten-year contract to become Executive Chef at the Connaught, London. "Expansion was not really my idea, but when I was invited to the Connaught, it was a coup de foudre, I adore the history, how they're revising and correcting, but not spoiling traditions, exactly my culinary philosophy. The Connaught, part of the Maybourne Hotel Group, just completed a £70 million restoration, Darroze has added her in-put to the maze of kitchens and wine-cellars below-stairs, insisting on an in-house bakery/patisserie. Her rue d'Assas, Paris, kitchen with its' rows of outsize copper pans and huge ovens, inspired Ratatouille, the animated movie about Remy the rat who wants to be a star chef. "Helene offers the perfect match for the Connaught, where French Gourmet heritage has been a significant part of the hotels exceptional legacy, remember chef Michel Bourdain was here for years, still comes back to see us", says General Manager Anthony Lee. "I've worked closely with Paris-based architect India Mahdavi, re-designing the restaurant so it has a more feminine feel", explains Darroze. They bonded immediately. "We are two women in different creative fields, but with the same lust for perfection: it's all about taste, Helene has it built in", says Mahdavi. Darroze who believes men cook with their minds women with their emotions, came to London to absorb the energy. "Paris lacks excitement at the moment", she comments. "I just moved into an apartment near the Connaught and have been discovering Tom Aiken's fish and chips, Scotts line-caught grilled Dover sole, and the edgy Daylesford Organic Cafe, Pimlico, where I sit outside and people watch". Petrus, Hakkasan, Zuma and The Wolseley, also feature in the Blackberry, as do Brown's and Top-Shop. In her London team, talented master-patissier Kirk Whittle and 10 chefs from Paris. Also her controversial tome, "Personne ne me volera ce que j'ai dansé", (No one can steal my dances) "it's my autobiographical cook-book, written as a novel, you must read it to understand me", she insists. "Darroze has so much talent she looms over the Paris culinary stage alongside those she formerly admired", says Le Point journalist Gilles Pudlowski who made her "Chef of the Year 2007" in his highly rated Pudlowski Paris/France Guides. "I was never going to be a chef, my brother Marc was expected to take up the pots and pans", recalls Darroze. "But he didn't have the passion, his love is Armagnac, he's a specialist, carrying on another of our family traditions. Darroze's great grandfather was a patissier, her great-grandmother a cook and her parents' successful restaurant owners in South-West France. No formal cookery training for Darroze, but Business School from which she graduated, age 25, with flying colours. So where did it all begin Helene? "I wanted to work for Alain Ducasse at The Louis XV, Monaco, (Ducasse comes from the Landes region, like Darroze) but there was a six month wait for an office job, in the meantime, I worked every station in the kitchens, peeling vegetables, filleting fish, putting butter in pots!". At the time the Louis XV was Ducasse's only restaurant, he persuaded Darroze to concentrate on a career in the kitchen, not the office. "I thought, why not? Monsieur Ducasse taught me everything, I worked on cook-books with him, learned how to direct a restaurant, staff, to buy only the best from local producers. I stayed for three years, and never experienced any sexism in the kitchen, maybe because I'm blonde and pretty!" After Monaco, Darroze returned to Villeneuve-de-Marsan and the family inn (opened in 1895 by great-grandfather). "I found it impossible to adapt to the country", she admits. So Darroze headed for Paris, took bank loans and launched her eponymous left-bank restaurant quickly winning one, then two Michelin stars, for cooking she describes as, "south-western French with a modern spin". Guests at the Connaught tuck in to: Le caviar d'Aquitaine in a black jelly, Gillardeau oyster tartare. Organic Landes chicken from Monsieur Duplantier, Irish Salmon with green Puy lentils and, Aberdeen Angus Beef from Allens of Mayfair "I realise the English may be offended by foie-gras, so, there's one dish, "au torchon" with mild spices and muscat grape chutney it is, after all, the signature of my region!" Darroze's inspiration for new dishes often comes while listening to music. "I love the Bach cello suites, Santana, the 80's, but not when I'm cooking, then I listen to the sounds of the stove". "There's a delicate touch to Helene's cooking, I know she'll succeed in London where the generosity of her cuisine will be recognised", says Alain Ducasse. "It's her pure creativity that's devastating", counters French super-chef Alain Passard. Darroze says she never makes plans, "if I like something, I go for it", she says. Hesitant to…
SUBSCRIBE
ALREADY SUBSCRIBED?
BECOME A BONJOUR PARIS MEMBER

Gain full access to our collection of over 5,000 articles and bring the City of Light into your life. Just $60 a year.

Find out why you should become a member here.

Sign in

Fill in your credentials below.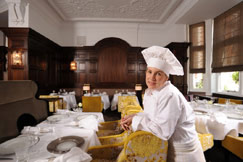 If you sat near Hélène Darroze on Eurostar and wondered, as you do, what the cutie with the "blondie" looks does for a living, you'd probably guess, fashion as the day job, member of an indie rock band by night. Wrong! You'd be looking at one of the world's top woman chefs. Hélène Darroze has 2-Michelin stars, two Paris restaurants, and, age 41, just signed a ten-year contract to become Executive Chef at the Connaught, London.
"Expansion was not really my idea, but when I was invited to the Connaught, it was a coup de foudre, I adore the history, how they're revising and correcting, but not spoiling traditions, exactly my culinary philosophy.
The Connaught, part of the Maybourne Hotel Group, just completed a £70 million restoration, Darroze has added her in-put to the maze of kitchens and wine-cellars below-stairs, insisting on an in-house bakery/patisserie. Her rue d'Assas, Paris, kitchen with its' rows of outsize copper pans and huge ovens, inspired Ratatouille, the animated movie about Remy the rat who wants to be a star chef. "Helene offers the perfect match for the Connaught, where French Gourmet heritage has been a significant part of the hotels exceptional legacy, remember chef Michel Bourdain was here for years, still comes back to see us", says General Manager Anthony Lee.
"I've worked closely with Paris-based architect India Mahdavi, re-designing the restaurant so it has a more feminine feel", explains Darroze. They bonded immediately. "We are two women in different creative fields, but with the same lust for perfection: it's all about taste, Helene has it built in", says Mahdavi.
Darroze who believes men cook with their minds women with their emotions, came to London to absorb the energy. "Paris lacks excitement at the moment", she comments. "I just moved into an apartment near the Connaught and have been discovering Tom Aiken's fish and chips, Scotts line-caught grilled Dover sole, and the edgy Daylesford Organic Cafe, Pimlico, where I sit outside and people watch". Petrus, Hakkasan, Zuma and The Wolseley, also feature in the Blackberry, as do Brown's and Top-Shop.
In her London team, talented master-patissier Kirk Whittle and 10 chefs from Paris. Also her controversial tome, "Personne ne me volera ce que j'ai dansé", (No one can steal my dances) "it's my autobiographical cook-book, written as a novel, you must read it to understand me", she insists.
"Darroze has so much talent she looms over the Paris culinary stage alongside those she formerly admired", says Le Point journalist Gilles Pudlowski who made her "Chef of the Year 2007" in his highly rated Pudlowski Paris/France Guides.
"I was never going to be a chef, my brother Marc was expected to take up the pots and pans", recalls Darroze. "But he didn't have the passion, his love is Armagnac, he's a specialist, carrying on another of our family traditions.
Darroze's great grandfather was a patissier, her great-grandmother a cook and her parents' successful restaurant owners in South-West France. No formal cookery training for Darroze, but Business School from which she graduated, age 25, with flying colours.
So where did it all begin Helene?
"I wanted to work for Alain Ducasse at The Louis XV, Monaco, (Ducasse comes from the Landes region, like Darroze) but there was a six month wait for an office job, in the meantime, I worked every station in the kitchens, peeling vegetables, filleting fish, putting butter in pots!". At the time the Louis XV was Ducasse's only restaurant, he persuaded Darroze to concentrate on a career in the kitchen, not the office.
"I thought, why not? Monsieur Ducasse taught me everything, I worked on cook-books with him, learned how to direct a restaurant, staff, to buy only the best from local producers. I stayed for three years, and never experienced any sexism in the kitchen, maybe because I'm blonde and pretty!"
After Monaco, Darroze returned to Villeneuve-de-Marsan and the family inn (opened in 1895 by great-grandfather). "I found it impossible to adapt to the country", she admits. So Darroze headed for Paris, took bank loans and launched her eponymous left-bank restaurant quickly winning one, then two Michelin stars, for cooking she describes as, "south-western French with a modern spin".
Guests at the Connaught tuck in to: Le caviar d'Aquitaine in a black jelly, Gillardeau oyster tartare. Organic Landes chicken from Monsieur Duplantier, Irish Salmon with green Puy lentils and, Aberdeen Angus Beef from Allens of Mayfair "I realise the English may be offended by foie-gras, so, there's one dish, "au torchon" with mild spices and muscat grape chutney it is, after all, the signature of my region!"
Darroze's inspiration for new dishes often comes while listening to music. "I love the Bach cello suites, Santana, the 80's, but not when I'm cooking, then I listen to the sounds of the stove".
"There's a delicate touch to Helene's cooking, I know she'll succeed in London where the generosity of her cuisine will be recognised", says Alain Ducasse. "It's her pure creativity that's devastating", counters French super-chef Alain Passard.
Darroze says she never makes plans, "if I like something, I go for it", she says. Hesitant to discuss a "significant other", last year Helene adopted baby Charlotte in Viet-Nam and became a single mum. "Charlotte's the light of my life, when they put her in my arms I melted like butter", she sighs.
At present, Hélène, Charlotte, and Darroze's parents Eurostar between Paris and Mayfair. "I manage my career and family life really well, it's a question of strict organisation and trusting people", she says.
Bring it on Dazza, London loves you already, even though Gordon's protégée, Angela Hartnett, was

formerly chef at the Connaught, the Brits won't give you a hard time like the French gave Ramsay at Versailles. Maybe because you're a better chef dear!
Helene Darroze at the Connaught,
Carlos Place, W1K 3AL
T: 207 499 7070
How much ?
Lunch (changes daily) £39.
Seven course tasting menu – £75
A La Carte Lunch & Dinner £75 all + wine
Open for lunch and dinner Mon-Fri
Restaurant Helene Darroze,
4 rue d'Assas, 75006. Paris
T: +33 1 42 22 00 11
And her "new age" bistro:
Toustem (designed by Matali Crasset)
12 rue de l'Hotel Colbert, 75005 Paris,
T: +33 1 42 22 00 11
Toustem means always in Landes patois.
---
---