Avocado Mousse Recipe: Mousse a l'Avocat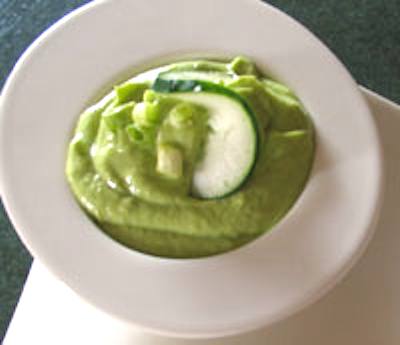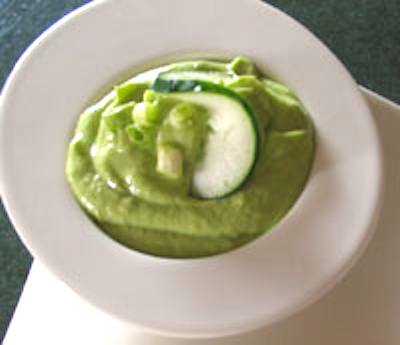 Avocado Mousse
I normally don't associate avocados with French cooking, but when I was in France, I saw avocados used in salads, soups and as amuse-gueules.
This easy avocado recipe for avocado mousse makes an easy refreshing first course or light lunch.
Mousse à l'Avocat recipe
Serves 1
INGREDIENTS:
1 scallion, cleaned and sliced (reserve some for garnishing)
1 avocado
1/2 cucumber, peeled with seeds removed
2 Tablespoons plain yogurt
1/2 lemon, juiced
fleur de sel, freshly ground pepper
PREPARATION:
1. Cut the avocado in half. Remove the seed. Scoop out the flesh and place in the blender.
2. Add the chopped scallion. Cut up the cucumber and add to the blender.
3. Add the yogurt and squeeze in the lemon juice. Blend.
TO SERVE:
Season the mousse with salt and pepper.
Place in a small bowl, sprinkle with the reserved onion and top with a cucumber slice.
Et voilà!
Debra Fioritto contributes delicious French recipes to Wednesday issues of BonjourParis. Click on her name to read more about her Tour de Forks culinary tours or to collect the many recipes she has shared here.

Subscribe for
FREE

weekly newsletters with subscriber-only content.
BonjourParis has been a leading France travel and French lifestyle site since 1995.
Readers' Favorites: Top 100 Books, imports & more at our Amazon store
We daily update our selections, including the newest available with a pre-release of 30% discount. Find them by starting here at the back of each section, then work backwards page by page.
Click on this banner to link to Amazon.com & your purchases support our site….merci!
Leave a reply
Your email address will not be published. Required fields are marked *