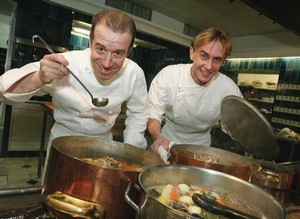 No, Alain Ducasse was not there at the start in 1890! Aux Lyonnais was created by the Fouet family and was originally a coal and wood depot also selling wine in Lyon. The Fouets knew how to multi-task, just like Alain Ducasse n'est-ce pas? They successfully plied their wines in barrels on the street outside their bouchon. Fast forward to 1918 when Daniel Violet took over and transformed the coal-hole into a successful bistro serving Lyonnais specialities. Small wonder that AD was enchanted with the space and its history when he took over in 2002 in tandem with his friend the late Thierry de la Brosse of L'Ami Louis. Small wonder because the 16-year-old Ducasse began his apprenticeship in Lyon, chez his "Spiritual Father", Alain Chapel.  And how beautiful that Romain Chapel and Philippe Jousse are cooking at Aux Lyonnais this week.
Aux Lyonnais
32, rue Saint Marc, Paris 2nd
Metro: Bourse/Richelieu Drouet
T: 01 42 97 42 95
Shut Sunday-Monday
Menus des Chefs Lyonnais – 38€ + wine
If you're coming to France (or for that matter anywhere) you can reserve your hotel here. To rent a car, Bonjour Paris recommends Auto Europe.