Auberge du 15, New Chef at Etangs de Corot & Cabinet de Curiosite Culinaire Buzz
L'Auberge du XV After a delicious lunch at the latest "must visit" bistro headed by Nicolas Castelet and his brother Florent, the talented and passionate patissier, the guys give BUZZ their mission statement, discuss their concept. This is a very odd area, almost opposite the prison, in hospital central. Why will people come here? Well, as prisons go, it's the 3-Michelin star one, they queue up to get in, not out! This is a peaceful area, parking's easy, and no, we haven't had any orders to send meals to the prison, yet! We're the catalysts who'll bring other hot chefs to this location. Just down the road our friend has set up Boulangerie Berthollet, where our bread comes from. Watch this area, it's up and coming. What makes Auberge du 15 different from the others? The neo-retro feeling, given by the décor and the service en salle by Maxime Duteil and Laetitia. People feel as if they're in the countryside, not in the middle of Paris; they like that. The accent's not on starters, but on mains to share. Each course comes to the table in, say, a china tureen if it's soup, and is left there. We use copper pots for the mains. And for dessert, Florent prepares whole tarts, flans, mousse, served on multi-story cake stands, just as we remember our grandmother serving. Florent's soufflés are already the talk of the town. What's your take on sustainable fishing? Here, look at the menu. There's only ever two fish dishes, that's our way of not abusing and overusing fish. All products and wines are French. Organic meat and free-range game, poultry and beef are easier to get hold of than fish. Also I'm a Taurus star sign and love working with meat! I know all my suppliers, we're from the Aubrac region, that's where our friend and neighbor 
Michel Bras
is. The vegetables come from our 2-hectare potager, in Brittany, same concept as Alain Passard. Next year we're buying a horse to plough the fields. I was so inspired by Monsieur Passard when I worked at Arpège. But attention! Just because a label says "bio" doesn't make it good! Where else did you work? With Christian Le Squer at Ledoyen, Jean-Franҫois Piège at Le Crillon and chez Joel Robuchon. Of course, everyone wants the gossip on my time at Ralph's. I was there for the launch and I can tell you it was pretty chaotic. Ralph Lauren has very definite ways of doing things and so do I! Let's just say I decided to quit due to differences of opinion. I do like the Black Angus beef that comes from his ranch, but I don't like the way he wanted it prepared! How often will you change the menu? Every day, if necessary, depending on what ingredients my friends send from the Aubrac. If you could be a dish? Hmm, wow! Actually I'd be l'aligot. Legend says that it was invented by three clergymen eating together in the Auvergne. It's a potato dish, and I use the Rattes variety to make mine. It's really mashed potato to which very fresh Cantal cheese is added. You have to beat the hell out of it to make it really smooth, it gets an elastic texture and when you serve it you need a pair of silver scissors to cut it! That's what I'd be. I served it today with the canette, the priests ate it as a main dish, but it goes with everything. It's the most convivial dish I know. And Florent, which dish are you? I'm a tall elegant Charlotte, which has actually become the signature dessert of the Auberge. I make it with fresh fruit, today it's raspberry, tomorrow who knows! Photo credits: ©Photos ADELAP
L'Auberge du XV
Tél: 01 47 07 07 45 15, rue de la Santé, Paris 13th Métro: Port Royal/Saint-Jacques Closed Sun-Mon Lunch Formula- 3 courses 26€ Dinner 50-70€ + wine
Facebook: Auberge du 15
Les Paillotes at Les Etangs de Corot Les Paillotes, sitting on stilts high above the river that runs through Les Etangs de Corot, is a pure Manet moment. Jean-Baptiste Camille Corot once lived nearby and images of his beautiful landscapes punctuate the walls of Les Etangs. The airy summer restaurant, reached via fragrant gardens at Les Etangs, is open from May until mid-September. This is the first season for chef Ivan Duchene, a Bordeaux-born disciple of Ducasse who honed his craft worldwide from the legendary
L'Hôtel du Cap–
Eden-Roc
, under chef Arnaud Poete, via London, Brisbane and Indonesia. He's convinced, from his time at The Dorchester and The Goring, that English cuisine is highly underrated, and is full of admiration for Brit products. Now, Duchene (only 32) has decided "East, west, home's best." So, he's unpacked his suitcases and is planning exciting new menus for Les Etangs de Corot. A little spice here and there, but when he worked abroad his clients only wanted "traditional French dishes." He does not regret a…
SUBSCRIBE
ALREADY SUBSCRIBED?
BECOME A BONJOUR PARIS MEMBER

Gain full access to our collection of over 5,000 articles and bring the City of Light into your life. Just 60 USD per year.

Find out why you should become a member here.

Sign in

Fill in your credentials below.
L'Auberge du XV
After a delicious lunch at the latest "must visit" bistro headed by Nicolas Castelet and his brother Florent, the talented and passionate patissier, the guys give BUZZ their mission statement, discuss their concept.
This is a very odd area, almost opposite the prison, in hospital central. Why will people come here?
Well, as prisons go, it's the 3-Michelin star one, they queue up to get in, not out!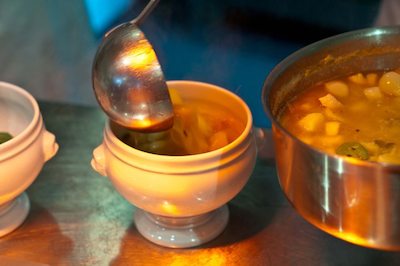 This is a peaceful area, parking's easy, and no, we haven't had any orders to send meals to the prison, yet! We're the catalysts who'll bring other hot chefs to this location. Just down the road our friend has set up Boulangerie Berthollet, where our bread comes from. Watch this area, it's up and coming.
What makes Auberge du 15 different from the others?
The neo-retro feeling, given by the décor and the service en salle by Maxime Duteil and Laetitia. People feel as if they're in the countryside, not in the middle of Paris; they like that. The accent's not on starters, but on mains to share. Each course comes to the table in, say, a china tureen if it's soup, and is left there. We use copper pots for the mains. And for dessert, Florent prepares whole tarts, flans, mousse, served on multi-story cake stands, just as we remember our grandmother serving. Florent's soufflés are already the talk of the town.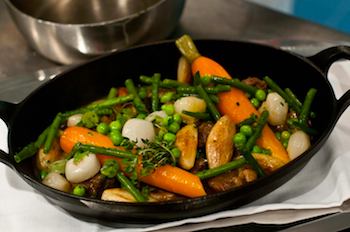 What's your take on sustainable fishing?
Here, look at the menu. There's only ever two fish dishes, that's our way of not abusing and overusing fish. All products and wines are French. Organic meat and free-range game, poultry and beef are easier to get hold of than fish. Also I'm a Taurus star sign and love working with meat! I know all my suppliers, we're from the Aubrac region, that's where our friend and neighbor Michel Bras is. The vegetables come from our 2-hectare potager, in Brittany, same concept as Alain Passard. Next year we're buying a horse to plough the fields. I was so inspired by Monsieur Passard when I worked at Arpège. But attention! Just because a label says "bio" doesn't make it good!
Where else did you work?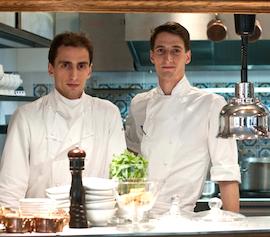 With Christian Le Squer at Ledoyen, Jean-Franҫois Piège at Le Crillon and chez Joel Robuchon. Of course, everyone wants the gossip on my time at Ralph's. I was there for the launch and I can tell you it was pretty chaotic. Ralph Lauren has very definite ways of doing things and so do I! Let's just say I decided to quit due to differences of opinion. I do like the Black Angus beef that comes from his ranch, but I don't like the way he wanted it prepared!
How often will you change the menu?
Every day, if necessary, depending on what ingredients my friends send from the Aubrac.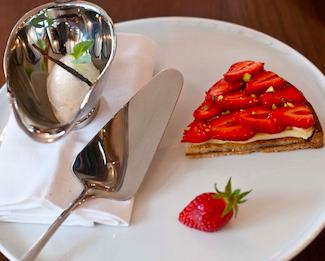 If you could be a dish?
Hmm, wow! Actually I'd be l'aligot. Legend says that it was invented by three clergymen eating together in the Auvergne. It's a potato dish, and I use the Rattes variety to make mine. It's really mashed potato to which very fresh Cantal cheese is added. You have to beat the hell out of it to make it really smooth, it gets an elastic texture and when you serve it you need a pair of silver scissors to cut it! That's what I'd be. I served it today with the canette, the priests ate it as a main dish, but it goes with everything. It's the most convivial dish I know.
And Florent, which dish are you?
I'm a tall elegant Charlotte, which has actually become the signature dessert of the Auberge. I make it with fresh fruit, today it's raspberry, tomorrow who knows!
Photo credits: ©Photos ADELAP
L'Auberge du XV
Tél: 01 47 07 07 45
15, rue de la Santé, Paris 13th
Métro: Port Royal/Saint-Jacques
Closed Sun-Mon
Lunch Formula- 3 courses 26€
Dinner 50-70€ + wine
Facebook: Auberge du 15
Les Paillotes at Les Etangs de Corot
Les Paillotes, sitting on stilts high above the river that runs through Les Etangs de Corot, is a pure Manet moment. Jean-Baptiste Camille Corot once lived nearby and images of his beautiful landscapes punctuate the walls of Les Etangs.
The airy summer restaurant, reached via fragrant gardens at Les Etangs, is open from May until mid-September. This is the first season for chef Ivan Duchene, a Bordeaux-born disciple of Ducasse who honed his craft worldwide from the legendary L'Hôtel du Cap–Eden-Roc, under chef Arnaud Poete, via London, Brisbane and Indonesia. He's convinced, from his time at The Dorchester and The Goring, that English cuisine is highly underrated, and is full of admiration for Brit products.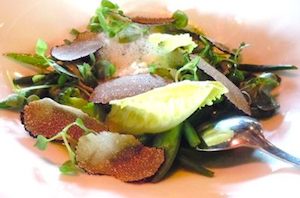 Now, Duchene (only 32) has decided "East, west, home's best." So, he's unpacked his suitcases and is planning exciting new menus for Les Etangs de Corot. A little spice here and there, but when he worked abroad his clients only wanted "traditional French dishes." He does not regret a moment spent abroad, feels he has so many references to consult, and is happy to be in touch with chefs he's worked with such as Christophe Moret (Spoon, Plaza Athénée, Lasserre).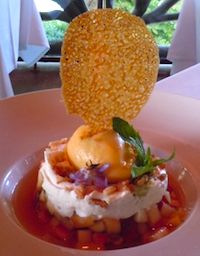 Chef's summer menu includes sparkling Légumes Primavera, jaune d'oeuf coulant, mangetout, asperges, truffe d'été. Ravioli de foie gras, consommé de boeuf épicé. Mains include a hearty Côte de Boeuf, sauce Bordelaise, échalotes et pommes de terre confites. Turbot au beurre d'algues, pommes de terre Noirmoutier et jus d'arêtes. Rouget à la plancha, marmelade de tomate-olives, fleurs de courgette en tempura. To finish: Pêche Melba revisitée and Demi-sphère fromage blanc, griottes. The red, Les Hauts de Smith 2007 (50€) or the White, Hauts de Smith 2008 (45€) match perfectly.
When you dine there don't expect to see Bruno, he's happy playing his piano in the kitchen. The results are a symphony that blends perfectly with the concept of Corot's young owners Alice and Jérôme Tourbier. There's no doubt Duchene has talent and passion which makes it worth the short trip, west of Paris, to discover this beautiful bucolic complex—unlike any others.
Great idea: Spend the day/night at Les Etangs. Dreamy walks by the river, wonderful Caudalie treatments in the spa and you're only 15 minutes from Versailles in one direction, central Paris in the other.
Photo credits: restaurant, ©Joerg Loehmann; food, ©Margaret Kemp
Les Paillotes at Les Etangs de Corot
Tél: 01 41 15 37 00
55, rue de Versailles, 92410 Ville d'Avray
Directions: Plan acces
Open Wednesday – Sunday
Jazz Band Friday and Sat evening and Sunday lunch
Average Spend: 62€ + wine
Detox Day includes Caudalie Treatments & Lunch 490€
Rooms and Suites from 195-400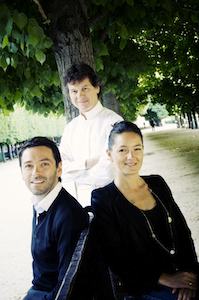 A Moveable Feast: Paris Haute Cuisine, "Cabinet de Curiosité Culinaire"
Superchef Guy Martin heads the list of celebrity chefs at the first ever "Cabinet de Curiosité Culinaire" from July 7-10. This exciting event, combining food and fashion, presents cuisine as theatre and will raise the curtain on French gastronomy from the viewpoint of French and international chefs and winemakers. Leading actors of the culinary and fashion world will be there to meet, greet, discuss, and demonstrate their work. The stage is set in the Palais Royal gardens; as the curtain goes up chefs and patissiers are preparing delicious tastings of their latest creations. Why not brunch, lunch or dine at "Le Cabinet," but do make sure to reserve beforehand at the website.
Margaret Kemp is a Cordon Bleu graduate who spent a year traveling the world, working and watching in the kitchens of top chefs from Sydney, Australia via Bangkok, Hong Kong, California, New York and France. She reports for BonjourParis on the latest European trends, restaurants and hot spots.
Did you know you can buy imported French food at our BonjourParis Amazon.com boutique? Why spend 40% more in France & lug back heavy items when you get competitive pricing & speedy delivery to your door with a quick click. Plus, your purchases support costs of keeping BonjourParis your most complete online France travel resource. Merci in advance for your support. (Please let us know if you have special requests—we add fresh items weekly!)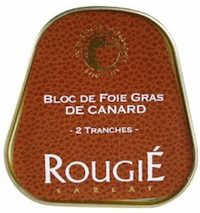 Rougié Duck Foie Gras with Armagnac
Imported Duck Foie Gras with Armagnac. Serve with late harvest wine. 100% homogenized foie gras. Fully cooked/Sterilized/Prepared/Ready-to-eat and yours with a click here.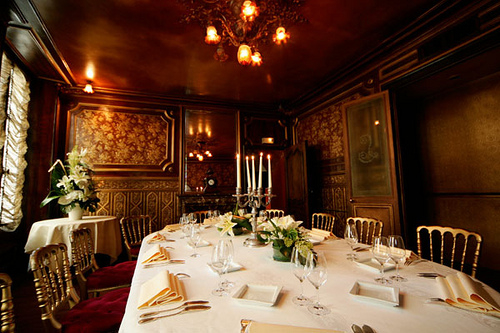 "Le Restaurant, A Parisian Invention" . . . "Paris Market Walk" and "Chocolate Tour" are just a few of the engaging and intimate guided gastronomic tours offered by our partner, Context Travel. Critically acclaimed scholars with an expertise in Paris and French gastronomy, art, history and more reveal an in-depth look at Paris that you simply can't get on your own. Perfect for intellectually curious travelers and solo travelers who enjoy gourmet dining in the company of other foodies . . . click here for more about Context Travel Paris gastronomic & other tours
More in Auberge XV, Etangs Corot, France restaurants, Guy Martin, Ivan Duchene, Paillotes, Paris restaurants, Restaurant reviews
---
---