The Astor, Shu & KGB Buzz
There's a new young talent at The Astor, the handsome town house hotel created by Lord Astor in 1907. David Mansaud, follows a great line of chefs (Jean-Luc Le Francois, Eric Lecerf and Joel Robuchon) into the Astor kitchens and does not disappoint. Mansaud's  done time in the US of A as well as with Yannick Alleno at Le Meurice His elegant oval restaurant is a 1930's delight with glass ceiling and trompe l'oeil starfish on the walls. Some of the tables are in discreet little alcoves, the centre more for businessmen wearing Vuitton briefcases and well coiffed women. Mansaud's between seasons menu includes an excellet tartare of deux saumons fumé (smoked on the spot) paired with sorbet à la menthe poivrée. Follow with osso-bucco of lotte, with soothing sauce Amorcaine and organic pommes de terre grenailles from Jean Pierre Clot's allottment, just outside Paris, an incredibly tasty dish which will become Mansaud's signature. In fact if you only want one dish, this is it. "He should bottle it and then we could take it home, sware we've made it", suggests Alain Neyman of
www.lesrestos.com
Bread's made in house, great for mopping.  Desserts are by Mansaud, ask Caleb Alva, the genial Maitre d'hotel what you should have. Vacherin glacé au melon, infusion au parfum d'herbes: Douceur de fraises acidulée au basilic: Chocolate tart, honey-vanilla ice cream. Just take care not to eat too much, the petit-fours are so amazing you'll want to tip them into the Gucci. Eat there or in the adjacent tres English Astor Bar. Cocktails, club sandwiches, "Suggestion du Chef", Vol-Au Vent Terre-Mer, lovely desserts. All can be enjoyed enveloped in the antique chairs and sofas while studying the original murals by Raoul Dufy and Kees Van Dongen. The hotel was recently renovated by interior designer Fréderic Méchiche who's given an elegant new twist to the hotel's Regency style. The Astor, 11 rue d'Astorg, 8th Metro: Madeleine T: 01 53 05 05 02
www.astorsainthonore.com
Shut Sat-Sun  Osamu Ukai has not only done time in the US of A, he was born there 28 years ago, so you get an English speaking welcome in his unique Japanese space. The family are Japanese with roots in Nagoya; Ukai's uncle has a restaurant in Bangkok, where he trained. "I loved the street food, and the variety of products, just as I love the variety of products in Japan. When I first came to France I was a bit confused, everything looked the same and I questioned why the French have such a great reputation". So Ukai dined at  top French restaurants (Pre-Catalan: Astrance etc) and soon learned it was all about the technique.  I became a disciple of Escoffier, in a way, and discovered French beef and Sel de Guerande among many other products", he says. Osamu's tiny restaurant was formerly the legendary "Les Femmes Savante", mind your head as you descend into the raw-brick minimal space with tiny open kitchen. It's here you'll learn the art of Kushiage, Japanese deep fried kebabs: in Japanese "kushi" refers to the skewers used. Ouch! Choose from three menus 56€ 48€ & 38€. The dishes are all divine, as well as the vegetable, seafood, meat "kebabs" of kushiage, there's excellent sashimi, miso soupe and green tea rice soup. Osamu works happily in his open kitchen, helped by his sister Yoko, "she makes the cheesecake", he admits. Don't leave without a taste, and note the chic crowd who've heard through the grapevine that this is one cool address. And talking grapevine, there's a suberb wine, saki and tea list. Ever tasted Japanese whisky? Ask for suntory Hibiki (17 ans). Shu, 8 rue Suger, 6th Metro: Odeon T: 01 46 34 25 88
www.restaurant-shu.com
Dinner only from 18.30 – 23.30 Shut Sunday William Ledeuil needs no introduction, his 1-star Ze Kitchen Gallery has played to full houses since it launched in 2001. Ledeuil's dishes have been compared to Japanese woodblock paintings, his cuisine plays with harmonies and colours. Kitchen Galerie Bis (KGB) is Ledeuil's new Art & Food concept located in Jacques Cagna's former bistro, L'Espadon Bleu. From the tiny kitchen chef Yariv Berrebi (ex-Ze Kitchen Gallery) suggests you begin with Zors-d'oeuvre a selection of z-tapas, according to season and the market. Or Casareccia, tube shaped pasta, marmelade of tomatoes, galanga and chorizo: Gnocchi with Thai basil and lemon confit is delicious. Mains include Bernaudaud cocotte dishes, say veal cheeks. Mackeral is glazed with citrus and grilled. Travers de porc is confit-grillé with coriander. Or there's the plat du marché. Desserts: Prune Reine Claude, ginger ice cream. Cappuccino fraise pistache, emulsion wasabi. Nice washed down with Saint Chinian Canet Valette (bio) 2006 (32€). KGB is bright, noisy, with interesting contemporary art work, attracting a hip left-bank crowd. Gorgeous women in drainpipe "For All Mankinds" and skyscraper Loubertins, men in Berlutis, leather jackets or Converse, most leave to smoke outside, there's no terrace. KGB is a good option if you can't get into Ze Original KG, was it Oscar Wilde who said, "comparisons are odious?" KGB 25 rue des Grands Augustins, 6th Metro: Odeon/Saint Michel T: 01 46 33 00 85 Shut Sun-Monday
SUBSCRIBE
ALREADY SUBSCRIBED?
BECOME A BONJOUR PARIS MEMBER

Gain full access to our collection of over 5,000 articles and bring the City of Light into your life. Just 60 USD per year.

Find out why you should become a member here.

Sign in

Fill in your credentials below.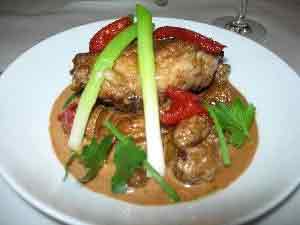 There's a new young talent at The Astor, the handsome town house hotel created by Lord Astor in 1907. David Mansaud, follows a great line of chefs (Jean-Luc Le Francois, Eric Lecerf and Joel Robuchon) into the Astor kitchens and does not disappoint. Mansaud's  done time in the US of A as well as with Yannick Alleno at Le Meurice
His elegant oval restaurant is a 1930's delight with glass ceiling and trompe l'oeil starfish on the walls. Some of the tables are in discreet little alcoves, the centre more for businessmen wearing Vuitton briefcases and well coiffed women. Mansaud's between seasons menu includes an excellet tartare of deux saumons fumé (smoked on the spot) paired with sorbet à la menthe poivrée. Follow with osso-bucco of lotte, with soothing sauce Amorcaine and organic pommes de terre grenailles from Jean Pierre Clot's allottment, just outside Paris, an incredibly tasty dish which will become Mansaud's signature. In fact if you only want one dish, this is it. "He should bottle it and then we could take it home, sware we've made it", suggests Alain Neyman of www.lesrestos.com Bread's made in house, great for mopping.  Desserts are by Mansaud, ask Caleb Alva, the genial Maitre d'hotel what you should have. Vacherin glacé au melon, infusion au parfum d'herbes: Douceur de fraises acidulée au basilic: Chocolate tart, honey-vanilla ice cream. Just take care not to eat too much, the petit-fours are so amazing you'll want to tip them into the Gucci.
Eat there or in the adjacent tres English Astor Bar. Cocktails, club sandwiches, "Suggestion du Chef", Vol-Au Vent Terre-Mer, lovely desserts. All can be enjoyed enveloped in the antique chairs and sofas while studying the original murals by Raoul Dufy and Kees Van Dongen. The hotel was recently renovated by interior designer Fréderic Méchiche who's given an elegant new twist to the hotel's Regency style.
The Astor,
11 rue d'Astorg, 8th
Metro: Madeleine
T: 01 53 05 05 02
Shut Sat-Sun 
Osamu Ukai has not only done time in the US of A, he was born there 28 years ago, so you get an English speaking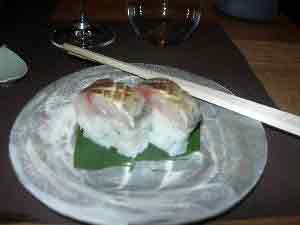 welcome in his unique Japanese space. The family are Japanese with roots in Nagoya; Ukai's uncle has a restaurant in Bangkok, where he trained. "I loved the street food, and the variety of products, just as I love the variety of products in Japan. When I first came to France I was a bit confused, everything looked the same and I questioned why the French have such a great reputation". So Ukai dined at  top French restaurants (Pre-Catalan: Astrance etc) and soon learned it was all about the technique.  I became a disciple of Escoffier, in a way, and discovered French beef and Sel de Guerande among many other products", he says.
Osamu's tiny restaurant was formerly the legendary "Les Femmes Savante", mind your head as you descend into the raw-brick minimal space with tiny open kitchen. It's here you'll learn the art of Kushiage, Japanese deep fried kebabs: in Japanese "kushi" refers to the skewers used. Ouch! Choose from three menus 56€ 48€ & 38€. The dishes are all divine, as well as the vegetable, seafood, meat "kebabs" of kushiage, there's excellent sashimi, miso soupe and green tea rice soup. Osamu works happily in his open kitchen, helped by his sister Yoko, "she makes the cheesecake", he admits. Don't leave without a taste, and note the chic crowd who've heard through the grapevine that this is one cool address. And talking grapevine, there's a suberb wine, saki and tea list. Ever tasted Japanese whisky? Ask for suntory Hibiki (17 ans).
Shu,
8 rue Suger, 6th
Metro: Odeon
T: 01 46 34 25 88
Dinner only from 18.30 – 23.30
Shut Sunday
William Ledeuil needs no introduction, his 1-star Ze Kitchen Gallery has played to full houses since it launched in 2001. Ledeuil's dishes have been compared to Japanese woodblock paintings, his cuisine plays with harmonies and colours.
Kitchen Galerie Bis (KGB) is Ledeuil's new Art & Food concept located in Jacques Cagna's former bistro, L'Espadon Bleu.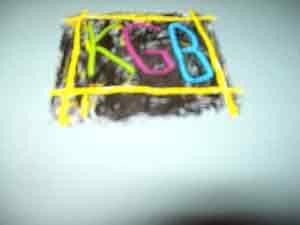 From the tiny kitchen chef Yariv Berrebi (ex-Ze Kitchen Gallery) suggests you begin with Zors-d'oeuvre a selection of z-tapas, according to season and the market. Or Casareccia, tube shaped pasta, marmelade of tomatoes, galanga and chorizo: Gnocchi with Thai basil and lemon confit is delicious. Mains include Bernaudaud cocotte dishes, say veal cheeks. Mackeral is glazed with citrus and grilled. Travers de porc is confit-grillé with coriander. Or there's the plat du marché. Desserts: Prune Reine Claude, ginger ice cream. Cappuccino fraise pistache, emulsion wasabi. Nice washed down with Saint Chinian Canet Valette (bio) 2006 (32€).
KGB is bright, noisy, with interesting contemporary art work, attracting a hip left-bank crowd. Gorgeous women in drainpipe "For All Mankinds" and skyscraper Loubertins, men in Berlutis, leather jackets or Converse, most leave to smoke outside, there's no terrace. KGB is a good option if you can't get into Ze Original KG, was it Oscar Wilde who said, "comparisons are odious?"
KGB
25 rue des Grands Augustins, 6th
Metro: Odeon/Saint Michel
T: 01 46 33 00 85
Shut Sun-Monday
More in Food Wine, French food, Hotels, Paris, Paris restaurants
---
---