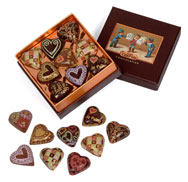 It's that Valentine time again. A delicious feeling at the mail-box, "Be Mine".  Reservations tonight. But where?
Here's BUZZ to the rescue, like the cavalry, just in time.
Someone recently asked what would Valentine's Day be like had it been created by low-carbers? Primo, that cute cherub would be a slim shady start-up with his own web-site, message boards, chat rooms, cupid franchises and best-sellers on NYT's listings. He would be spreading the gospel of sugar-free chocolate and low-carb delights worldwide. Instead of shooting arrows, he might toss bottles of Evian and bouquets of low-fat crisps. Ah! What the hell, this is one night n' day you'll want to enjoy; today calories don't count.  Eat, drink and be merry for tomorrow is another boring old diet day!
Plan to spend quality time snuggled up with your significant other, remembering when you first met?  For some essential Valentine chocolate, Patrice Chapon's romantic new left-bank boutique should be the first stop. Chapon is slim and lithe, probably due to the fact that he uses very little sugar in his creations. Passionate about his ganaches, pralines, and marzipans, Chapon trained as a pâtissier, and worked in the UK with Queen Elizabeth's ice-cream maker. "I can still remember the rare roses growing in the gardens of Buckingham Palace," he recalls, "which we used for preparing the royal sorbets!"  Very romantic, n'est ce pas? Almost as romantic as Chapon's cute logo, three mischievous little boys with a sweet tooth, found in a second-hand shop. "They are the ambassadors for my brand and express the values I cherish: the pleasure of eating chocolate and the romantic innocent happiness of childhood."  A trip to Chapon will bring out the romantic inner-child in you, and he's created tender hearts for Valentine's, intense dark and milk chocolate fantasies, to be nibbled without moderation.
And then there is the Picture of Paris concept at The Meurice.  At your disposal darlings: a chauffeur driven limo, private photographer, tour of Paris landmarks, and the snapper captures each moment for your own personal album of memories sent on, when you return to reality.
Now suppose you both need a little of the rough edges smoothed?  The Caudalie Vinothérapie Spa at The Meurice suggests: "Un amour, Deux Soins" (230€).

Choose from a spa-menu of grape-based facials and massages. Vinosource for her, Sauvignon for him. Just the job for that empty space before a glass of champagne together in the Bar Fontainebleau while you study Yannick Alléno's Saint-Valentin diner in the Jardin d'Hiver. Koulibiac of Balik salmon.  Saint Jacques, coulis de cresson, fondue de truffes et legumes d'hiver. The main is Pigeon from Maine-et-Loire with truffled cabbage and foie gras. Finish with a feather-light Fondant aux petals de roses cristallisés.
At the very elegant and soft-lit Lancaster Hotel's La Table du Lancaster, chef Michel Troisgros explains: "The dishes tonight are prepared with love by the men and women who have a passion to create and please. They are served in our tiny dining room, overlooking the interior garden, and there can't be a more romantic spot in the city to declare eternal love." Chef-Pâtissier Keiko Nagae's sensational desserts may have your sig-other rushing into the kitchen to declare undying love to this exquisite lady, you have been warned. It happens!   For Lancaster guests staying at the hotel, a visit to the newly transformed Institut Guerlain for a massage a deux (180€) which includes lots of freebie gifts is suggested.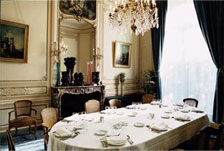 La Maison des Arts et Métiers, located in an elegant Hôtel Particulier, has views of the Eiffel Tower so book a romantic dinner for two by Thierry Chevalier (ex-Crillon, Ritz, La Maree). An erotic 5-course dinner includes Crémeux de fenouil with crab as the freebie starter. Saboyan of oysters in champagne: Noix de Saint-Jacques served in the shell with cèpes, the main is Filet de boeuf aux crosnes (baby artichokes) with truffles and to finish divine desserts.
At Le Club de la Maison des Polytechniciens, on the left-bank, you're in a private country house. Ring the bell at this former Hotel de Poulpry built in 1640 by Diane de Poitiers, named by subsequent owner Lieutenant de Poulpry. The original architecture has been carefully preserved and the club-like atmosphere is seriously romantic. Dinner, prepared by Sébastian Sévilla, will be creamy pot of petits pois with beignets d'huitres, followed by a Millefeuille de saumon fumé et Saint-Jacques, palet de foie gras au poivre de Séchouan, and, in a glass, pulpe of mango. Continue with roast herbed lamb, finish with a Granité Champagne and a special Douceur St-Valentine. Sévilla also throws in a half bottle of Champagne per person, mineral water and coffee.
At The Bristol, Eric Frechon's dinner includes caviar Osciètre, Saint-Jacques "citron-curry" and hot and cold oysters. Turbot from Normandy with a jus de coques émulsionné: Lacquered pigeon with honey and macaroons, compote of onions au cumin. Then a tender heart of goat's cheese, some seasonal fruits and Tete-a-Tete au chocolate. There's also a chance to win a little bijou from Boucheron, if you have the magical number. Whatever, this dinner looks fantastic. Frechon is a talented and passionate chef – in fact if you win the jewel give it to Frechon for his poor long-suffering wife. She won't see him tonight will she?
The lush souk setting of Comptoir is like a holiday without going away. The three course menu Love/Amour is light on the palette and the pocket at 40€ or a La Carte.
Address Book:
Patrice Chapon, Maitre Chocolatier,
69 rue du Bac, 7th (Metro: rue du Bac)
T:  01 42 22 95 98
The Meurice,
228 rue de Rivoli, 1st (Metro: Tuileries)
T: 01 44 58 10 77 (Espace Caudalie)
T: 01 44 58 10 10
Les Arts, Maison des Arts et Métiers,
9bis Avenue d'Iena, 16th (Metro: Iena)
T: 01 40 69 27 53 (80€+wine)
Le Club, Maison des Polytechniciens,
12 rue de Poitiers, 7th (Metro: Solferino)
T: 01 49 54 74 54 (80€ with wine)
The Bristol,
112 rue du Faubourg Saint-Honoré, 8th (Metro:
T: 01 53 43 43 00 (250€ + wine)
www.lebristol.com
The Lancaster,
17 rue de Berri 8th (Metro: George V)
T: 01 40 76 40 76    
Comptoir 
37 rue Berger, 1st (Metro: Louvre Rivoli)
T:01 40 26 26 66
Say it with caviar and champagne
100€ for the Menu Caviar (includes vodka and champagne)
+ you add whichever caviars take your fancy.
Petrossian,
18 rue Latour Maubourg, 7th (Metro:Invalides) 
T: o1 44 11 32 32
www.petrossian.fr
Valet Parking