The 3rd arrondissement brings stories of knights and kings and . . . um . . . well, Chinese wholesale shops.
3ème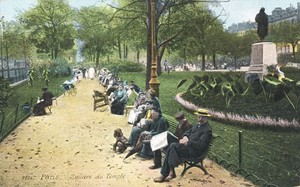 Rich from the crusades, it was the Knights Templar who originally settled this neighborhood during the middle ages, draining this part of what is now know as le Marais (the swamp) and building their own little walled village here. Today only the narrow medieval streets (Temple and Vielle du Temple) remind one of the Templars whose buildings were razed and whose members were burned at the stake.
During the 17th century this neighborhood became home to many aristocrats who followed King Henri IV to the area. And although they later abandoned the Marais when the court moved to Versailles, many of their mansions can still be seen and even visited. Two of the most accessible are the Hôtel Salé which belonged to a wealthy salt tax collector (now the Musée Picasso which is scheduled to reopen in 2014 after extensive renovations), and the Hôtel Carnavalet (now the Musée Carnavalet), former residence of the Marquise de Sévigné.
This, the quiet end of the Marais, is doted with deconstructed art galleries, trendy clothing boutiques, Chinese wholesale shops, and some of the oldest residential buildings in Paris. Many apartments—these days filled with "bobos" (bohemian bourgeois), a trendy group of working artistic types—still have the old timber beams. Two often overlooked museums in the neighborhood are the Musée des Arts et Métiers (science and gadgets) and the tiny and well-hidden Musée de la Poupée (the doll museum).


Christopher Measom combines his love of history, art, and travel to create books like "Paris, Wish You Were Here! [1]" and "The Little Big Book of Ireland [2]." He spends most of his time in New York (an artsy historic place) working on all kinds of books for Night & Day Design.