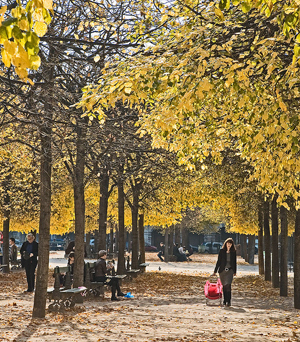 There's nothing off about the off season in Paris. More like right on. From roughly late September to early April, Paris is strictly in season and ripe for the picking. Less noisy groups of student travelers clog streets. Fewer groups arrive from ships. And less dodging clumps of tourists is required at Notre Dame or when vying for more than a glimpse of the Mona Lisa. Off season, the air is cool, the avenues bustle with local shoppers, cultural events happen more frequently and things get back to normal for this elegant city. Add to that, many hotels have sweet deals for travelers and airlines lower their rates (somewhat) when autumn leaves start to fall. So what's keeping you from jumping on a plane to Paris? The off season is a win/win for travelers and Parisians, too. There will be seats on the Metro. No waiting to view the glittering mirrored walls and befeathered royal lits at Versailles, where summertime waits can be glacial. $5 bottled water won't be so necessary and the light in the City of Light changes from garish to golden and subtle. In late November you can also be treated to a glorious show of falling copper beech leaves along a nearly mile-long allee at Vaux le Vicomte outside Paris. A giant and colorful beech tree has graced Paris' Bois de Boulogne park since 1782. The performing arts, although somewhat alive in warmer months, launch into full swing from September to April. This year the Opera de Paris will present everything from new productions of  Rossini's Barber of Seville in Italian in September through November, and Puccini's stirring Tosca in October and November, plus a return to the Paris Opera of the musically stunning soprano Karita Mattila in Richard Strauss' Ariane a Naxos in January and February. Festival d'Automne each year promises unique performances from September to January. Everything from the "sounds of the red and white stones of Venice" – music from Venetian composer Luigi Nono and dance performances of choreographer William Forsythe of the Lyon Opera Ballet, to showings of  films by Bertrand Bonello and Marguarite Duras, will be presented. The tony Biennale des Antiquaires sets up shop (nearly 85 shops in fact) inside the very grand Grand Palais from Sept.11 to 21.  This is not a show of bric-a-brac, but rather more like museum-quality objects to drool over. If your French is good, out of season means lectures at the Biblioteque Nationale and various museums for a little money and a new perspective. That is why we travel, n'est pas? The Odeon Theatre in the 6th Arr., for instance, will present readings of Gabriel Garcia Marquez's "Women's Voices, dedicated to women writers Annie Ernaux, Marie N'Diaye, Toni Morrison and Zadie Smith, among others, Oct. 13. Throughout the year, the Louvre presents programs on their current exhibitions and themes that interest museum goers such as new discoveries and new techniques for preservation of art works. The recent conservation of the iconic Winged Victory of Samothrace is the subject of several programs in the fall. Also, the 2,000 new exhibits (opened in June 2014) that explore the decorative arts during the reigns of Louis XIV through Louis XVI, a span of more than 130 years and many styles, will be the subjects of several other major autumn art events. The Louvre
website
gives listings of these special events. Among other major positives in the off season is the return of heartier food to Parisian tables. When the weather turns cooler, chefs are more willing to be in hot kitchens cooking rabbit, making pates and stoking up the fires for les bonne soupes. Look to cooler autumn and winter menus for luscious offerings of oysters, wild boar, roasted bone marrow on toast, rich cassoulets…  just a few of the gastronomic goodies seldom seen on summer menus. Thank the spring chickens who have gotten older and are now ready to be turned into familiar coq au vin (they'll need plenty of hearty wine and long stewing time to tenderize them). Other welcome dishes requiring time on the stove or in the oven, rate stars on menus: Offerings such as daube de boeuf, pot-au-feu and magret de canard, among them. Wine is always in season in France, but one special occasion centered on a special wine happens the third Thursday in November every year  — the day when wonderfully fresh and drinkable Beaujolais Nouveau is released to stores and even a 4 Euro bottle can add a fresh, festive touch to any celebration. A walk in the open air flea markets (marche aux puces) will reveal large wooden slat baskets under many of the purveyors' chairs and tables, seaweed peaking out of the corners. Oyster season has arrived and these salty gems of the sea are hiding in those baskets ready to be taken home and popped open. The pop of a champagne bottle can be imagined as well, the perfect accompaniment to oysters. And no one worries during the cool months if the crème Chantilly, crème patisserie or crème caramel will spoil on the way "home" from any of the city's luscious patisseries. Shopping takes on a holiday mood when the major department stores, Au Printemps and Galeries Lafayette present their holiday windows complete with imaginative and charming animated displays on the stunning Boulevard Haussmann. As for packing for the off season, yippee, no more wrinkly linens to contend with, just pack your knits and resilient wools, a great raincoat (a warmish in or out liner will come in handy) and don't forget a large shawl to dramatically throw over your shoulders for extra warmth when Paris's damp chill invades. And where but Paris could you find a check room just for furs and cameras? At the Louvre! Bon journee! Photo 1 by
Richard Taylor
via Flickr
Photo…
SUBSCRIBE
ALREADY SUBSCRIBED?
BECOME A BONJOUR PARIS MEMBER

Gain full access to our collection of over 5,000 articles and bring the City of Light into your life. Just 60 USD per year.

Find out why you should become a member here.

Sign in

Fill in your credentials below.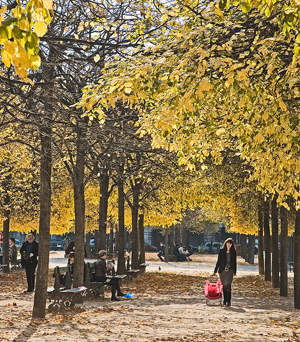 There's nothing off about the off season in Paris. More like right on.
From roughly late September to early April, Paris is strictly in season and ripe for the picking. Less noisy groups of student travelers clog streets. Fewer groups arrive from ships. And less dodging clumps of tourists is required at Notre Dame or when vying for more than a glimpse of the Mona Lisa.
Off season, the air is cool, the avenues bustle with local shoppers, cultural events happen more frequently and things get back to normal for this elegant city. Add to that, many hotels have sweet deals for travelers and airlines lower their rates (somewhat) when autumn leaves start to fall.
So what's keeping you from jumping on a plane to Paris?
The off season is a win/win for travelers and Parisians, too.
There will be seats on the Metro. No waiting to view the glittering mirrored walls and befeathered royal lits at Versailles, where summertime waits can be glacial. $5 bottled water won't be so necessary and the light in the City of Light changes from garish to golden and subtle. In late November you can also be treated to a glorious show of falling copper beech leaves along a nearly mile-long allee at Vaux le Vicomte outside Paris. A giant and colorful beech tree has graced Paris' Bois de Boulogne park since 1782.
The performing arts, although somewhat alive in warmer months, launch into full swing from September to April. This year the Opera de Paris will present everything from new productions of  Rossini's Barber of Seville in Italian in September through November, and Puccini's stirring Tosca in October and November, plus a return to the Paris Opera of the musically stunning soprano Karita Mattila in Richard Strauss' Ariane a Naxos in January and February.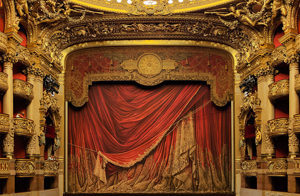 Festival d'Automne each year promises unique performances from September to January. Everything from the "sounds of the red and white stones of Venice" – music from Venetian composer Luigi Nono and dance performances of choreographer William Forsythe of the Lyon Opera Ballet, to showings of  films by Bertrand Bonello and Marguarite Duras, will be presented.
The tony Biennale des Antiquaires sets up shop (nearly 85 shops in fact) inside the very grand Grand Palais from Sept.11 to 21.  This is not a show of bric-a-brac, but rather more like museum-quality objects to drool over.
If your French is good, out of season means lectures at the Biblioteque Nationale and various museums for a little money and a new perspective. That is why we travel, n'est pas?
The Odeon Theatre in the 6th Arr., for instance, will present readings of Gabriel Garcia Marquez's "Women's Voices, dedicated to women writers Annie Ernaux, Marie N'Diaye, Toni Morrison and Zadie Smith, among others, Oct. 13.
Throughout the year, the Louvre presents programs on their current exhibitions and themes that interest museum goers such as new discoveries and new techniques for preservation of art works. The recent conservation of the iconic Winged Victory of Samothrace is the subject of several programs in the fall. Also, the 2,000 new exhibits (opened in June 2014) that explore the decorative arts during the reigns of Louis XIV through Louis XVI, a span of more than 130 years and many styles, will be the subjects of several other major autumn art events. The Louvre website gives listings of these special events.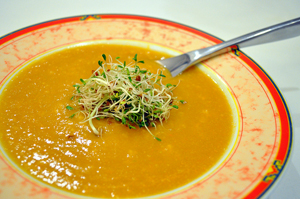 Among other major positives in the off season is the return of heartier food to Parisian tables. When the weather turns cooler, chefs are more willing to be in hot kitchens cooking rabbit, making pates and stoking up the fires for les bonne soupes.
Look to cooler autumn and winter menus for luscious offerings of oysters, wild boar, roasted bone marrow on toast, rich cassoulets…  just a few of the gastronomic goodies seldom seen on summer menus.
Thank the spring chickens who have gotten older and are now ready to be turned into familiar coq au vin (they'll need plenty of hearty wine and long stewing time to tenderize them). Other welcome dishes requiring time on the stove or in the oven, rate stars on menus: Offerings such as daube de boeuf, pot-au-feu and magret de canard, among them.
Wine is always in season in France, but one special occasion centered on a special wine happens the third Thursday in November every year  — the day when wonderfully fresh and drinkable Beaujolais Nouveau is released to stores and even a 4 Euro bottle can add a fresh, festive touch to any celebration.
A walk in the open air flea markets (marche aux puces) will reveal large wooden slat baskets under many of the purveyors' chairs and tables, seaweed peaking out of the corners. Oyster season has arrived and these salty gems of the sea are hiding in those baskets ready to be taken home and popped open. The pop of a champagne bottle can be imagined as well, the perfect accompaniment to oysters.
And no one worries during the cool months if the crème Chantilly, crème patisserie or crème caramel will spoil on the way "home" from any of the city's luscious patisseries.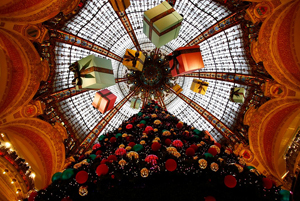 Shopping takes on a holiday mood when the major department stores, Au Printemps and Galeries Lafayette present their holiday windows complete with imaginative and charming animated displays on the stunning Boulevard Haussmann.
As for packing for the off season, yippee, no more wrinkly linens to contend with, just pack your knits and resilient wools, a great raincoat (a warmish in or out liner will come in handy) and don't forget a large shawl to dramatically throw over your shoulders for extra warmth when Paris's damp chill invades. And where but Paris could you find a check room just for furs and cameras? At the Louvre!
Bon journee!
Photo 1 by Richard Taylor [CC BY 2.0] via Flickr
Photo 2 by Joe de Sousa [CC BY 2.0] via Flickr
Photo 3 by Frédérique Voisin-Demery [CC BY 2.0] via Flickr
Photo 4 by L'amande [CC BY 2.0] via Flickr
More in Paris, Paris sightseeing, Paris tourist tips
---
---