Home
Tags
Posts tagged with "Montmartre Cemetary"
Tag: Montmartre Cemetary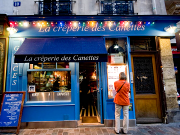 La crêperie des Canettes, Paris 6th. Photo by patrianova. It's easy to get blasé about crêpes in Paris. If you're anything like me, after a brief but...

The story opens on a pitch-black, starless night in March. A solitary man, starving in threadbare trousers, hands numb from biting winds, trudges along...