Home
Tags
Posts tagged with "coffee in Paris"
Tag: coffee in Paris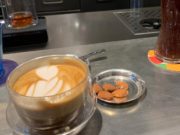 Despite my Italian origins, I had never been much of a coffee drinker in my youth. But then my children came. A cup of...
Since February 1st, the fragrant aroma of coffee fills rue Saint Sabin in the Bastille area of Paris. Welcome to the Manufacture de Café...