Marché Biron: The Jewel of the Famous Saint-Ouen Flea Market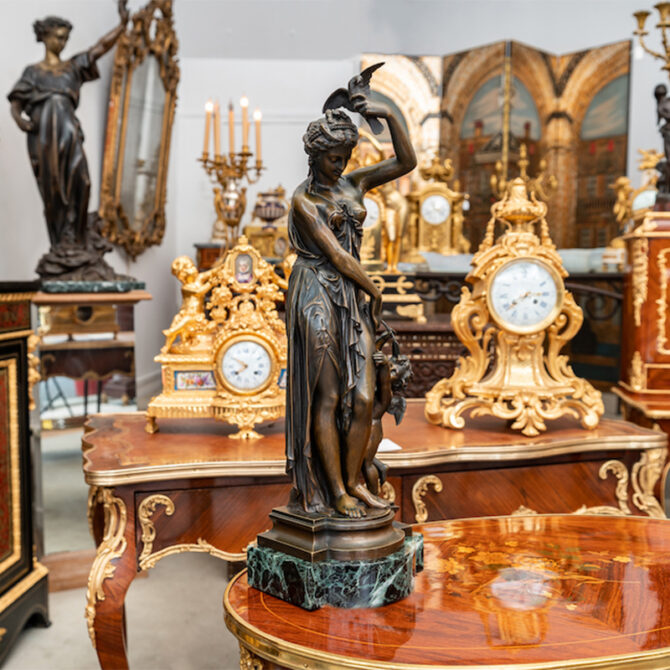 "What you can't touch in Versailles…
You can get in Biron."
Situated at the northern gates of Paris, the Saint-Ouen flea market is one of the world's most famous shopping destinations. Otherwise known as the Marché aux Puces de Saint-Ouen, or the Puces, it attracts a million annual visitors and seduces with the warm atmosphere of its jazz bars and classic restaurants. It's a mythical place for all lovers of heritage, unique pieces, vintage or design, with more than 1000 antique dealers spread over 15 markets. Here at its very heart, you'll find the Marché Biron, the prestigious antiques market that's been an institution for almost a century, brimming with furniture and objets d'art signed by the greatest European houses and manufacturers.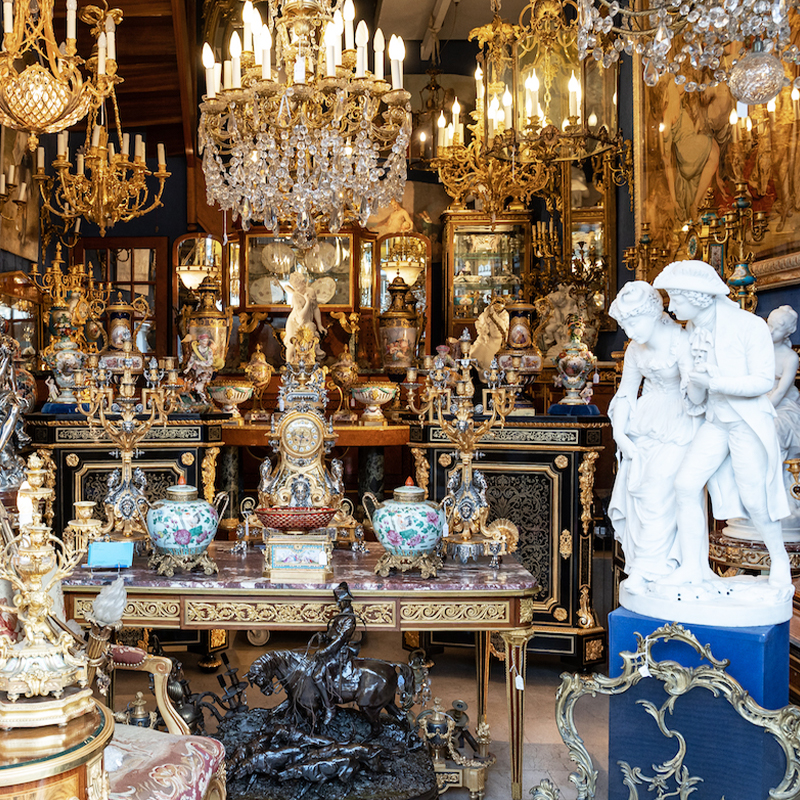 The Marché Biron, an open-air museum
Nicknamed the "Faubourg Saint-Honoré", the Biron market has 220 antique and art dealers. One of the very first markets created just after the war, Marché Biron has long been a specialist of the Napoleon III style, which was highly sought after at the time.
This prestigious market is a real open-air museum. Its main aisle rolls out its red carpet over 300 meters for you to discover a bevy of specialized galleries. Although the Empire style has long made its reputation, Biron is now a high-end market with a variety of exceptional pieces from all periods, from the 17th century to the great names of design and contemporary art. 
Biron's international reputation is due to the high quality of its dealers and their attachment to the place. Several families of antique dealers have had their galleries there for several generations and many antique dealers who have been there for a long time also perpetuate the soul of this exceptional market.
Biron attracts a demanding and very loyal clientele from all over the world: celebrities, collectors, museums, interior designers, renowned decorators and top chefs from the international food scene.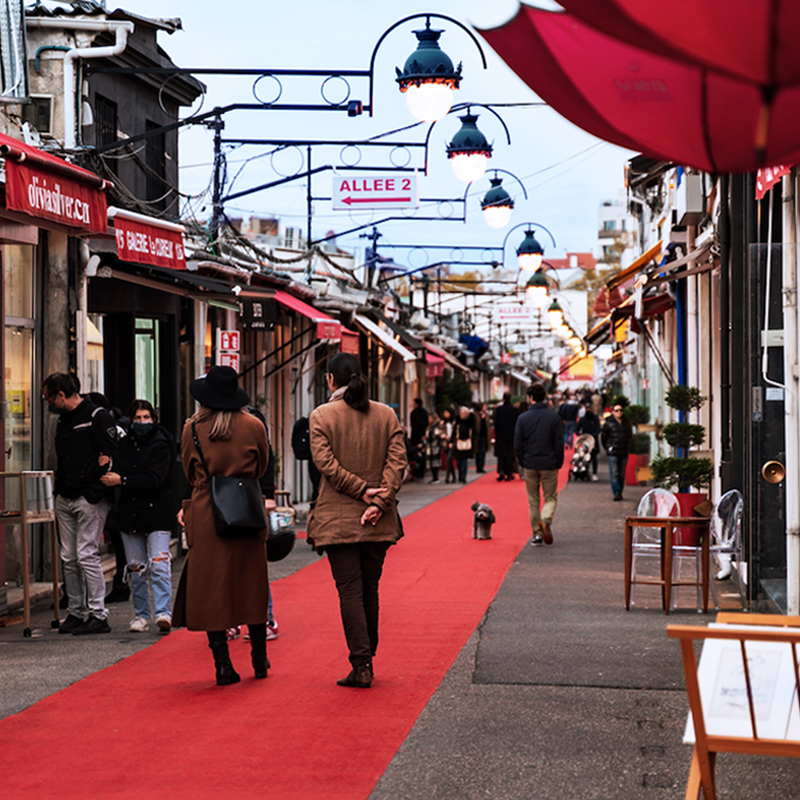 An impressive catalogue of antiques and objects d'art
Strolling through the aisles is to cross centuries of art history, from Louis XIV to modernism, passing through the Art Nouveau and Art Deco styles. You'll find a large choice of rare and authentic pieces selected by passionate antique dealers, many of whom are also national and international experts. 
Like a small Versailles, Biron is where you can find the beautiful object of your dreams: a piece of furniture, a painting, a sculpture, a bronze, a light fixture…
Here are some insider shopping tips.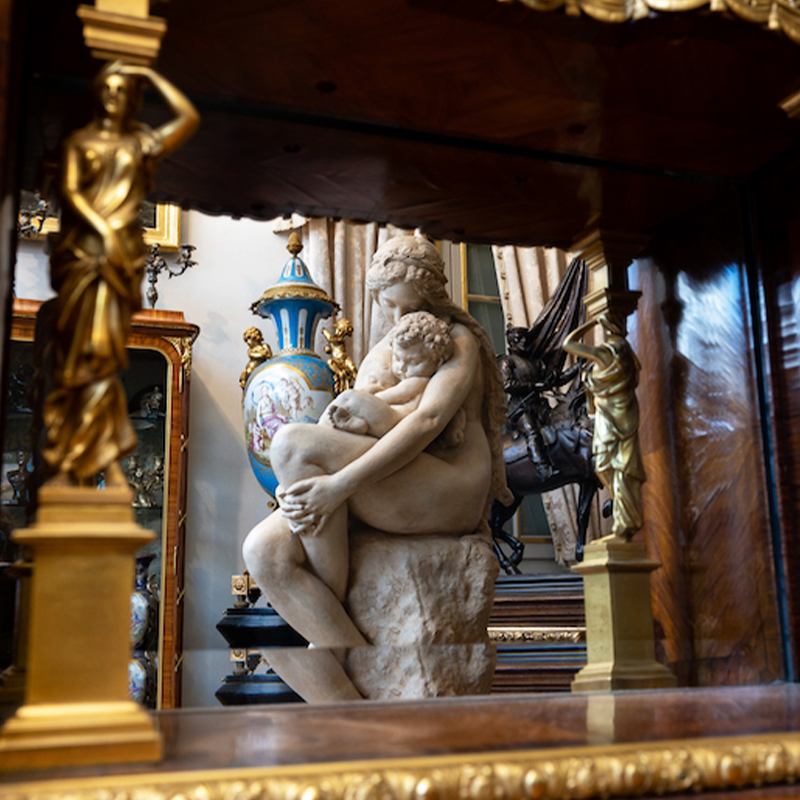 In the main aisle, check out the period stained glass windows with delicate floral, landscape or gallant decorations, offered by the antique dealer Hugues Lassaussois (stands 123, 147 and 148). These are coveted by interior designers.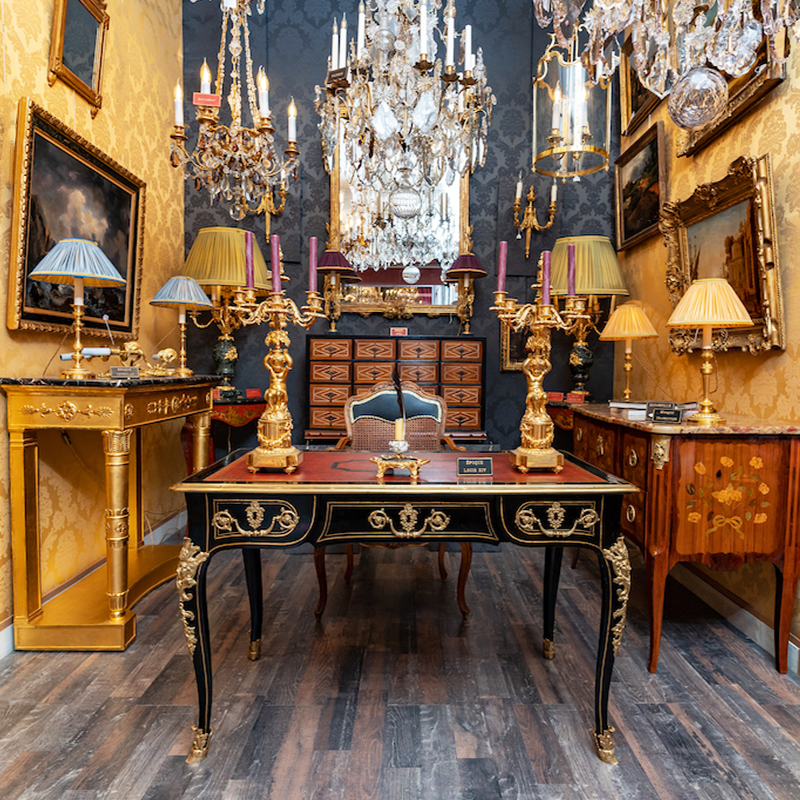 You will discover exceptional pieces of furniture stamped by the greatest names in French cabinet making in the prestigious galleries of William Diximus, MLD Fine Art, Claude and David Mekiess, Edith Davidson. Think chests of drawers, cabinets, secretaries, chairs… with precious woods and delicate marquetry.
The Hassan galleries (stands 32, 33, 34, 35) are in themselves a small museum with their incredible collection of furniture, ornamental statuary and decorative objects from the 19th century.
20th century furniture is also well represented in important galleries such as Georges Bac, JLF Antiquités or Marie Bonnet – Galerie Vingtième (stands 62, 62 bis and 66), where some of the rarest vintage lighting and furniture are on display, signed by some of the greatest designers.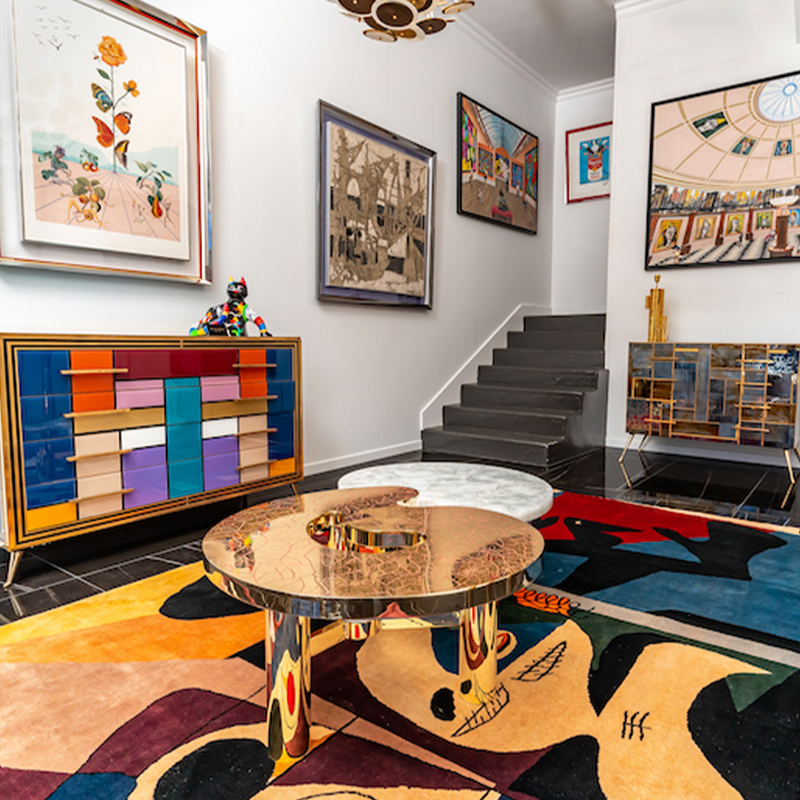 The Biron market also enjoys a solid reputation for Asian art with two major galleries: the Tora Tori gallery for Japanese art and Victoria Hougron's Beauté chinoise gallery for Chinese art.
If you like painting, the painting galleries will take you on a journey through the different pictorial movements, from Flemish painting to contemporary painting, via Orientalism and of course Impressionism. Thierry Matranga's Art Antiquities Investment gallery offers a selection of paintings by old masters, Flemish, French, Italian and Dutch. For four generations, the Segoura Fine Art gallery, specialized in museum works of art, has been offering exceptional paintings in unusual formats from the 18th to the 20th century, worthy of the great museums. The Violon d'Ingres and Ballesteros galleries invite you to discover the extraordinary creativity of paintings from the 19th and first half of the 20th century, from Impressionism to Modernism. Contemporary painting is not to be outdone, as Biron is now home to several contemporary art galleries: the Sebban Gallery, the La Belle Époque Gallery and the King Gallery.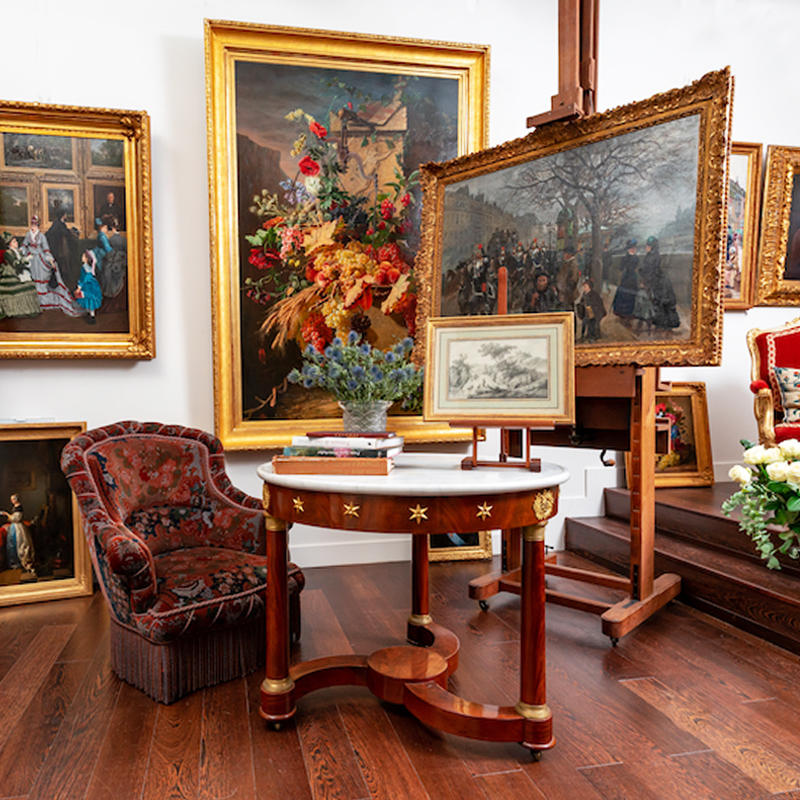 If you are looking for a beautiful decorative object, you will also be spoiled for choice. The Alexia Say gallery (stands 99, 100, 101, 170 & 171) is a temple dedicated to the creations of Lalique, Daum, Gallé or Hermès. The young antique dealer Caroline Giafferri Miguet and the Tourbillon gallery offer you an impressive collection of bronzes of all sizes, animal, figurative and marble sculptures, chryselephantine…
If you like beautiful tables, then you will certainly be amazed by the porcelain tableware from the most prestigious manufactures, from Delft and Sèvres at the Antonio Lopez gallery (stands 30, 63 and 67) and the pieces of silverware and tableware from the galleries of Olivia and Emmanuel Redon Silver Fine Art and Laure Edouard.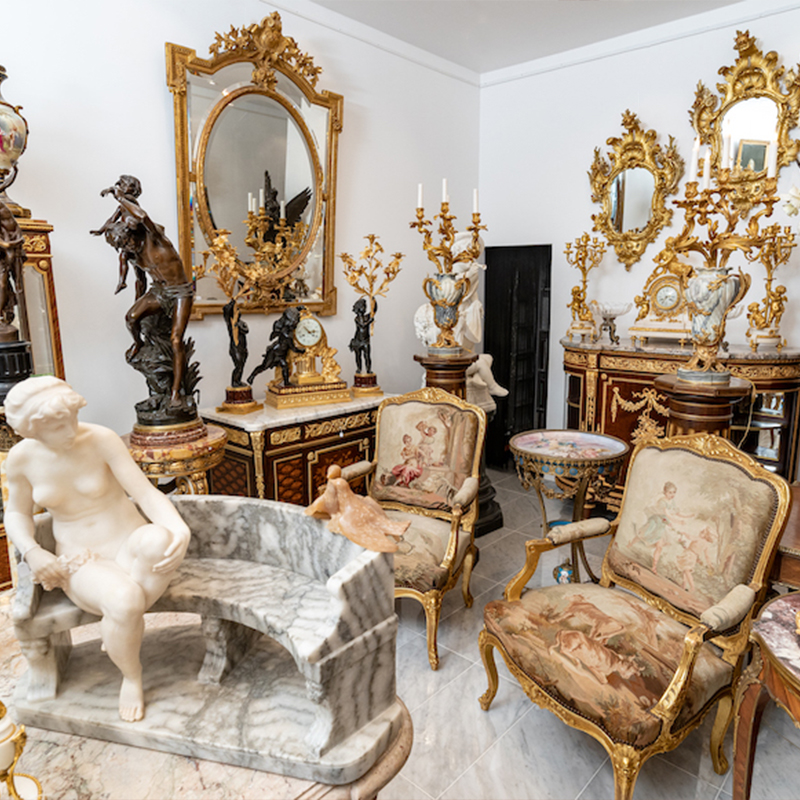 The Biron market is also home to vintage fashion accessories from the greatest fashion houses, Hermès, Louis Vuitton, Chanel and prestigious watches that you will find at the ISL gallery and the Atelier du Temps. 
Finally, because today's art workshops will be our antiques tomorrow, the Biron market has opened its doors to art workshops such as Birch bark Furniture, which creates furniture and mirrors decorated with birch bark, and the Unique & Signé collective, which brings together an upholsterer, a feather worker, a ceramist, a painter and a furniture designer.
This is just a sampling of the magnificent finds awaiting you at the Biron market's 200 antique and art dealers, who curate a beautiful selection of objects all year long.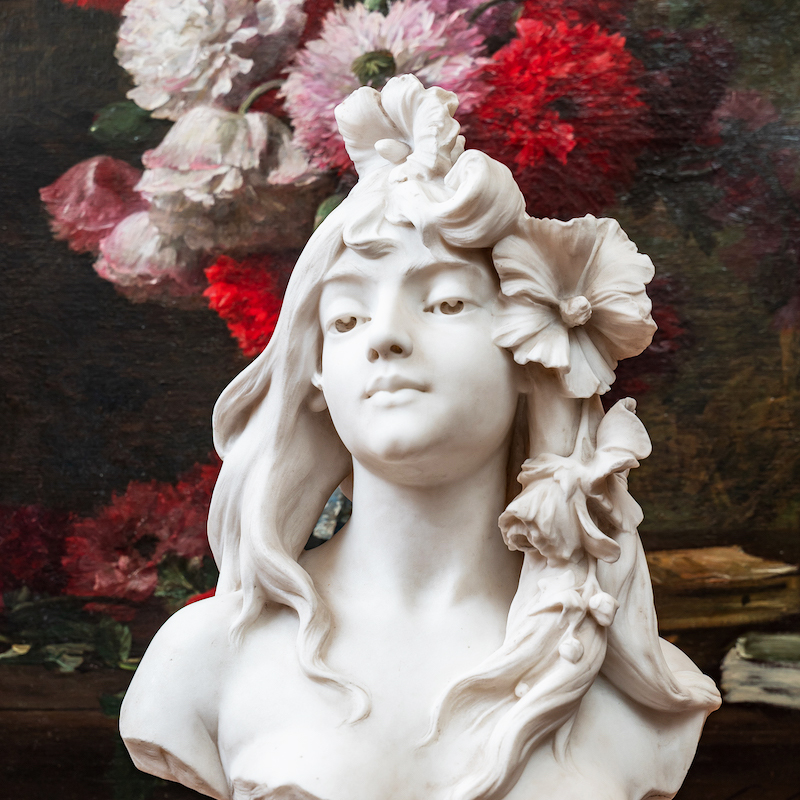 Can't make it to Paris right away? Marché Biron offers you a multitude of ways to prepare your visit and discover its catalogue of objects online: the virtual visit of the market and the catalogue of the website allow you to hunt from a distance and to make direct contact with the antique dealers. With the YouTube channel, you can discover fascinating antique dealers and the treasures of their galleries. You can also follow our news on our social networks, and every Friday the Marché Biron newsletter will present you with new items. 
On the spot or online, the market offers a shipping service to send your furniture and objects, whatever their size or format, all over the world in complete confidence and security.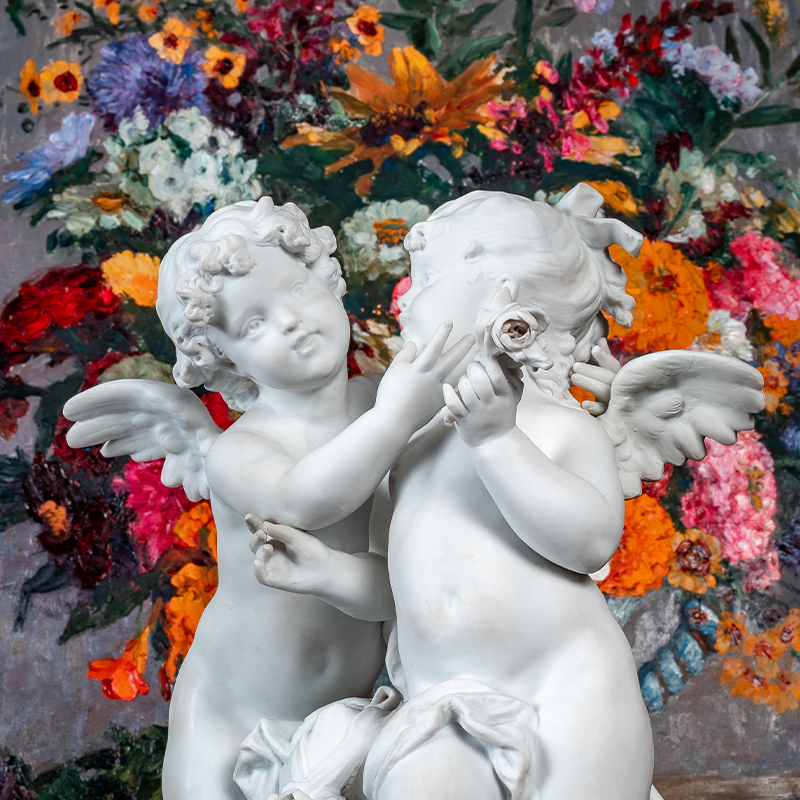 DETAILS
85 rue des Rosiers
93400 Saint-Ouen
Open every Saturday, Sunday and Monday, from 10 am to 6 pm.
Access:
By public transport:
Porte de Clignancourt (metro line 4)
Garibaldi (metro line 13)
Mairie de Saint-Ouen (metro line 14)
Bus n°85
Porte de Clignancourt (tramway 3b)
By car, exit the ring road at "Porte de Clignancourt" or "Porte de Saint Ouen", or exit at "Porte de Montmartre" from the Boulevard des Maréchaux.
Parking are available at:
142 rue des Rosiers
7 rue Marie-Curie
110 rue des Rosiers
30 avenue de la Porte-de-Clignancourt
Lead photo credit : The Biron Market
---
---