Knocking off your Christmas shopping list is a great excuse for pounding the cobblestones in Paris. The streets are illuminated with twinkling lights, Christmas trees pop up outside boutiques, and the department stores are festooned with over-the-top decor (check out the set-up of the Christmas tree at Galeries Lafayette, above). Plus, there are ample opportunities to recharge with a cup of rich hot chocolate… If you can't make it to the City of Light for the yuletide season, we've curated a list of French-inspired gifts for your shopping pleasure. Enjoy!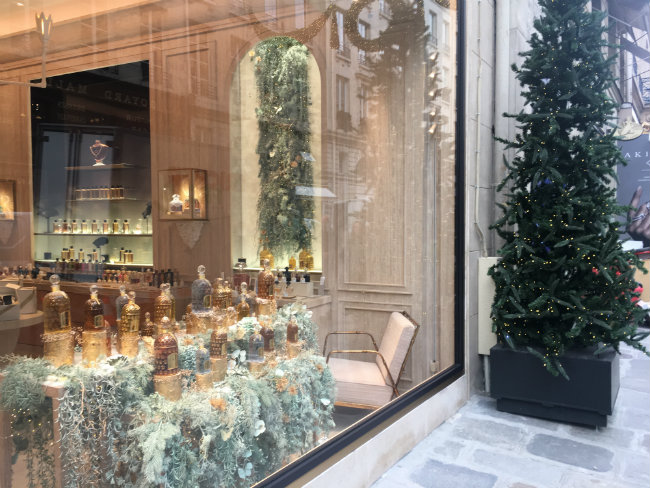 Candles by Diptyque
Who doesn't love the iconic scented candle collection by diptyque Paris? The line was an instant hit when it was introduced in 1963, and now there are over 50 scented candles in the product range. The boutique was born on Boulevard Saint-Germain; of course now diptyque has boutiques in the four corners of the globe (and online).
Paris Museum Pass
Do your friends and family love Paris as much as you do? Why not order them a Paris Museum Pass for their next visit to the City of Light? Available in 2-, 4-, or 6-day versions, the Paris Museum Pass allows instant, cut-the-line access to over 50 museums and cultural sites in the Paris region.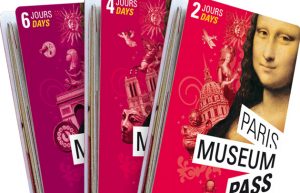 A Breton Classic
There's nothing more chic than French nautical stripes, or technically, the Breton stripe, originally derived from la marinière worn by the sailors in the French Navy. Brands like Saint James Paris are some of the most famous, with high-quality basics like this shirt.
Sweets by La Maison du Chocolat
You can't go wrong with chocolate. Particularly if it's the gourmet goodies created by La Maison du Chocolat, one of our favorite shops. For the holidays, a variety of special gift boxes are on offer, including "A Starlight Night" (pictured) with a pure Brazilian ganache, a kumquat/kalamansi citrus duo, Mara des Bois strawberries/orange blossom water… Available online.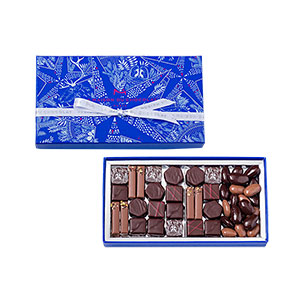 Skincare by Caudalie
Originated in the vineyards of Bordeaux, the Caudalie skincare brand is now a cult favorite. Moisturizers and anti-aging creams harness the natural anti-oxidant power of grapes.
Leather goods by Verbreuil Paris
Verbreuil Paris is a maison of haute maroquinerie specializing in high-end, handmade leather. We love their handbags, and also the "Fleurus" bracelet, available in a large variety of colors and luminous leathers, pictured here. (Click on the image to go to the Verbreuil website.)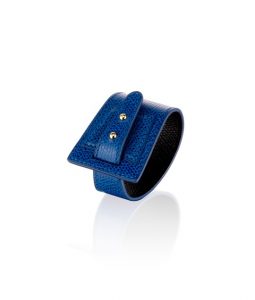 Coco Mademoiselle
Perfume is a woman's best friend. Particularly when it's made by Chanel.
A Great Book
Fine writing by The New Yorker's Paris correspondent, Lauren Collins. For more recommended reads, see our definitive list here.
Olive oil
No kitchen is complete without a jug of fine olive oil.
Le Creuset- A design classic
Instantly recognizable, Le Creuset's casseroles– colorfully-enameled cast-iron cookware "French ovens"– dress up any kitchen. (And are indispensable when it comes to cooking.)
Savon de Marseille
Factories in Marseille have been making their famous handmade soap for over 600 years. These satisfying cubes are a slice of France.
French seasoning
Some of our favorite gifts are of the gourmet variety. Sea salt, collected by hand in various sun-soaked regions of coastal France, is always a good idea. Great packaging, to boot.
L'Occitane
Nothing says "Provence" like L'Occitane's fabulous beauty products. What we love: L'Occitane works to preserve traditional cultivation methods in the region.