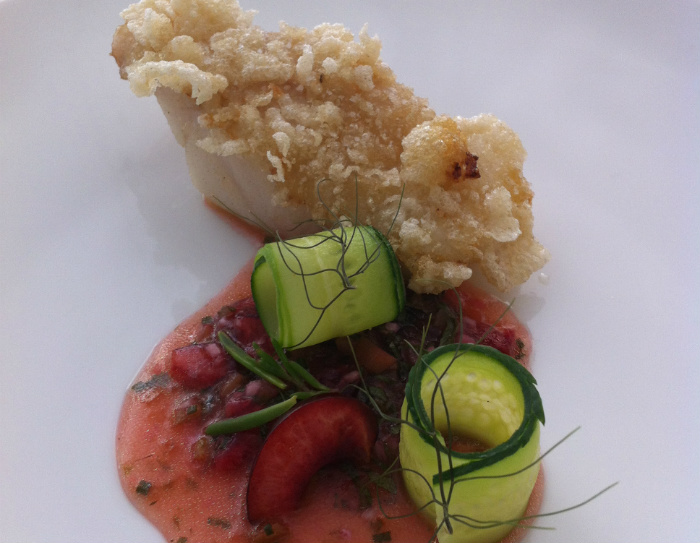 BP take: When Pages first opened in the 16th arrondissement in Fall 2014, the city's esteemed food critics unanimously clamored, "the sensation of la rentrée!" Not far from the avenue Kléber and the Arc de Triomphe, Japanese chef Ryuji Teshima creates beautiful artistic compositions for each plate. To the delight of guests, there's an open-kitchen to watch him at work.
There's a careful attention to aesthetic details here, which adds to the sensory experience. A striking flower arrangement in a vase placed in the sunlight; black modernist lamps contrasting against white walls and tablecloths; custom Limoges porcelain plates etched with flowers.
A recent lunch (a blind, multi-course tasting menu) demonstrated the chef's finesse with fish, vegetables, and meats sourced from the best butcher in Paris. Surprising, and playful, combinations abound: a croquette with foie gras in the middle, lieu jaune topped with a delicate crust of puffed rice, veal tartare smoked in hay.
The 40 euro lunch menu is an absolute steal- considering the quality of the ingredients and the chef's artistry. New for Fall 2015: Pages opened a delightful wine bar down the block.
4 Rue Auguste Vacquerie, 75116. Tel: +33 1 47 20 74 94. https://www.facebook.com/pagesparis. Open for lunch and dinner every day but Sunday and Monday. The lunch menu is priced at 40 euros and 65 euros. The dinner menu is 80 euros.