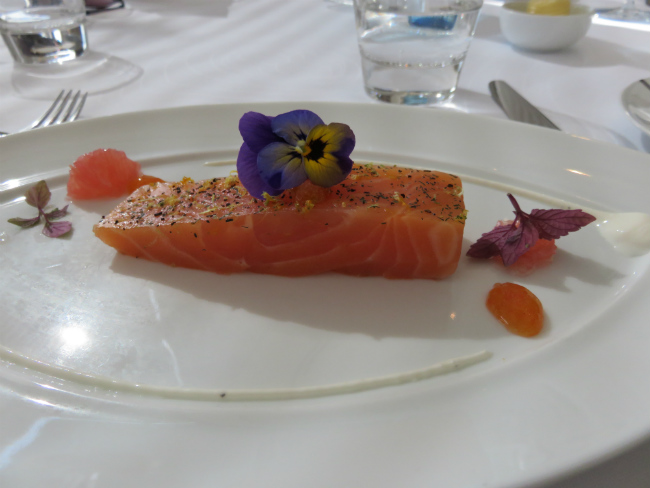 BP take: There's an old adage that any restaurant with great views will have bad, overpriced food. We're happy to report that that's not the case at Maison Blanche, the chic eatery that's perched atop the Théâtre des Champs Elysées on the avenue Montaigne. From this vantage point, you can gaze out over the Seine to the Invalides and the Eiffel Tower.
Maison Blanche has been in business over 25 years, but they keep shaking things up. This past March, they brought in a new chef, Fabrice Giraud, who originally hails from La Ciotat in the south of France. (His prestigious career includes a stint with Alain Ducasse in Monaco, a Michelin star at the Bread and Wine restaurant in Brussels, rave reviews at the Shangri-La Hotel in Istanbul, and the opening of the Tiara Miramar Beach Hotel & Spa in Cannes.) Giraud brings sun-kissed southern flavors and accents to the cuisine at Maison Blanche.
A recent meal started with Scottish Salmon infused with Earl Grey tea, sprinkled with Sarawak pepper, garnished with citrus jam, and adorned with pretty flowers; followed by roast cod served in Thai curry-seasoned crustacean cream; and capped with a sublime fondant au chocolat made with Paul D's secret recipe.
Due to inclement weather, we didn't dine on the outside terrace. But in the middle of the meal, the clouds broke and the sunshine dazzled diners through the floor-to-ceiling windows.
15, avenue Montaigne, 75008. Tel: +33 01 47 23 55 99. http://www.maison-blanche.fr. Open every day for lunch and dinner except for Saturday lunch and Sunday lunch. Three-course lunch including Amuse Bouche at €58. Two-course is priced at €48.
Lead photo credit : salmon starter at Maison Blanche in Paris
More in restaurants near the Champs Elysées, restaurants with the best views in Paris
---
---