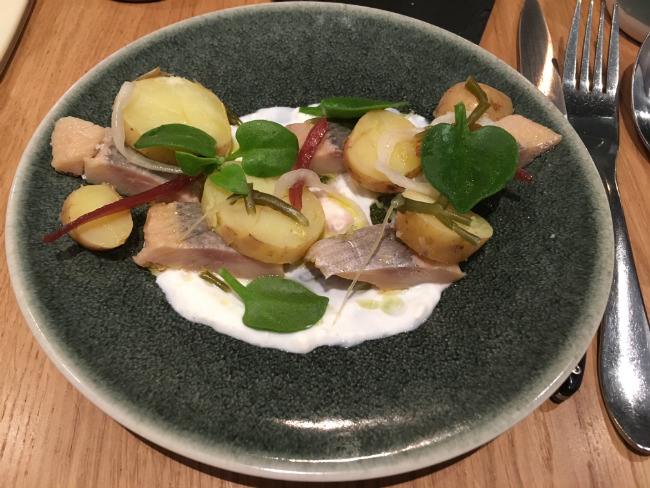 BP take: This bistrot was a lovely recent discovery, when meeting an old childhood friend who now works near Le Bon Marché. Anicia is located less than a 10-minute walk from the Sèvres-Babylone metro stop on the rue du Cherche-Midi. Chef François Gagnaire—who previously ran a Michelin-starred restaurant in Puy-en-Velay in the Auvergne region, before taking the helm at the Hotel du Collectionneur (8th) in spring 2014—opened this "bistrot nature" in November 2015.
Here he showcases the terroir of his native Auvergne; the restaurant itself takes its name from a variety of Puy lentils. The daily lunch menu ("le menu du marché") is a total steal at 24 euros (29 if you add dessert). These are dishes that are refined and filling at the same time. We feasted on hareng pomme à l'huile and a delicate lentil velouté, followed by Pollack fish with a lemon confit. We were too full to try the delicious sounding desserts (like variation de clémentine autour d'un éclair). Dommage!
If you love fromage, don't miss the cheeses, unique in Paris, sourced directly from the chef's pays (like Saint Nectaire fermier). In the afternoon, the bistrot morphs into a tea room- a convivial spot for a goûter. We will be back—and regularly!
Anicia,  97 Rue du Cherche-Midi, 75006. Tel: +33 (0)1 43 35 41 50. http://anicia-bistrot.com. Closed Sundays and Mondays. It's possible to reserve a table online directly on the website. During the week, the lunchtime menu du marché costs 24 euros for two courses, 29 euros for three. Main courses are priced between 23- 32 euros. 
Lead photo credit : A starter of "hareng pomme à l'huile" at Anicia
---
---