Pissaladière: Another Aller-Retour Niçois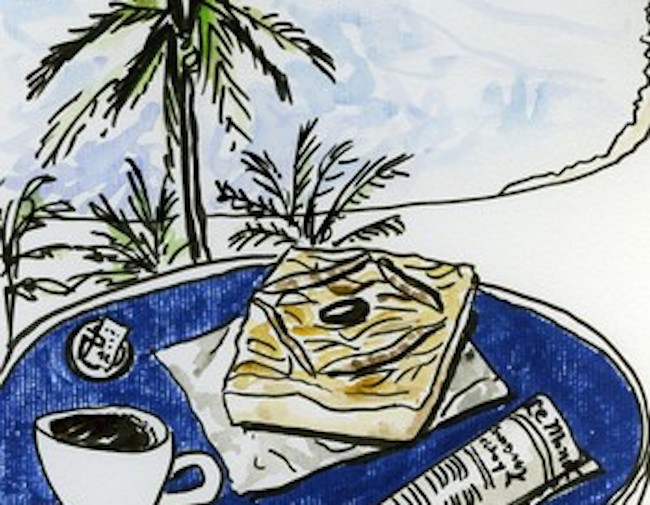 Living in New York, I cannot recall the number of bagels I had consumed. Working without pay, starving, and without a carb phobia, they were the cheapest and most verstile way to refuel at anytime of the day. Moving to Paris, switching to baguette became the easiest transition on my long-list of changes. Toasted with a little jam in the morning, adding a little chunk to my lunch, or given a facelift in a pain perdu, I had a newfound daily bread. But in a country polarized by 246 kinds of cheese, the pain quotidien varies, too. Spending a week in Nice over les vacances, pissaladière, a typical Niçois hors-d'œuvre, occassional breakfast, and undisputed snack of the South became the unchallenged contender in versatility. A blanket of caramelized onions generously layers a crispy pizza dough. Studded with olives and draped with anchovies, sweet meets salty and earth meets sea in this classic taste of the French Riviera.
Pissaladières flock every snack stand, boulangerie, and apero in Nice. And much to my surprise, pissaladière was on every cafe table in the morning, eaten alongside an espresso for breakfast. Hung up on my strict tartine regime, I instantly turned up my nose at the pairing of coffee and onions. But the sweet, golden onions and briny olives baked beautifully into the spongy dough, a long-lost savory sidekick to my café Américain. It was the ultimate liberation.  It was like eating pizza publically for breakfast which was previously reserved to be eaten under the light of the refrigerator. Although I do not jump out of bed thinking of onions and sardines, if on hand, it will definitely be in my petit dej' rotation from now on.
Since Nice is on the Italian frontier, was pissaladière's name derived from that other undoubtable snack food pizza? According to my Bible of Nicois cooking, Jacques Medecin's «La Cuisine du Compte de Nice», la pissaladière's moniker is the result of its traditional brushing of pissala (a fish purée) before being baked in the oven. But anchovies are an easier and equally tasty addition. Additionally, Monseuir Medecin points out that a good pissaladière must have a layer of caramelized onions of equal thickness to its crust. So that explains the 6 ½ kilos of onions in his recipe.
Although a mean pissaladière can be found at Kiosque Tintin in Nice (3 Place Gén Charles De Gaulle 06100 Nice), save a trip and make it at home. Serve a slice as a light lunch with a green salad or sneak a little the morning-after à la Niçoise. Whether it becomes a daily bread is up to you, all depending on how you can stomach coffee and onions in the morning.
–
Pissaladière
1 ball pizza or bread dough
2 pounds yellow onions, halved and cut into 1/4 inch slices
2 cloves garlic, minced
2 tablespoons olive oil
1 can best-quality anchovies
20 black olives
1/2 teaspoon thyme
salt and freshly-ground pepper to taste
1.) Preheat oven to 350°F/180°C.
2.) In a sauté pan over low heat, cook onions until soft and transparent, about 10 minutes. Add garlic, thyme, salt, and pepper. Cook 20 more minutes until golden and caramelized.
3.) On a floured surface, roll the dough until 1/4 inch thick. Place on a cookie sheet.
4.) Spread onion mixture evenly on dough, creating a 3/4 inch border all the way around. Layer anchovies and olives on top.
5.) Bake for 15-20 minutes or until the crust is crisp.
Jessie Kanelos is a recent American transplant to Paris. In addition to a background in costume for stage and film, having been thrown into the world's capital of gastronomy, she has recently crossed over to food styling.  She writes a Parisian expat food blog to document her adventures, observations, and recipes, which can be found at: thefrancofly.wordpress.com.  Jessie is also a talented illustrator whose work appears in this article.

Subscribe for
FREE

weekly newsletters.
BonjourParis has been a leading France travel and French lifestyle site since 1995.
Readers' Favorites: Top 100 Books, imports & more at our Amazon store
We update our daily selections, including the newest available with an Amazon.com pre-release discount of 30% or more. Find them by starting here at the back of the Travel section, then work backwards page by page in sections that interest you.
Current favorites, including bestselling Roger&Gallet unisex fragrance Extra Vieielle Jean-Marie Farina….please click on an image for details.
More in baguette, pissaladière, recipe
---
---