Meet our French Friend the Nettle (with Recipe)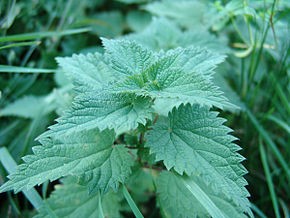 Stinging nettles (Urtica dioica)
Our first date
Our first meeting dates way back to the 1950s.  I must have been about 8 years old at the time.  A simple escapade along Austin creek,  below our Northern California cabin.  A sudden sting, followed by a second and still another… Frozen and unable to move, tears streaming down my cheeks and shouts for help, the family  flew to free me from my unsuspected trap.  I had just had my first encounter with Urtica dioica, stinging nettles.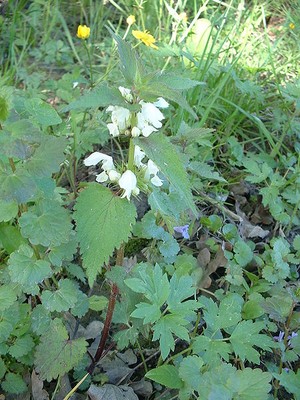 White dead nettle (lamium album)
The second and less direct encounter with nettles came in 1968 while watching a movie by the Italian director, Paolo Pasolini.  In "Theorema" the main character  returns to her native village, performs a number of miracles, climbs onto the roof of her house and refuses to eat anything but nettle soup!  Just in passing, Laura Betti, who played the main character, Emilia, received the "best actress" award at the Venice film festival for her performance in the film.  Forty years later I've learned that you don't need to be a martyr to add nettles to your cookbook!
Nettles in the French kitchen
Rich in vitamins A, C, iron, potassium, manganeseum, and calcium, nettles contain even more protein than soy.   Amazing what you can do with a plant which most of us just see as an invasive weed.  Some sixty miles northeast of Dijon, in the Vosges mountains, the village of Isches (pop. 191) specializes in a "nettle with garlic" cheese.  Isches is only one of a number of localities here in France wrapping or incorporating nettles in their cheese today, but there are also tons of other uses for the plant, all chocked full of health benefits.
How to prepare the plant?  Once picked , preferably using gloves, we can either boil the nettles 30 seconds and throw the first water away –  this removes the stinging agent– or leave the plant in its natural state.  I've made nettle jelly and tried it both ways.  Friends call the unboiled variety "poivré" (peppered) and to prefer it to the pre-boiled version.  In any case, preperation is as easy as making tea.  Begin by washing stems, leaves, and flowers.  Place them in a pot with three slices of fresh ginger and the juice and pulp of three lemons.  Add one liter of water and bring to a boil for 10 minutes.  Let the mixture steep overnight in the fridge.  The next day strain, add sugar and Vitepris (or any other pectin-based thickener).  Boil down until the mass begins to thicken. It's difficult to make it really thick, but even a little runny it's delicious and, by the way, a wonderful addition to unflavoured yoghurt.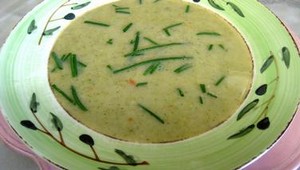 Nettle soup, as delicious as it is healthy
For all of my other recipes, I prefer throwing away the woody stem and keeping only the flowers and leaves.  A "velouté d'ortie", or nettle soup, with potatos, oignons or shallots, salt and pepper, topped off with a tablespoon of sour cream,  is a change from everyday fare and you won't need to pre-boil the nettles, since the histimine and other chemicals are absorbed by the potatoes.  To be frank, whatever the home-made soup, I always include a handful of either fresh or dried nettles to the pot.
Nettles can also replace spinach in an omelette.  Cut the leaves into fine slices so they will cook quickly when fried in a little butter, then add your well-beaten eggs.  A few slices of fried mushroom added at the same time only enhances the flavour.  You can also mix nettles into polenta, pesto or into your purées.  Because they are neutral in taste, they go especially well with indian spices.  Our friend Christiane M. has taught us to use them in quiche lorraine.  I've never known her to use anything else. And, just in passing, according to a University study carried out in Hungary, here.  Nettle was found to be an effective antioxidant and possible antiapoptotic supplement promoting cell survival in the brain."  In other words, nettles may even combat Alzhymer's disease!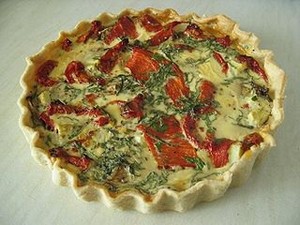 An excellent use for nettles, quiche lorraine
A gardener's best friend
Of the 11 species of Urtica, 5 varieties grow here in France.  Besides the tall stinging nettles (Urtica dioica),  another commonly found plant is the white dead nettle (lamium album).  For all its ressemblance, the white dead "nettle" is not really a nettle at all since it isn't a part of the stinging Urtica family.  Nonetheless, in taste, as in all other uses, it remains a perfect substitute.   "Purin d'orties" or nettle slurry, is an indispensible gardener's companion here in France.  Again the preparation only takes a minute and it's 100% organic. Not only is it used as a fertilizer, but also as an efficient insecticide against predators like aphids or potato plants.
All it takes is soaking the entire plant, including stems and roots, in water for one or two weeks using  2 lbs of nettles for 10 liters of water (as fertilizer) or 2 lbs of nettles for 20 liters of water (as a repulsive).  Remove the residue and pulverize the mixture.  Of course you can always opt for raising ladybugs to get rid of your aphids, but sufficient watering (one hour every two evenings here in Burgundy) and an occasional "purin" treatment works miracles.  It can also be used in place of "bouillie bordelaise" (copper sulfate) to protect your tomato plants against mildou.  A reminder, however, a part of purin's efficiency  against insects is the odour given off by the fermented mixture, so think to keep the slurry container at the back of your garden!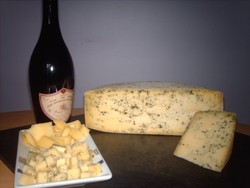 Nettles and garlic cheese, a specialty from the Vosges region
For those who have farm animals, in addition to their vegetable garden, chopped nettles mixed into bran with water is commonly used here in Burgundy to feed our ducks.  We also mix them with potatoes for the pigs.  As for our horses, if they won't eat fresh nettles still growing in the field, as soon as they are cut they are swallowed down as quickly as a handful of carrots!
Beauty and the beast
Among their medicinal benefits, nettles are an excellent remedy for arthritis relief.   Again soak the plants overnight in cold water and drink them as an infusion and/or apply the mixture locally on cotton as compresses.  Both have an anti-inflamatory effect on muscle and joint pain.
Nettles are widely used commercially in any number of French beauty products, from facials to shampoo.  The same "infusion" left on your hair five minutes before your normal shampoo, preferably one for babies, has gained a scientifically tested reputation for treating oily hair, preventing dandruff and even helping grow back hair among balding subjects!
In short, in a world more and more concerned with the harmful effects of chemical substances all too prevelent in our environment, nettles are not only a highly efficient substitute, but an interesting addition to any number of recipes. Thanks to Sophie Dudemaine (her book: Les Cakes de Sophie @ Amazon.com) for this great one:
Nettle and goat cheese cake
three eggs
150 g of flour
1 packet of baking powder
100 ml of vegetable oil
salt and pepper to taste
125 ml of milk
100 g of grated swiss cheese
100 g of grated dry goats cheese
a handful of chopped nettle leaves
Mix together eggs, flour, baking powder, salt and pepper, oil, and milk until you obtain a homogenous dough.
Add cheese and nettle leaves.  Pour into a greased loaf shaped cake pan and cook in oven for 50 minutes at 180° C.  Check if done by slipping a knife into the cake.  It must come out dry.
Sources:
AND OUR OWN BACKYARD EXPERIENCE!
Photos:
Stinging nettles by Uwe H. Friese
Quiche: Wiki commons, by Ghouston
More in French recipes, Fresh Nettle Soup, nettle, recipe
---
---